Changes…Changes…You go through them everyday. Sometimes you notice. Other times you don't, like that loose Skin you saw in the mirror today which got you on beauty emergency mode, and, now, you're looking for Solutions…Solutions! Relax. You've come to the right place. There are a number of procedures that you can ask your skin care specialist to do on you. However, whether or not you continue to book an appointment for a skin rejuvenation therapy or something else, skin tightening remedies have a place in your regular regimen, regardless if you're still enjoying your blooming teens, your freedom 20's or, already way past your 30's when your skin begins to age.
What Causes Loose Skin?
Related: What Causes Turkey Neck And How You Can Treat Them Effectively
In general terms, natural phenomena are the primary causes of loose or excess skin:
1. Your skin is subject to the force of gravity. The constant pulling down of gravity eventually takes a toll on your skin. After some time, gravity wears out your skin, and it happens at about the same time that your skin loses its youthful elasticity. That's also when you feel a need to tighten up sagging jowls and notice dropping of eyelid.
2. Your skin is also subject to senescence. All cells in your body are created with a definitive life cycle only. Once it reaches the end of its life — not considering the factors that can speed up the rate of reaching this stage — cells churn out less energy and becomes more and more inefficient in delivering mechanisms that repair, rejuvenate, and regenerate your skin. As a result, your skin becomes much less capable of coping with damage. Simultaneously, regeneration and turnover also take longer to happen. At some point, your cells also stop dividing. That's when disease and, in the case of your skin, visible signs of skin aging appear.
3. Your skin's quality is affected by heredity. Loose skin, premature aging, and similar skin conditions could be encoded in your genes. Some people are just born to age later while some may not be so lucky.
There are also factors that are within your control that causes your skin to grow loose, flappy skin. Among which are:
Poor diet and lack of exercise
Poor skin care habits
Unprotected and excessive sun exposure
Sudden weight loss
Hormone-related fluctuations
Constant exposure to polluted environments
Smoking, excessive alcohol intake, and similar vices
Lack of sufficient sleep
Chronic stress
What Can Skin Tightening Remedies Do For Loose Skin?
There are several skin tightening remedies and procedures that you can choose from. But, just how exactly do these skin enhancement techniques work to tighten your skin? Here are just some of the functions that procedures, products and remedies for skin tightening deliver for your skin:
Improving the rate and volume of collagen production
Facilitating skin restructuring
Re-texturizing your skin
Improving your skin's moisture content
Enhancing your skin's hydration functions
Strengthening the skin's natural barrier to help keep moisture in
Protecting your skin from further damage caused by free radicals and UV
Here's the deal with the latest skin tightening procedures, just in case you are considering to give your skin a boost above DIY remedies:
1. Microfocused ultrasound (MFU) and High-resolution ultrasound imaging (MFU-V). Based on a review published in 2015 in the Journal of Clinical Cosmetologic Investigative Dermatology, this procedure is effective for skin tightening. The researchers further noted that a combination of these two ultrasound procedures is "best suited for patients with mild-to-moderate skin and soft tissue laxity".
2. Non-ablative Radiofrequency. This procedure delivers radio waves all the way down to the deep layers of your skin, bypassing the superficial layers and leaving these undamaged as it heats the dermis and subcutaneous layers. By heating, this procedure deliberately induces thermal damage which, in turn, prompts your skin to more rapidly produce collagen at higher volumes. According to a study published in the Official Publication of the Brazilian Society of Dermatology in 2015, RF works effectively for skin tightening.
3. Intense Pulsed Light (IPL) Laser Therapy. According to a study published in the Journal of Clinical and Aesthetic Dermatology in 2012, IPL has proven to be a safe and effective procedure for improving the appearance of several skin issues, including "vascular and pigmented lesions, hypertrichosis, and epidermal and dermal atrophy associated with photoaging, as well as acne, rosacea, actinic keratoses, and nonmelanoma skin cancers". Loose skin falls under dermal and epidermal atrophy.
Related: How to Tighten Loose Skin With Dry Brushing to Improve Your Skin
What Are The Best Skin Tightening Remedies?
When you feel that it isn't the right time for you to tap the non-invasive and minimally invasive procedures listed above, you can always turn to remedies that you can buy right off the shelf or, even prepare from common, raw ingredients found in your home.
What Are Best Remedies For Skin Tightening? Here's a list of viable choices:
1. Skin Tightening Products.
Whenever you choose to undergo a skin tightening procedure, your skin care specialist will most likely prescribe the use of products that will help you maintain the resulting skin improvements from your chosen procedures. Some of these products are:
Solvaderm Excelagene

This is a moisturizing and rehydrating moisturizer that contains low molecular weight hyaluronic acid which deeply penetrates your skin to deliver its rehydrating benefits into the deeper layers of your skin. Shea butter and glycerin further helps make your skin appear fuller, plumper and firmer. The addition of antioxidants helps keep your skin well protected from further damage caused by UV, free radicals, and environmental elements. To know more about this product, read Solvaderm Excelagene Review.

Luxe Spa Formula No. 33

This product is formulated to make skin firmer and give it a tighter contour. Every bottle contains moisture enriching organic seaweed, and avocado extract that is rich in essential fatty acids that soothe and support your skin' rehydration. This product is also formulated with caffeine to enhance blood and fluid circulation, and retinol to promote faster collagen production at greater volumes. To know more about this product, read Luxe Spa Review.

Nuvalift

This product's manufacturer has yet to publish a full ingredients list. By far, third party websites which appear to be affiliate marketers list three active ingredients that this product is formulated with: Matrixyl 3000, Phosphatidylserine (also known as Polymoist-PS), and Vitamin E. The first consists of a synthetically engineered peptide complex that dramatically improves your skin's collagen production as well as speeds up skin cell turnover. Polymoist-PS is a phospholipid that has been claimed to strengthen skin cell membrane to help maintain cell integrity. Vitamin E refortifies the barrier protection layer. To know more about this product, read Nuvalift Review.

Vibrant C Skin Cream

Other than restructuring your skin to make it firmer, this product also promotes a lighter and more even skin tone, rehydration, exfoliation, and enhanced antioxidant protection. Active ingredients are top billed by hyaluronic acid, green tea, and glycolic acid. To know more about this product, read Vibrant C Skin Cream Review.

Skinceuticals Retinol

This is a refining night cream that enhances your skin's capability to facilitate overnight repairs and deliver buildable improvements to correct skin imperfections, including loose skin. This product is formulated with Retinol at 1 per cent concentration, which functions to speed up skin exfoliation, regeneration and turnover. It also contains the anti-inflammatory ingredient, Bisabolol, to help stop the damage even before it starts, shea butter which supports skin healing and recovery from damage, and ceramides which help refortify your protective barrier layer. To know more about this product, read Skinceuticals Review.
2. Skin Tightening Face Masks.
The main purpose of masking is to soak your skin in a nutrient-rich solution. There are a number of face masks that are commercially available but, to deliver optimal nutrient levels, it is best to get your mask fresh. Below are two face mask recipes to help relieve your skin from sagging:
Egg White Mask.

You can use this on its own or, if you have dry skin, try stirring in a tablespoon of honey to tighten and rehydrate your skin at the same time. Egg whites have strong astringent properties that tone and tighten your pores. It also has anti-inflammatory and antioxidant properties and is rich in proteins, all of which help facilitate faster skin recovery from damage.

Banana Mask.

Add yogurt to mashed banana help restore skin balance and support the nutrients in banana, potassium, iron and antioxidants, most especially, to sink deeper into the skin.
3. Skin Tightening Oils.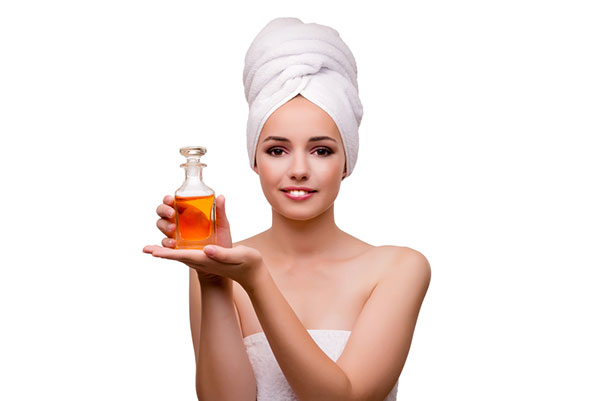 There are a number of essential oils that promote faster skin regeneration and support the creation of a stronger and healthier layer. The beauty of using essential oils as part of your daily and nightly skin care regimens is that these oils are capable of deeply penetrating your skin fast and easily, and do not leave your skin surface with grease.
These oils also closely resemble your skin's natural sebum and are easily assimilated into various skin processes that repair, rejuvenate and regenerate your skin. However, when you use essential oils, make sure to get expert guidance. When essential oils are misused, adverse reactions, including poisoning, can happen. For skin application, make sure that you're getting cosmetic grade. Some of the essential oils that are touted for their skin tightening effects include Grape Seed Oil, Neroli Oil, Tamanu Oil, Sunflower Oil, and Rosehip Seed Oil. These can be combined with so-called "carrier oils" to make it safe for use on skin. Carrier oils include Tea Oil, Coconut Oil, Avocado Oil, and Almond Oil.
4. Skin Tightening Food.
Here are two rules to make sure you're getting sufficient nutrients that support skin tightening:
Make protein-rich foods part of your diet.

Your skin cells use amino acids, the smaller components of proteins, to produce collagen and elastin fibers. Protein rich foods include meat, legumes, eggs, soy, and beans.

Derive healthy oils from your diet.

Essential fatty acids, linoleic acid, and oleic acid play important roles in facilitating skin repair and regeneration. You can derive these nutrients from nuts, fatty fish, and avocados.
5. Skin Tightening Facial Exercise.
The whole point with facial exercises and yogas is that there are underlying muscles beneath the skin. As you age, muscle and skin atrophy becomes a norm. You want to stop that from happening because that's what's causing your skin to sag. Below are 5 facial exercises for you to try:
Smooth the Brows.

Place the four fingers, excluding the thumbs, of your left and right hands on your forehead. With your fingertips against your skin, swipe your fingers sideways.

The V.

Place your middle fingers on the inner corner of your eyes, and your index fingers to rest on the outer corners of both eyes. While keeping to this position, look up and pose. Then, look down and squint. Hold the pose then, relax. Repeat.

The Smile Smoother.

Make a wide smile as you keep both upper and lower lips turned in to cover your teeth. Place one index finger on your chin and, while keeping this pose, move your jaw from side-to-side several times while your head is slightly tilted backwards.

The Flirty Eyes.

Put your index fingers under each eye bag. Stare at the ceiling as you open your mouth with your lips turned in. Then, while holding this pose, open and close your eyes rapidly.

The Giraffe Neck.

Use your fingertips to hold on to your collar bones, palms turned in towards you.Tilt your head slightly backwards as you rub on your neck skin a couple of times in downward motion. Bring your head down to your chest area.
Related: Home Remedy for Wrinkle – A Few Effective Strategies
Conclusion
Now, you know. The next time you see loose skin, there's no reason to panic, only choices to make. Put your heart into it and you will soon see the results that you seek.
The post Best Skin Tightening Remedies to Get Rid of Excess Skin appeared first on .