All Hallows' Eve is just around the corner and we are all counting the days! Maybe donning full-on popular Halloween costumes is not your thing or just do not seem to be enough for you. In that case, Nail art, like hairstyles for Halloween, is always a nice touch to add incredible attention to detail!
There are tons of Halloween Nail Art ideas available out there. Recently, many are doing their own versions of the classic and famous yet still unique and sinister Voodoo Doll Nail Art.
Discover nine different ways to do it yourself or have it done on your nails through this article! If you still can't decide on what to wear or who to go as on the next Halloween festival, these killer nails will definitely be enough to even ditch costumes altogether!
1. Girly and Creepy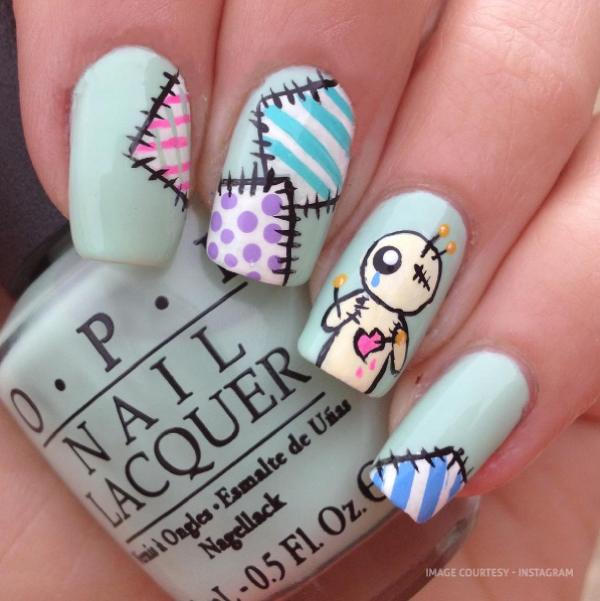 First on our list is this cute pastel green background lacquer Voodoo doll Halloween nail polish art by @jessuhhhkuh from Instagram. It features a nice girly touch but also incorporates the idea of a creepy one-eyed Voodoo doll complete with stitches, a teardrop, and blood.
The fabric patched designs also allow you to be creative and come up with your own choice of patterns and other matching colors!
2. Halloween Horror Nights
Next comes this Halloween horror nights nail art by professionalDQ, a Youtuber and nail art designer. The artwork shows several stitched-up red hearts and with needles sticking out from them. Dead button-eyed doll heads are also shown with mouths sewn tightly together.
This strange type of fashion nails are great to do not just for Halloween but also for Valentine's day or, according to the maker, anytime you just want to promote voodoo or be weird.
Related: 13 Halloween Hair Color Trends That Will Put You Under The Spotlight
3. Colorful Voodoo
I love the colors and subtle hint of dark Voodoo in this next design. Inspired by Sally from the classic Nightmare Before Christmas film and play, this nail art works great as an adorable final touch if you decide to dress up as her for Halloween.
It illustrates several pieces of cloth fabrics with different patterns from stripes to solids and polka dots. It uses bright pastel colors outlines by black stitch marks, and I'm loving the contrast that it makes!
It was created and developed by the creative minds at MoYou London, the leading innovator when it comes to nail art accessories, designs, stamping nail art plates, and nail polishes. Their other Halloween fake nails are also pretty interesting.
4. Basic Voodoo
This next nail art was posted by Ane Li Rusten Jacobsen(@ane_li ) on her Instagram account. Ane Li was a nail shop owner and nail art enthusiast who had been famous for her nail artworks.
This picture shows one of her Voodoo doll nail creations with a step-by-step guide on how to draw a doll and add details.
5. Heart Stitches
VIXX's then newly released song with the title "Voodoo Doll" inspired this nail art by NailArtOnline. The full tutorial video is posted on Youtube
To create this design, the creator used an Essie base coat in the shade of Grow Stronger, O.P.I. nail polish in Alpine snow, some acrylic paints, an art brush, and a fast drying top coat from Seche Vite. These are some of the best Nail polish brands for nail art.
It features one large stitched-up heart and thick black stitch marks all on white backgrounds. It is simple yet also manages to tell a statement.
6. Sequinned Voodoo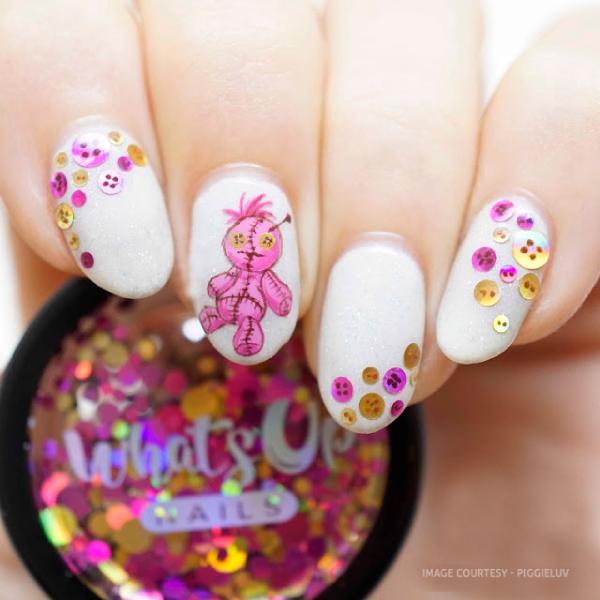 This nail art is absolutely one of my favorites because of its girly, sparkly touch and a much different take of Voodoo Dolls than most darker portrayals. Created by Narmai Nan and posted on her personal website, this adorable design was made with a Picture Polish Haven base from Color4Nails and some Flower Confetti from What's Up Nails.
Narmai came up with the idea of drawing a Voodoo doll after contemplating on what possible designs she could do with the glittery confetti and ending up thinking of buttons.
The doll was painted on using acrylic paint and the buttonholes were also hand-painted!
Related: 12 Spooky Halloween Beauty Mistakes you're making and how to avoid Them
7. Raggedy Ann Doll Inspired
This nail artwork by Christine Phan (@PreciousPhan) was inspired by the Raggedy Ann doll. Phan is an Arizona-based Nail and Waxing Salon owner who posts her creative and extraordinary designs on Instagram.
This particular design presents hearts and stitches on purple, pink, and white backgrounds. It has a dark touch thanks to the blood-red hearts but also has a girly, sweet flair.
8. A Lone Voodoo
Another favorite of mine is this nail art from a Halloween makeup artist on Pinterest that is simple, dark, and fun! First, the nails were coated with a white background polish and then, patches of fabric with different designs were painted on.
One lone Voodoo doll is shown in a dress stained red with blood from her bleeding heart peeks from her one intact eye.
9. Battered and Beaten
Last but not the least is this other Pinterest picture that shows a matte pale pink nail polish with a white broken heart (presumably because the blood has already drained from it) separated by two battered and beaten Voodoo dolls.
The design looks light and friendly, but the message has a deeper meaning to it, which all the more adds to the fun.
Related: Halloween Bloody Winged Eyeliner Makeup which is Beautiful and Haunting
Simple Nail Art Tips
If you have limited experience and talent on painting your nails, even how to wear black nail polish could be tricky. So, here are some manicure tips for doing nail art faster and easier.
Apply petroleum jelly or school glue around your nails before painting on some nail polish for easier cleanup and cleaner edges. Simply peel off the glue or nail polish after it has completely dried.
To prevent chipping of your nails' tips, apply two base coat layers, the first one on the top half and the second one all over the entire nails.
Use an opaque white basecoat to make other nail colors pop and show its true hue. The natural color of your nails tend to change how your nail polish appears unless it is very opaque.
If you find it hard to paint designs using your non-dominant hand, simply paint the designs on a plastic sheet first. Once dry, peel them off and apply to your nails with nail art glue and then seal with a clear top coat.
Use toothpicks to paint small details to your nail art such as stitches or hearts.
Water marble nail art. To create a marbled effect on your nails, drop several colors of nail polish on cold water, swirl them around, and dip your prepped nails. Then, apply a clear top coat.
Use the holes of a bandaid to create small polka dots and the tips of bobby pins to make bigger dots.
Use tape to make even stripes, color divisions, stencils for nail art, and other designs with straight lines.
Use a Sharpie to make patterns and draw designs more easily. Through this method, you can also erase mistakes using a cotton ball and some alcohol. Once you're satisfied with your design, make it final by adding the final clear top coat.
Conclusion
So, which nail art did you find most appealing? Tell us what you think and don't forget to check out other nail art ideas and articles here!
Like this post? There's more. Get tons of beauty tips, tutorials, and news on the thebeautyinsiders Facebook & Twitter page. Like us on Facebook – we'll see you there!
The post 9 Spooktacular Voodoo Doll Nail Art Ideas That Are Frightfully Fab appeared first on .