L'Aveu – Facial Exfoliating Gel Introduction
L'Aveu – Facial Exfoliating Gel, US $43.45 for a 1.7 fl. oz. Jar, offers you a solution that is supposed to reveal your brighter, younger-looking skin.
What Does L'Aveu – Facial Exfoliating Gel Claim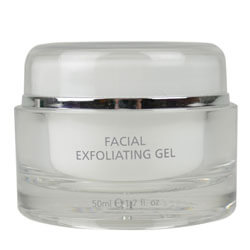 Based on claims made by the manufacturer, this product is formulated to bring you the following skin health and beauty benefits:
Remove the solid debris of dead skin cells masking your skin
Draw out excess oil and grime from your pores
Amp up your daily cleansing routine with a weekly intense exfoliating treatment
L'Aveu – Facial Exfoliating Gel Manufacturer's Detail
This product is formulated and manufactured by L'Aveu Cosmetics takes advantage of the mineral-rich ingredients derived from the Dead Sea, and sourced from the Dead Sea America, Inc. Its robust line of skincare products, including a full line in the anti-aging niche, are concocted to incorporate nutrient-rich salts, mud and minerals. This is one manufacturer committed to never test its products on animals.
Working of L'Aveu – Facial Exfoliating Gel
This product works by delivering ingredients that attract impurities and absorb excess oils. Anti-inflammatory ingredients help relieve irritations, redness and swelling to give you a smoother and better-toned skin.
L'Aveu – Facial Exfoliating Gel Ingredients
There is no mention of this products' full ingredients list anywhere but we know it consists of the following:
Polyvinyl Alcohol: Gives this exfoliating gel its peel off properties, it draws out impurities on your skin surface and that are deposited in your pores
Sodium Hyaluronate: Makes up for the skin's lost natural hyaluronic acid, this ingredient acts as a humectant, attracting moisture from the surroundings to rest on your skin
Witch Hazel Extract: Used over many centuries to relieve skin of various forms of inflammation, this ingredient supports faster skin healing and rejuvenation, and helps regulate excessive oil production as well
Hydrolyzed Wheat Protein: Has anti-inflammatory properties, this ingredient calms skin inflammations while also helping your skin trap in more moisture and keeping it locked in
Green Tea Leaf Extract: Loaded with antioxidants, it revitalizes your skin from tired and dull complexion while also increasing its protective function against free radicals and other environmental causes of damage
Dead Sea Salt: Rich in minerals that help restore your skin's optimal nourishment, so that essential functions to rejuvenate and regenerate your skin
L'Aveu – Facial Exfoliating Gel Pros
This product has been formulated to deliver multiple functions, which includes, exfoliating moisturizing, and delivering soothing relief from various forms of inflammation.
This product was never tested on animals.
L'Aveu – Facial Exfoliating Gel Cons
The manufacturer fails to disclose any clinical or user trial that will support or negate its exfoliation claims.
Several L'Aveu – Facial Exfoliating Gel reviews point out how the product leaves tiny balls of peel ingredients that make it tedious to remove and requires to picked up one by one.
L'Aveu – Facial Exfoliating Gel Side Effects
Based on this product's composition, the following side effects may be experienced:
Skin irritations and allergic reactions due to several ingredients, including fragrance ingredients, witch hazel
Increased risk of developing various forms of cancers due to sodium benzoate which readily forms benzene, a confirmed carcinogen

Directions
L'Aveu – Facial Exfoliating Gel must be applied on the cleansed skin. Spread evenly and quickly. Leave on for up to 15 minutes before rinsing or wiping off with lukewarm water and a soft washcloth.
Customer Reviews
L'Aveu – Facial Exfoliating Gel reviews read:
"The product produces nice, soft skin, BUT– and this is a deal-breaker for me– it stuck to every single tiny hair on my face. I never even knew those hairs were there. They aren't even visible, but it took almost half an hour to pick all the crud out of those hairs, and by the time I was done, my skin was so irritated, any positive results had been more than undone. I tried rinsing with very warm water, holding a hot, damp cloth on the area, washing with the L'aveu face wash. Nothing but picking it off with tweezers worked." — Shaliali on Makeup Alley
"This product is amazing. It sloughs away the dry flaky skin immediately. The only product I've used that does exactly what it's suppose to do." —AO on Amazon
Final Verdict
L'Aveu – Facial Exfoliating Gel delivers a non-abrasive way to exfoliate your skin. It is quite expensive for the very basic formulation it carries though, and has received quite stirring negative comments from the consistency, all the way down to the impact.
The post L'aveu Facial Exfoliating Gel Review: Is It Safe To Use? appeared first on .