I don't often do make-up posts with photos, but there are a few products I'm loving at the moment, and seeing as they all contribute to my current favourite make-up look, I thought I'd share and illustrate!

So, here's my natural look (still trying to slightly obscure my face due to the whole 'secret' beauty blogger thing - not a very flattering angle!)
Since using the amazing Clinique Even Better Make-up (RRP £25) I've had a lot of comments on how well and glowing I look, and I'm pretty sure it's down to this wonder product. I
rarely do the no foundation look if I'm going out or to meetings, but having used La Roche-Posay Effaclar Duo+ for a while now, I finally feel happy with my skin and confident to wear a tinted moisturiser rather than full on foundation. The texture of this is perfect, not too heavy but still feels like you get a good coverage, and the result is a healthy glow, without being too 'dewy' and verging on a sweaty/oily look - not sexy!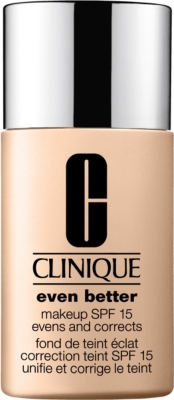 Next up is the gorgeous Watercolour Creme Blusher by Daniel Sandler in Sunset (RRP £15.50), a rich, golden peach - perfect for adding a summer glow. I was told years ago by A-list make up artist Dani Guinsberg to only pair like with like when it comes to the face. So cream blusher/bronzer if you've used cream/lotion foundation and powder if you've used powder. "But most foundations are cream and I love my powder blusher!" I hear you cry....well fear not, just make sure you put a face powder over your foundation (translucent is fine) for a smoother finish. Anyway, back to the blusher. A little goes a long long way with this gorgeous, highly pigmented little blush, you can build it up for a stronger colour and it lasts so well. I tend to use darker blush in the summer for a warmer look, but a pale pink always looks lovely and fresh too.
A mascara I'm absolutely loving at the moment is Le Volume de Chanel (RRP £25). Excuse the dodgy pic but I think the before and after speaks for itself, and this is just one coat!
And finally I'm wearing Hard Candy Lip Tattoo in Fantasy from the Lipgloss box I recently posted about here. This nifty little number features a light, delicate lip stain which you can layer on for a stronger look and a minty fresh gloss to finish. It honestly lasts all day and I really wasn't expecting it to. I love the colour for a summer look, a delicate pale link with a hint of shimmer for the day and a few more coats leaves you with a stronger colour and shine. i'm definitely going to be stocking up on a fee more shades!
So there you have it, my easy peasy summer face!