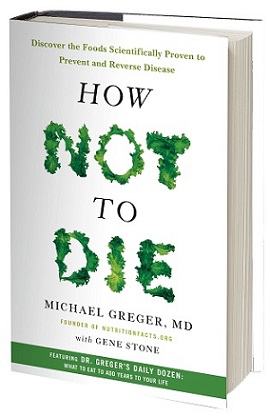 How Not To Die is an entertaining Book that is packed with science and practical tips
Dr. Greger Shows Nutritional Science Triumphs Over Dietary Myths
Dr. Michael Greger is best known for his site nutritionfacts.org, which showcases over 1,000 videos on nutrition and health. Each video tells a story using research journals articles and Dr. Greger's commentary on what the facts mean. The popular enthusiasm for this approach shows that people really are hungry for science, and don't want to rely on celebrity endorsements or vague, endlessly-repetitive articles to decide what to eat. People want to know "what's the evidence, how can I break through the confusion of competing diets?"
In his new book How Not To Die, Dr. Greger uses the same evidence-based approach to tell the compelling story of whole foods, plant-based diets that can prevent, and often even reverse, the chronic diseases that kill most people in richer countries. In fact, there is so much research supporting Dr. Greger's conclusions that the book list 149 pages of references.
But don't worry, you don't need to read all (or any) these thousands of studies yourself. Dr. Greger has sifted through them for you, and woven the findings into a clear outline of what you should eat, what you shouldn't eat, and why.
How Not To Die is threaded with Dr. Greger's signature droll humor, making the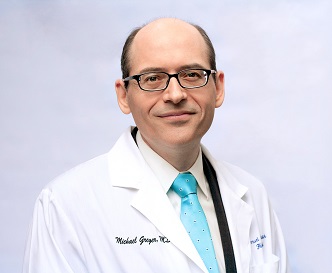 Dr. Greger pulls the vast science on his site nutritionfacts.org into his new book
book entertaining and easy to read. For example, in the Preface he talks about how modern medicine usually ignores the power of lifestyle to treat disease. He observes, "I think the only medical professional who ever asked about a member of my family's diet was our veterinarian." I had to smile at the accuracy of that statement for my own experience.
True to its title, the first part of How Not To Die shows you how to maximize your chances of sidestepping the 15 top causes of death in the U.S., so you can live as long, energetic, and healthy a life as you possibly can. In the second part of the book, Dr. Greger shares his own dietary strategy to thriving on a whole foods, plant-based diet, including the Daily Dozen foods he targets for consumption every day.
Dr. Greger includes several of his own favorite, easy-to-prepare recipes sprinkled throughout the book, along with practical tips on buying, preparing, and preserving healthy food. Always with an eye on economy, he tells you where to get the most nutritional return from your food dollars. Be sure to take notes as you read, so you can keep track of all the delicious and useful ideas.
Mainstream books on nutrition and health parrot each other, giving the same tired advice that does not work. How Not To Die breaks off from the mob, and is willing to take a stand on controversial issues.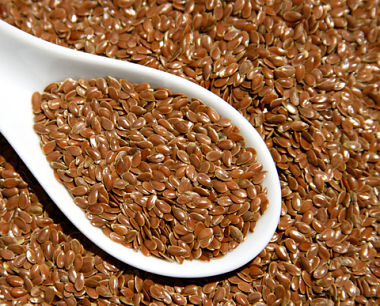 Flax seeds are one of Dr. Greger's Daily Dozen foods
For example, the book does an excellent job in tackling the controversial subject of gluten. After an overview of the evidence, Dr. Greger concludes with a statement on the value of gluten for most people. "For the 98 percent of people who don't have wheat issues, there is no evidence to suggest that following a gluten-free diet has any benefits. In fact, there is some evidence suggesting that a gluten-free diet may adversely affect gut health in people without celiac disease, wheat sensitivity, or wheat allergy. A month on a gluten-free diet was found to adversely affect gut flora and immune function, potentially setting up those on gluten-free diets for an overgrowth of harmful bacteria in their intestines."
So much for mindlessly following a fad without deeply investigating the data first. How Not To Die will become a go-to book whenever you have a question about nutrition or need evidence to share with others on the why and how of healthy eating.
If you enjoyed this review, you may want to read this post about the nutritional power of flax seeds, one of Dr. Greger's Daily Dozen foods.
Intrigued? Now you can use our Whole Foods Blog Finder to target informative, fun postings on whole foods, plant-based diets. Quick information at no cost!
Blog posting written by Janice Stanger, Ph.D. Janice authored The Perfect Formula Diet: How to Lose Weight and Get Healthy Now With Six Kinds of Whole Foods. This book guides you to a whole foods, plant-based diet that can prevent and reverse chronic illness, and is rich in Dr. Greger's Daily Dozen foods.
Share and Enjoy
• Facebook • Twitter • Delicious • LinkedIn • StumbleUpon • Add to favorites • Email • RSS
The post How Not To Die: Plant-Based Nutrition Facts and Fun appeared first on Perfect Formula Diet.