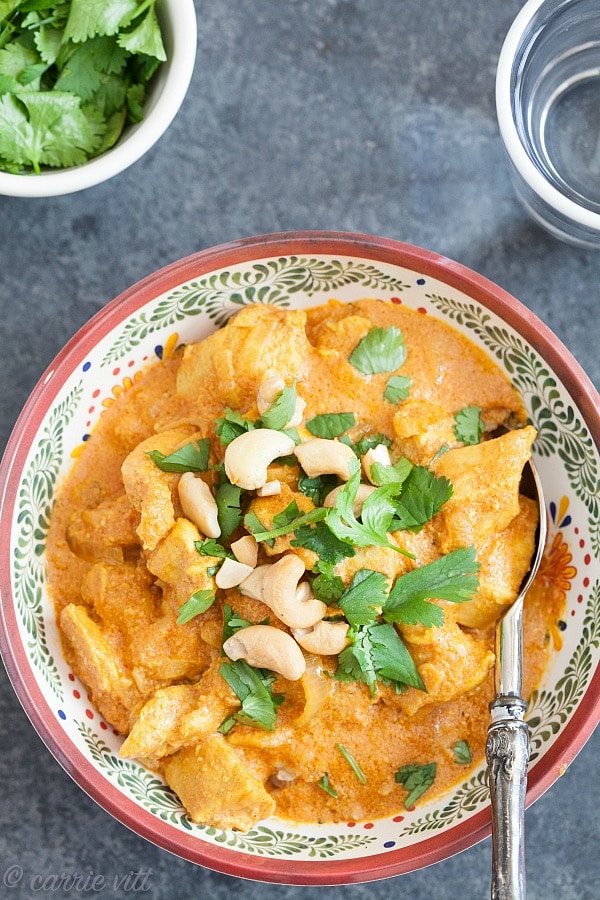 Butter Chicken is a comforting and nourishing meal that has become a family favorite these last few months. The chicken is marinated in yogurt, Vindaloo Spice Blend, and lemon juice and then combined with caramelized onions, broth, tomatoes and cream to create a luxurious meal.
With a recipe like this, I'm pretty sure many of you will ask about adaptations, so let's dive in:
If you need to avoid dairy, you can make this with a dairy-free yogurt, coconut oil and coconut milk (see specific measurements below).
If you need to avoid tomatoes, you can use 1 cup of this Nomato sauce. If you're wondering why I use nightshades in my recipes and if you need to avoid them, read this article.
You can serve this with either riced cauliflower or properly prepared brown rice.
The Vindaloo spice blend is a must. I honestly don't know how to make this dish without it. You can purchase it here, or make your own.
I like to put together the marinade in the morning and then finish the rest when it's time to cook dinner. It also makes for great leftovers!
Carrie Vitt
Butter Chicken Recipe
20 minPrep Time
60 minCook Time
1 hr, 20 Total Time
Ingredients
For the marinade:
1 cup plain, whole yogurt (or coconut or almond milk yogurt for a dairy-free option)
1/4 cup Vindaloo spice blend
Juice of 1 lemon
4 chicken breasts cut into bite-size pieces
For the onions:
1 stick unsalted butter (or 4 tablespoons ghee or coconut oil for a dairy-free option)
2 yellow onions, thinly sliced
1 cup crushed tomatoes
1/2 cup chicken stock or broth
2 teaspoons Celtic sea salt
1/2 cup raw cream or coconut milk
Cilantro and chopped cashews for serving (optional)
Instructions
Stir the yogurt, vindaloo spice blend, and lemon juice together in a medium bowl. Stir in the chicken and make sure the chicken is thoroughly coated with the marinade. Cover and place in the refrigerator to marinate for about 8-10 hours, or you can leave the mixture on the counter for 1 hour to marinate if you're short on time.
Melt the butter over low heat in a large sauté pan. Add the onions and cook on low heat for about 35-40 minutes, stirring occasionally until soft and caramelized. Stir in the chicken mixture (yogurt, spices and all) and increase the heat to medium. Stir in the tomatoes, stock and salt. Continue to cook, stirring frequently, until chicken is cooked through, about 15 minutes. Stir in the cream. Serve over riced cauliflower, or soaked brown rice, and top with chopped cilantro and cashews.
7.6.7
4581
https://deliciouslyorganic.net/butter-chicken-recipe/
Copyright 2016 Deliciously Organic
The post Butter Chicken Recipe appeared first on Deliciously Organic.