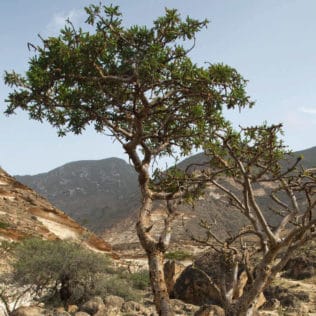 Boswellia sacra tree
What Is Frankincense?
Frankincense also called olibanum, comes from the dry tree sap (resin) of the Boswellia Sacra Tree. The Boswellia sacra tree is native to the Horn of Africa, Arabian Peninsula and parts of India.
Also referred to as the Holy Grail or King of Essential Oils.
Funny Side note Every time I hear Frankincense I think of the movie Evan Almighty with Steve Carel and Lauren Graham. He asked about having anything unleavened, and she replies with a sarcastic remark.
Evan Almighty and Frankincense & Myrrh response
What Does Frankincense Mean?
Besides the biblical reference to Frankincense, do you know what it means? Frankincense comes from the Old French 'franc encens', meaning pure incense.
What Can You Use Frankincense For?
FRANKINCENSE FACT: While frankincense is indeed an incense, its use is far more extensive. Frankincense is part of religious ceremonies worldwide, including in the Catholic, Greek, Russian Orthodox, and Ethiopian Churches, in Judaism, and in Islam. It has traditionally been used in religion for the psychoactive properties of its smoke and valued for its perceived transcendental ability to connect humans to their spiritual world. It is used in Ayurveda and Chinese traditional medicine as well as in other traditional health systems.

Per Save Frankincense Facebook Post
Check out this article from the NYTimes Could This Be the End of Frankincense? I hope not.
PROPERTIES
Frankincense has anti-inflammatory, antiseptic, astringent, antimicrobial, antibacterial, disinfectant and anti-tumor properties.
You can find this exotic essential oil in perfumes and natural medicine. But how do you use it in modern times, LOL?
FRANKINCENSE BENEFITS
Anti-Aging
This King of essential oils can deliver. Improve skin elasticity, even out your complexion, regenerate healthy skin cells, prevent wrinkles, reduce pore size, help with acne, and tighten your skin. Wow, add to your daily skincare routine now to get all those benefits! I add it to my Ayurveda Kesaradi Oil and Manjish Glow Elixir oil, try oil cleansing. I love both of these products.
Scar Care Treatment
Frankincense has anti-inflammatory properties which makes it good for minimizing the appearance of scars. Also, it can reduce the appearance of dark spots/discolorations. Apply topically with a carrier oil. Be sure there are no open wounds when applying. For ease of application place in rollerball and apply.
I've used a mix of frankincense and lavender on a large scar. It helped with reducing the appearance of redness and also helped fade the scar. The section that had more tension didn't have much noticeable change. But the outlying areas with less tension had noticeable benefits.
Relieve Digestive Issues
Including indigestion, bloating, gas and even tummy aches/cramps or IBS. Frankincense aids in digestion like enzymes thereby alleviating some of these symptoms. Apply topically with a carrier oil, massage over the problem area.
PMS Symptoms
Ladies, those horrible or uncomfortable period cramps can be a pain. For some us even ovulation is painful.
That's twice a month of painful cramps. You need relief and taking Motrin may not be enough.
Frankincense benefits anti-inflammatory properties can help you out and bring an added layer of relief. Apply topically with a carrier oil and massage over abdomen. For added benefits add Lavender essential oil for mood and relaxation. Add in a warm bath for extra help, if you need it.
Arthritis Relief
Again, its amazing anti-inflammatory properties come into play here. It can relieve inflammation in joints caused by arthritis. Apply topically as mentioned above and massage onto needed joints.
Oral Health
One of the many Frankincense benefits is the antibacterial properties that kill bacteria that cause bad breath, cavities, mouth sores, and gum disease! That's a lot of great oral care benefits. If you do oil pulling you can add it to this part of your routine. Otherwise, add to your homemade toothpaste or check out Pinterest for more recipes.
How Do You Use Frankincense?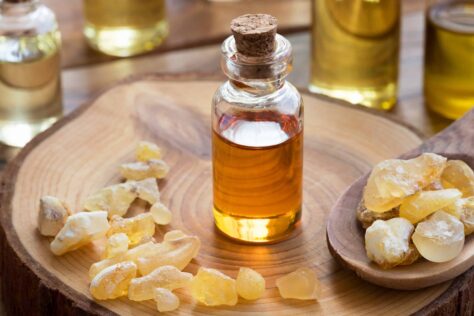 Aromatherapy
Diffuse this earthy and spicy aroma to help with nasal or chest congestion as it acts as an expectorant, bonus Frankincense benefits. It can also help with relieving stress, anxiety while improving your mood.
Topically
You can add Frankincense to products you already have or make your own blend using a carrier as the base. Do not apply to open wounds.
Carrier Oils
Use these oils to dilute the concentrated essential oil, and reduce skin irritation. Popular carrier oils include almond, jojoba, argan, and coconut oil. Your preference on which one you like to use and how it feels on your skin.
You can use almond and jojoba. You can use roller balls to create easy to use roll-on that glides on easily, plus you can take it with you. Try these and be sure to label the bottle!
Otherwise, you'll be wondering later what the heck is in that little green/blue bottle. It'll happen to you; trust me. Use a label machine or other method to ensure you know what you're putting on.
Where to Buy Frankincense That Won't Break the Bank?
Its true Frankincense can be one of the more costly essential oils out there. Not to worry because a reasonable company called Jade Bloom is your answer. They deliver quality essential oils without the crazy MLM prices.
There are quality companies out there, no doubt, but do they have to be soo expensive? I've tried them all, read more about my experience here.
Jade Bloom is an up and coming brand that I use and love. You can check them out here. Have a browse and give Frankincense a try. At these prices, you can try more than one essential oil at a time!
Leave a comment and let me know how you use Frankincense. I'd love to hear how you use this wonderous oil!
Catch up on previous Essential Oil posts Lavender and Tea Tree.
The post what are 6 frankincense benefits? appeared first on Inspire Health and Spirit.