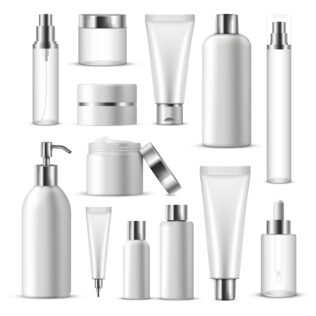 If you've experienced painful periods then you'll do anything to ease these symptoms. Perhaps you have PMDD and are in anguish every month due to the severe and debilitating pain.
Did you know there are products that can interfere with women's hormones? Changing these products can lead you to feel less painful PMS or PMDD.
There are contributing factors in what can cause PMDD and hormonal imbalance. Read my article about that here. In researching how to reduce my own PMDD symptoms, I came across products that may be disturbing female hormones. Thus causing PMDD due to hormonal imbalance such as estrogen dominance.
There are products that can mimic estrogen and cause a disturbance hormonally. Also known as Endocrine disruptors or hormone disruptors. This includes skincare, cosmetics and hair products that are known to disrupt hormone functions. In addition, these disruptors are also found in our environment and food. They're all around us.
There are so many other chemicals that can cause harm that I can't list them all here. Please read The Dirty Dozen Endocrine Disruptors for more info by the EWG. Some of these hormone disruptors are linked to breast cancer. The impact of these hormone disruptors is a real and serious concern.
Breast Cancer
Hormone disruptors can affect how estrogen and other hormones act in the body, by blocking them or mimicking them, which throws off the body's hormonal balance. Because estrogen can make hormone-receptor-positive breast cancer develop and grow, many women choose to limit their exposure to these chemicals that can act like estrogen."

Breastcancer.org
The following list can be overwhelming and you may not know where to begin.
There are only 4 hormones disruptors listed here. Yet, there are several more but to make it easier to tackle we've started with four.
Hormone Disruptors / Chemicals To Avoid
Parabens
4-Methylbenzylidene camphor (4-MBC), methylparaben, ethylparaben, propylparaben, and butylparaben, Benzophenone
You've seen this listed on products as Paraben-Free but what is? It's a preservative, to stop the growth of bacteria, fungus. Parabens are used in all kinds of products including makeup, hair products, moisturizers, shaving creams, and shampoo/conditioners to name a few.
Phthalates
DBP (dibutyl phthalate), DNOP (di-n-octyl phthalate), DiNP (diisononyl phthalate), DEP (diethyl phthalate), BBzP (benzyl butyl phthalate), DnOP (di-n-octylphthalate), DnHP (di-n-hexyl phthalate), DEHP (di 2-ethylhexl phthalate), DiDP (diisodecyl phthalate), DMP (dimethyl phthalate)
Phthalates a hormone disruptor is found in hair spray, hair gels, perfumes, soap, shampoos/conditioners, and nail polish to reduce the brittleness of the product and give it some staying power.
BPA (Bisphenol A)
BPA is a plasticizer. What's a plasticizer? Its a chemical added to products to increase its workability. Most known to be in plastic bottles, you'll see BPA free labels on plastic items but be careful this doesn't mean they're safe. Read more about that here. It can also be found in cosmetics, toys, pesticides, detergents and more. This includes plastic packaging for your skin and hair care products.
Sodium Lauryl Sulfate / SLS
Sodium dodecyl sulfate, and sodium laureth sulfate (SLES)
Found in shampoo, soaps, and toothpaste and is a foaming and emulsifying agent. Makes you think, do you need something to foam so you feel clean? I'd prefer to not use a chemical also found in engine degreasers and floor cleaners on my body.
Should You Throw out All Your Products and Get Better Products?
That may be costly. Or do you start to swap out your chemical-heavy products over time?
The decision, of course, is up to you. I've slowly swapped out products after I finished the chemical-heavy products. I started with products that I applied the most and swapped those out first. So that would be body lotion, makeup and hair products. It took some trial and error to find the products that I like but they are out there. You'll experience the same as you have to find what works for you.
While I was experiencing PMDD I searched for reasons why I was having this painful issue. I had already eliminated several of the hormone disruptor culprits, I thought. I went through my whole routine to see if I was still using something that may be contributing to my symptoms.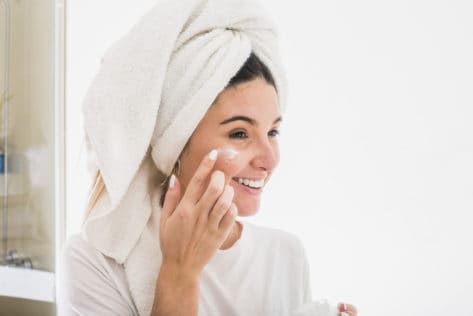 Skincare products are another hit or miss with some brands. Don't give up and keep trying to find the one that works for you. I'm building my skincare product line back up and still looking for a few more products. Let me know if you recommend any lines in particular.
It turns out I hadn't swapped out my skincare products. I stopped using all skincare products immediately. The biggest swap was my Skinceuticals CE Ferulic to Marie Veronique C+E Ferulic Serum. I've since used an entire bottle of Marie Veronique C +E Ferulic Serum liked it and saw results. I recently purchased my second bottle.
Any products you apply to your skin get absorbed, almost immediately, into your body. These products are Endocrine disruptors. There are plenty more but these are the everyday products you're more than likely using and have the power to change.
Since we're discussing PMS/PMDD related symptoms and hormonal imbalance, we'll focus on the products that most women are applying on our skin daily.
TOP PRODUCTS TO SWAP OUT AND ALTERNATIVES
DEODORANT
Jade Bloom Deodorant, Easy DIY 3 ingredient spray deodorant, Crystal
TOOTHPASTE
Jason
Tom's
Jade Bloom
Activated Charcoal – Read about activated charcoal here
FACE WASH
Oil cleansing / Easy DIY Oil Cleanser
MOISTURIZER
Kesaradi Oil
Manjish Glow Elixir

Burts Bees daily
Burts Bees night cream
SKIN CARE TREATMENT
Marie Veronique C+E Ferulic Serum
NAIL POLISH
Zoya
HAND / BODY LOTION
Aveeno Daily Moisturizing Body lotion fragrance-free, Alba Botanica Unscented Body Lotion
SHAMPOO / CONDITIONER
I've been using the curly girl method for my hair which restricts the use of sulfates, parabens, silicone, drying alcohols, waxes and mineral oils. So I'm in the process of swapping this out. But still working on getting this method down but I'm on my way. I'm currently using this for my hair type if you're interested.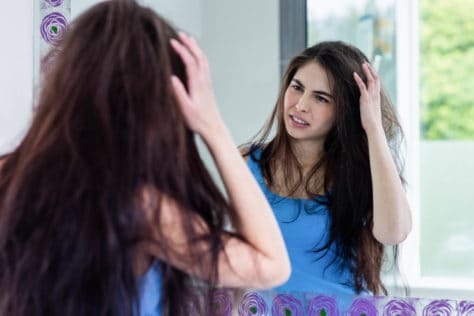 Unfortunately, I've tried so many natural shampoos that I can't remember them all. So many fails and bad hair days. This has been the hardest product to swap out. I'm also dealing with wavy type 2b hair that is a struggle on its own.
Finally, I've found one that works. It's taken about 10 months and so much money. This is a personal product that only you know which one will work best with your hair. Try samples if possible. Some of the natural shampoos made my hair feel oily, straw-like, clumpy or just yuck. I had to rewash my hair several times to get it out.
I recommend trying out new hair products on the weekend and not when you're trying to get ready for work. In case you don't have a positive result.
PERFUME
Pacifica Spray or rollerball perfume. Made with essential oils, and natural plant-based alcohol. You can find this at Target and they have several scents to choose from. There are so many possibilities on this one this is your preference for the scent. Initially, I thought I would make my own with essential oil, but then I saw these at Target and love it. The rollerball is easy to throw in your purse and keep with you.
The scent is nice and light but not too light that you can't smell it. As a person who cannot wear any perfumes, scented lotions, etc this doesn't bother me at all. It doesn't make you sneeze and I find it long-lasting. I love that I can finally wear perfume.
MAKEUP
This is scary, I know, as natural makeup alternatives sometimes don't deliver. You'll try different brands before you find one you like. I like Pacifica eyeshadow, Thrive Cosmetics for mascara, its awesome, blush, and eyeliner. The eyeliner I'm not sure I like, but until I find another brand, and/or run out of this one I'll be using it.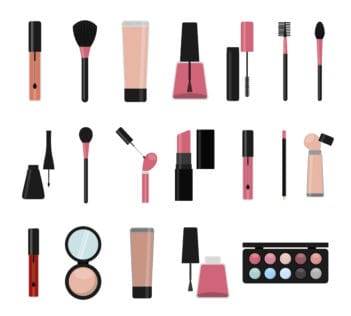 I haven't tried Honest Beauty makeup yet, but I'm looking forward to trying the cream blush and mascara. There are so many brands to try that you have to start with one product then try and build your makeup collection from there.
You can choose a high-end line or cost-conscious products. It's all up to you on how much you want to invest.
MAKING THE SWAP
It's easiest to use up what you're currently using and then make the swap at the next buy. It can be costly to do it all at once but if that's your personality then go for it. It can take time to find the products you like. I caution when swapping out to try it in sample size, if possible, first then purchase the larger size if you like it.
EWG / Environmental Working Group
Check out EWG.org, https://www.ewg.org/skindeep/ and use the EWG app to scan products for product safety.
The products I've listed above may or may not have all the toxic chemicals removed but they are improvements at the least. I recommend using the EWG website to help with looking up products.
They also have an app to scan the barcode of the product you want info on. It will give you a rating based on the exposure to ingredients in the product. The products are ranked as Low Hazard (green), Moderate Hazard (yellow), High Hazard (red).
Know that you'll try several different brands before finding what works for you. This is like making food changes, do it slow and you'll be more apt to stick with it. Pick one endocrine disruptors from the list that you can easily swap out. Then add another product swap when you're ready. Over time you'll transition into more natural products and cut out the hormone disruptors you're applying to your skin. This is a win-win.
I wish you peace and guidance on your journey. Take care and be well.
The post Endocrine Disruptors you should avoid appeared first on Inspire Health and Spirit.