The Refractories market size was USD 23,274.1 million in 2018 and is projected to register a CAGR of 2.46% between 2018 and 2023.
Download PDF: https://www.marketsandmarkets.com/pdfdownloadNew.asp?id=222632393
How is the recycling of refractory materials creating an opportunity for market growth?
The used refractory materials, which are further recycled to form secondary raw materials, are known as refractory grogs. There are two types of refractories—high-quality refractories and low-quality refractories. The usage of recycled refractories depends on the quality of the actual refractory; 100% of the high-quality recycled refractories can be used in other processes, but only 0–30% of the recycled refractories can be used which are obtained from low-quality refractories. The need for recycling of refractory products has increased owing to the increase in the cost of raw materials and freight and environmental pressures that have compelled the companies to look for more sustainable alternatives for refractory applications.
There are several factors which played a pivotal role in the shift toward refractory recycling. From 2008 to 2010, the refractory industry worldwide underwent a very volatile period, during which, certain raw materials became almost impossible to procure due to high demand coupled with low supply. Pressure has been mounting on companies to become environmentally responsible by reducing their respective carbon footprints. Increased taxes on landfill sites and emissions are being enforced, and tax incentives are also proposed to motivate companies to increase their waste recycling efforts. The economic recession during the early part of 2009 affected the refractory sales. The manufacturers are striving to reduce prices to retain their market share. Therefore, recycling of refractories helps to reduce the production cost for the manufacturers, thus offering lucrative opportunities for the growth of this market.
Sample Request: https://www.marketsandmarkets.com/requestsampleNew.asp?id=222632393
Is the overdependence on the iron & steel industry challenging the market growth?
The refractories market is highly dependent on the iron & steel industry, which covers around 60% of the global market. The rest 40% share is covered by end-use industries such as power generation, cement, glass, non-ferrous metal, petrochemical, chemical, and paper & pulp. Hence, the downfall of iron & steel industry would lead to a consequent decline in the refractories market. The demand for refractories from the iron & steel industry has been volatile over the past few years, which has significantly affected the market. Even with the rising demand for refractories from other industries and recovery of the global economic situation, the dependence of refractories market on the iron & steel industry is expected to remain unchanged, thus posing a huge challenge for the growth of the refractories market.
Get 10% FREE Customization: https://www.marketsandmarkets.com/requestCustomizationNew.asp?id=222632393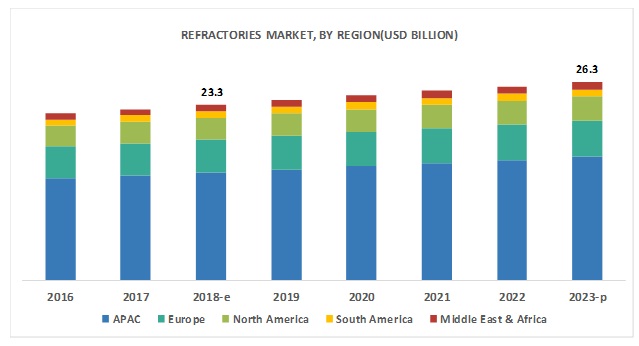 Refractories Market, By Region