Viagra has become a household word, synonymous with relief from Erectile Dysfunction in men.
But this drug, whose reputation is inextricably bound up with sexuality, is proving to have countless potential uses for a range of medical conditions. While Viagra has helped millions of men cope effectively with erectile dysfunction, it isn't hormonal and doesn't directly cause sexual arousal.
Viagra works its magic by improving Blood Flow – notably that to the sex organs. This means that in the presence of sexual stimulation, Viagra provides the blood flow necessary for a man to get an erection strong enough for sexual activity. It is this property of affecting blood flow that gives the active ingredient in Viagra, sildenafil citrate, the versatility to potentially treat numerous other conditions. One of the conditions for which it is being studied is a devastating pregnancy complication called intrauterine growth restriction.
What Is Intrauterine Growth Restriction?
Intrauterine growth restriction (IUGR) is another term for fetuses that are exceptionally small for their gestational age. It's also called fetal growth restriction and is diagnosed in fetuses that are below the tenth percentile in size for their gestational age. It may be "symmetric" and results in all internal organs being reduced in size (which accounts for 20 to 25% of IUGR cases), or "asymmetric," where the head and brain are of normal size, but abdominal organs are smaller.
Risk factors for IUGR include mothers who weigh less than 100 lbs., poor nutrition, chromosomal abnormalities, pregnancy-induced hypertension, use of drugs, cigarettes, or alcohol during pregnancy, abnormalities with the placenta or umbilical cord, the carrying of twins, gestational diabetes, or low amounts of amniotic fluid.
To accurately diagnose IUGR, gestational age must be calculated accurately. Treatment depends on how far along a pregnancy is. In cases where gestational age is 34 weeks or more, early delivery may be prescribed. In earlier pregnancies, fetal well-being must be monitored closely, with fetal lung maturity being especially closely watched.
Babies born after experiencing IUGR face greater risk for hypoxia during delivery, pneumothorax, pneumonia, low blood sugar, high levels of red blood cells, blood that's too thick, and greater risk for neurological and motor disabilities.
Why Researchers Turned to Viagra
Researchers hypothesized that since Viagra improves blood flow throughout the body, perhaps it could improve blood flow through the placenta to the fetus, bringing it more nutrients and helping it develop more fully in the womb. Ideally, it could increase the likelihood of women with IUGR being able to carry their babies to full term.
According to Professor Phil Baker, director of the New Zealand National Centre for Growth and Development, "Sildenafil has the potential to … increase blood supply to the womb, baby, and placenta, and help babies thrive while they are in the womb." Approximately 10% of babies are born smaller than they should be, and most of the time this is caused by the placenta not working optimally. The result is lack of oxygen and nutrients crossing the placenta to enhance the growth of the baby.
Because sildenafil affects the smooth muscle tissue in the lining of blood vessels, allowing them to open up and permit better blood flow, researchers theorize it will improve blood supply to the uterus.
Early Study of a Single High-Risk Pregnancy
In 2012, doctors in India treating a 32-year-old woman with IUGR caused by low levels of amniotic fluid chose to administer sildenafil in hopes that it would improve uterine blood flow. The woman was admitted to the hospital, monitored closely and administered sildenafil over a period of seven days. Doppler ultrasound showed that placental blood flow improved during that time, with the fetus increasing in weight by 200 grams. This allowed the pregnancy to be continued for another three weeks, which researchers don't think would have been possible without the treatment.
Ultimately, the baby was delivered at a gestational age of 30 weeks and cared for in the hospital's neonatal intensive care unit. Eventually, the baby was discharged at a healthy weight and a one-month follow-up after discharge found the baby to be healthy.
Small Scale Trials Promising
Another small-scale trial studied 41 Iranian pregnant women with IUGR at 24 to 37 weeks of gestation. These women were each given a single dose of sildenafil and followed up. Doppler ultrasound found less placental vascular resistance after sildenafil was administered, and researchers concluded that sildenafil can improve feto-placental perfusion in these types of at-risk pregnancies.
New Clinical Trials Planned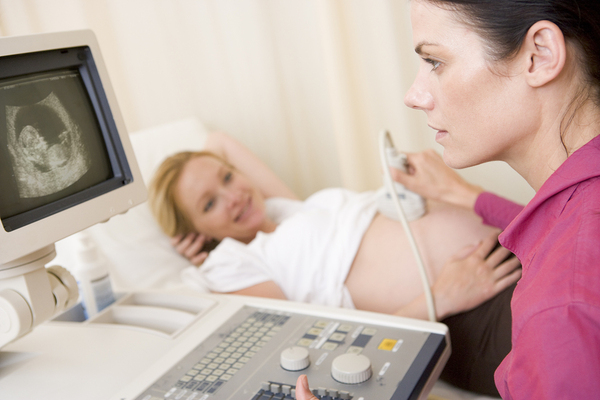 A randomized, single blind clinical trial in Egypt has been planned for comparing sildenafil with aspirin in effect on fetal weight, changes in the umbilical artery, and middle cerebral artery in around 100 pregnant women ages 18 to 40 diagnosed with asymmetrical intrauterine growth restriction (the more common type of IUGR).
Additionally, researchers from the University of British Columbia, along with scientists in five other countries are teaming up to study Viagra as a treatment for IUGR. Dr. Kenneth Lim of B.C. Women's Hospital is hopeful, telling the CBC, "We don't have many treatments for this condition, so it has a lot of potential to do a lot of good." At the conclusion of this global co-operative research program, all participants will pool data in order to draw the most valid conclusions based on the largest number of cases.
L-Arginine as Another Potential Treatment
Doctors who treat erectile dysfunction in men have also collected anecdotal data about the effect of a supplement called L-arginine on erectile dysfunction. L-arginine, found naturally in poultry, fish, and meat, can be made synthetically. It's an amino acid that helps with protein synthesis and increases nitric oxide in the body. Nitric oxide is relevant for men who suffer from erectile dysfunction because it helps blood vessels relax so more blood can flow through them.
Chinese scientists have performed meta-analyses of articles and conference proceedings from 1960 to 2015, including randomized trials comparing L-arginine and sildenafil on IUGR. Researchers concluded that L-arginine was associated with prolonged gestational age and increased birth weight. Still, they concluded that it will take large-scale studies of L-arginine to adequately assess its effect on clinical outcomes in cases of IUGR. But the preliminary results are interesting.
Insufficient intrauterine growth can be a devastating diagnosis, with increased chances of pregnancy complications, premature birth, and long-term health problems in babies. Interestingly sildenafil, the active ingredient in Viagra, which is normally prescribed for erectile dysfunction, could be a key to treating intrauterine growth restriction by improving blood flow to the placenta.
Small studies have been encouraging, and larger studies are getting underway. Ironically, Viagra might never have seen the light of day had participants in its earliest trials not noted the effects on erectile function. Today, sildenafil is being studied for many other health conditions, including those that affect the smallest, youngest patients. To learn more about Viagra and its traditional as well as nontraditional uses, we invite you to browse through our blog content.