POPSUGAR Fitness
Halle Berry Shows Us How to Get Muscles With This 10-Minute Dumbbell Workout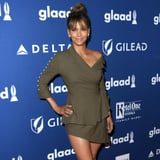 A post shared by Halle Berry (@halleberry) on Jul 27, 2018 at 12:44pm PDT
We're obsessed with Halle Berry's "Fitness Friday" Instagram series. We feel like she's our fitness BFF (let us know when you want to get a workout in!) and love following her fitness evolution. The badass mother of two has been sharing a lot more about her workouts lately, and today she's given us a simple, 10-minute workout that only requires a dumbbell or a kettlebell. "If you're just starting out or if you're advanced in your fitness routine you can get a great workout with just one piece," Halle wrote in her caption. Get your blood flowing and muscles pumping with this full-body workout.
The workout:
Push-up into a rowKettlebell or dumbbell snatchSingle-arm overhead lungeSingle-arm military pressSquats
In order to stay balanced, Halle said to repeat on both sides of your body, constituting one set each. See how many sets you can do in 10 minutes; Halle challenged us to complete five to eight sets. Watch Halle's trainer perform the moves on her Instagram, saved under the fitness icon.
more info...