If you feel back pain, and there is no doctor around, you need to take some urgent actions: it is not always convenient to go to the hospital, especially when you do not want to.
In any case, you will need professional back pain treatment, but we'll start with some effective ways of emergency self-aid at home, one of which is definitely yoga.
Buy branded, high-quality yoga mats on Jiji – let your Yoga classes be most effective!

Just lie down
If the pain comes in a severe attack – just lie down. As a rule, in the lying position back Pain manifests itself to a lesser extent, and even if it hurts, it is not that much. If the pain is really strong, you will have to stay in bed a little longer, and even forget about going to work for a few days.
Keep moving!
In the case of recurring pains – keep moving, do your daily activities instead of lying in bed. Once the pain stops, think about how to start doing regular aerobic Exercise, such as swimming, cycling, walking, that will strengthen your back muscles and make them more flexible.
Warming
Give your back more warmth. Wrap up the sore spot in a warm blanket or a scarf. If there is a warming ointment in your first-aid kit, smear it across the sore spot with the pinched nerve before wrapping it. You can stick a pepper patch which will help to relieve inflammation and improve blood circulation.
---
Try out our best professional Yoga training services on Jiji: change your life for better!
---
Massage
You will not even need a massage therapist to do a back massage (although a professional masseur – is certainly the ideal option).
Watch the video tutorials below:
---
Multi-needle massage carpets
These carpets allow you to remove the back pain quickly. At first, of course, it is painful to lie on the needles, but after a few minutes you will find that the pain is weaker and you feel greatly relieved.
In case it's still uncomfortable after 10 – 15 minutes you should stop the therapy and try the procedure again in 5 – 10 hours.
Strengthening your back muscles
You should work hard to strengthen the muscles that support the back, especially the back extensor muscles. These muscles, if trained properly, will help you maintain the proper position of the spine.
Strong muscles of the hips as well as trained pelvic and abdominal muscles will also help you to achieve that.
Try these effective exercises for lower back pain:
---
Besides, try this super-effective exercise for upper back pain:
---
Buy quality branded clothing for Yoga training on Jiji

: feel maximum comfort!
---
Proper footwear
Wear shoes with a low heel. The heel should be 3-4 cm long, since shoes with high heels create an unstable posture and increase the pressure on the lower part of the spine.
Yoga
Certain yoga exercises are the natural and, in some cases, the best back pain treatment. You can get rid of pain in the lumbar spine without the help of a doctor, as well as strengthen the muscles of the back and abdomen to prevent problems in the future.
These exercises are yoga exercises for your back. The complex consists of 7 exercises, all performed on the floor, on the yoga mat.
Tadasana
Practice tadasana everywhere. Look at the people around you: the majority of them are bent over due to heavy bags or drooping shoulders under the weight of their unhappy thoughts.
As a result, the body weight is distributed disproportionately and, as a consequence, lower back carries an excessive burden. Use yoga experience in everyday life – master tadasana, or "mountain pose".
---
Trikonasana
---
Kurmasana
---
Vajdrasana
---
Urdhva Dhanurasana
---
Viparita Karani
---
Shavasana
Shavasana is considered to be the final exercise, its relaxing effect on the whole body is amazing: it relaxes your body and relieves fatigue, which is very important for back pain.
---
Buy branded, high-quality yoga mats on Jiji – let your yoga classes be most effective!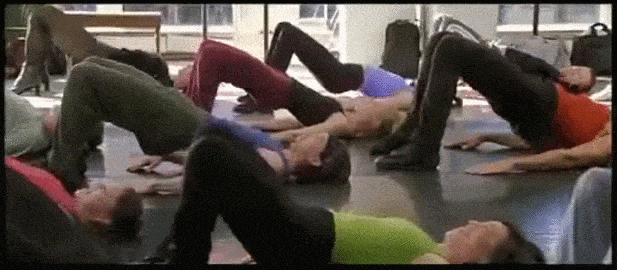 The post Help For Back Pain: Yoga Miracles appeared first on JiJi.ng Blog.