While having a wide, clean lawn is every homeowners' dream, it can take up valuable lounging space. Every garden needs some kind of paved area that makes it easy to move around, have barbecues on, or to create a seating space to enjoy a cup of coffee. Outdoor space is limited and every square meter of it is valuable, especially if you want to host garden parties and get-togethers. Therefore, it's essential to find the right surface that will make movement easier while beautifully enhancing the look of the landscape.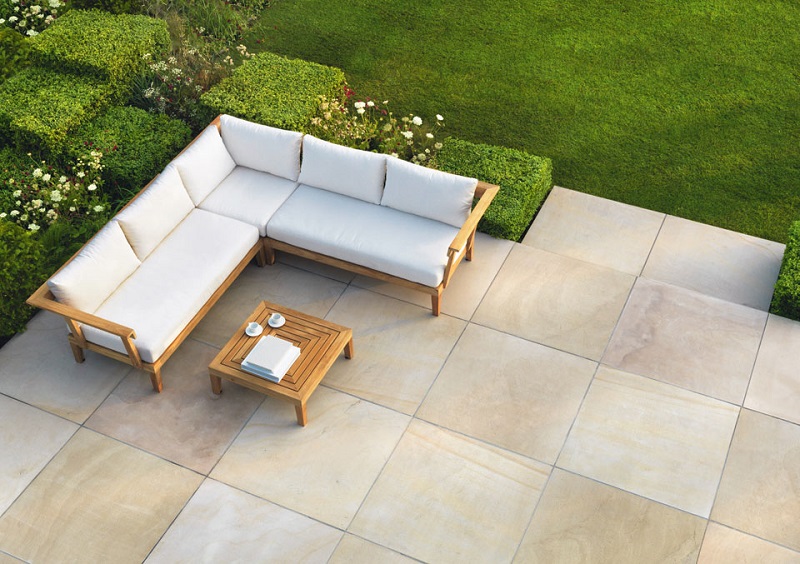 The first question is clearly, what Paving material to choose? And it's a good one, since the type of material will not only affect the look of the paving, but will also influence its durability and ease of maintenance. For many years concrete was the standard because it's an affordable and lasting solution, and everyone who wanted some drama in their landscape opted for stone tiles. But as of late, porcelain outdoor paving tiles seem to become increasingly popular among Australian home owners. And for some very good reasons too.
Up until the past years, porcelain was considered suitable only for indoor uses simply because it was vulnerable to freezing temperatures. However, it all changed thanks to modern production methods which result in porcelain outdoor paving tiles impervious to all weather conditions and foot traffic. Now, porcelain is a worthwhile consideration for landscaping ideas.
The texture of porcelain pavers can perfectly mimic different looks, such as wood or natural stone. You can own a stunning wooden or stone walkway, patio, or deck without having to pay such a high price. Despite the initial price, porcelain is still among the most affordable materials for paving due to its low maintenance costs. Porcelain paving is as close to being maintenance free as any paving can get. If it's installed with quality grout, it can be cleaned spotless with a simple garden hose. In addition to hosing off, you should consider replacing the sealant after roughly four years.
Porcelain paving tiles help you get rid of many other worries as well. Due to being water resistant, porcelain tiles won't suffer the weathering that comes from water absorption which makes them ideal for pool or hot tub areas. Porcelain paving is also fireproof which means your patio or deck will be safe from burning if your home is anywhere near potential wildfires. What's more, porcelain tiles with a wood finish allow you to enjoy the charm of a wooden deck without having to fear termites.
The post Landscape 101: What Makes Porcelain Paving Tiles the Ideal Paving Material appeared first on The Ideal.