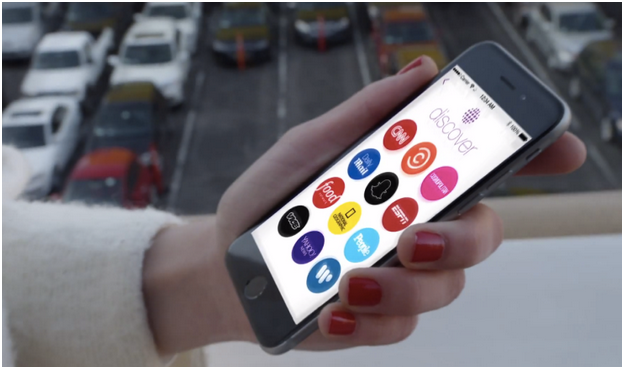 Previously reported 36 kr, Snapchat had planned to launch in November last year Discover media content delivery services, to users to push BuzzFeed, CNN, the daily mail, ESPN, hurst group (Cosmopolitan magazine), national geographic and other companies' information such as video, pictures and articles, and add the charge and advertising, share advertising revenue with the publishers.Now the service is officially launched.
Snapchat push to the users of the publisher, shows the company is trying to increase revenue through advertising.Correspondingly, on the 15th this month, Snapchat are still in the period of 24 hours of friends "Ourstory is here and the latest" joined the dynamic page ads, some of the ads offered $750000 / day price, this is expensive than YouTube patch of $500000.
But, according to Digiday Snapchat is not just want to do a simple content distribution platform, it will launch its own original content.In order to become a real web publishers, in recent months Snapchat from news corp, companies such as MTV, dig to edit and video production personnel, the media department will by a former news corp, senior vice President, Nick Bell, the person in April last year to join the company.
Look at the team lineup: the Verge reporter Ellis Mr. Hamburger, bloggers Nicole James (title creative), free video producer Matt Krautstrun (title video editor), MTV and VH1 producer Greg Wacks (title: creative strategic head) and so on.
In addition to the picture and text, the team will be the main short video creation.As partner of CNN, the former head of KC Estenson puts it, "Snapchat will be very suitable for those who have long teenagers don't watch TV, magazines and newspapers."Snapchat next should be targeted to build something out of it.
With the original content, Snapchat would no longer be a follower of Twitter, Facebook and other social networks.Currently, Twitter and Facebook didn't put the original video pushed to the user's timeline.In fact, involved in the original content has not been social network will be a great success.Snapchat valuations as much as $10 billion, however, advertising has huge potential, and in adolescents with brand influence.In the original content, Snapchat may do better than other social networks.
Vevo music video site may cooperate with Snapchat, but the deal failed to catch up with the Discover the release date, because they had previously divided into issue cooperation not settled