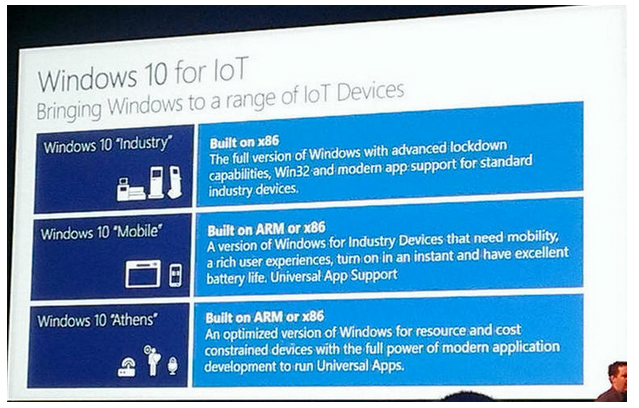 As early as the BUILD conference last year, Joe Belfiore on a massive "stamped on the piano" brief demonstrated "Windows on Device" (also known as Windows for IoT).But today, we haven't really seen it face, until the Raspberry Pi 2 and Microsoft announced yesterday will support this version of Windows. On an autumn Microsoft Tech Ed Europe (TEE14) branch, Microsoft is disclosed about Windows 10 in IoT (Internet of things) in the field of strategic layout.Internet of things in the market, Windows 10 for users and developers to provide three main SKU:
Windows "Industry" : similar to the existing Windows Embedded, belongs to the lite version of Windows desktop.Used in POS terminals, ATM, and railway brake, mobile POS and other large equipment.Only supports x86 architecture processor, can run the win32 application of traditional and Modern applications. Windows "Mobile" : the product of Windows Phone and Windows RT merger.Can be used to screen size less than 8 inches of all kinds of portable devices.Support both x86 and ARM processor, but without a desktop environment, only supports running Modern applications.
10 "native" : Windows lite version Windows Embedded (Windows Embedded Compact).Further compression Windows Embedded hardware requirements and resource consumption, can be used for the printer or other small intelligent hardware.Support x86 and ARM processor (such as Intel Galileo and Raspberry Pi, 2), can run Modern Universal App (general) application.
In the outside also provides a highly simplified. The.net native runtime environment:.net Micro Framework: only provides a simplified..net native runtime environment.Can be used in the intelligent microphone, intelligent bracelet (such as Microsoft Band, the firmware only dozens of k) and other super simple equipment.Available in more simple processors, operation simple,.net native applications.
Theoretically, Microsoft for IoT areas provide 10 SKU all use the same Windows operating system kernel (OneCore), and therefore use the same Windows Runtime and general Store app Store. According to ZDNet Microsoft ecological observers Mary Jo Foley quoted Microsoft Windows IoT team project director Steve Teixeira,. NET Micro Framework runtime Environment mainly aimed at "pre-installed (sub Preinstall Environment)" level of wearable, car, or will to use equipment, these devices are usually due to too simple configuration and unable to run a complete operating system.
In addition, according to Mary Jo Foley from the description of the sources, Raspberry Pi 2, HoloLens and Surface Hub such equipment which is 10 "native" Windows. Microsoft after the BUILD 2014 last year, through the Windows fot IoT website to partners and early interested developers to extend test phase of Windows version on the Device.At the same time, also can see the relevant Windows on making IoT related early version of the code.
According to Surface on the Hub to release and BUILD 2014 presentation, 10 "native" run on x86 environment of Windows can run Skype, OneNote, such as universal application, also can run the application of basic programming environment.MIn the support of Raspberry Pi 2 announcement, Microsoft will mention in the subsequent months gradually revealed more information about Windows IoT.If no accident, this information will appear in BUILD and WinHEC 2015 shenzhen conference.