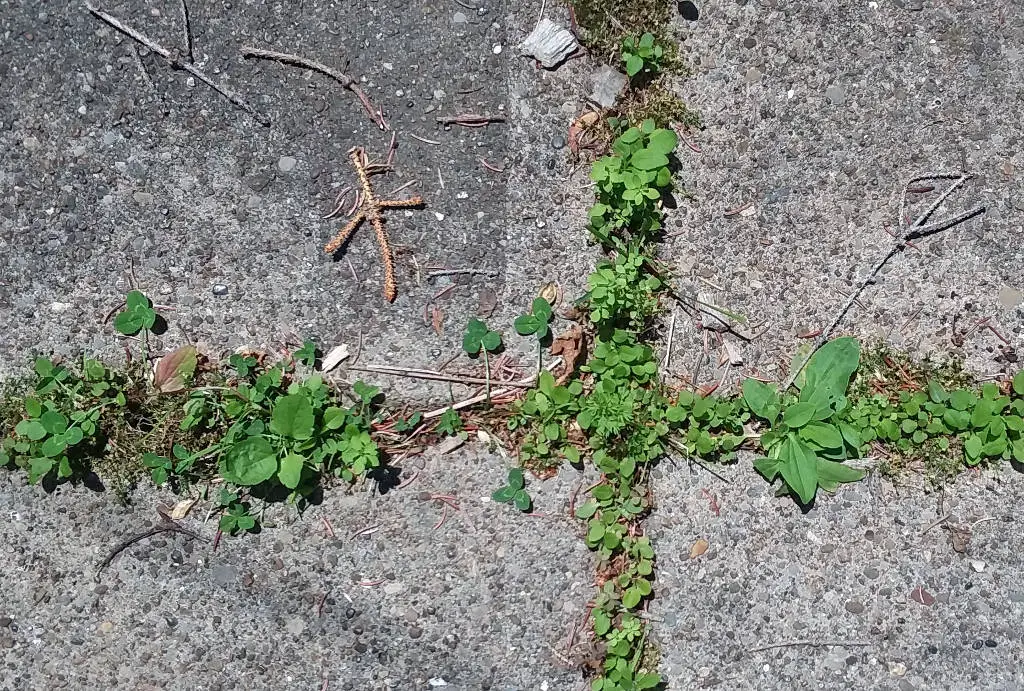 Weeds – they are everywhere.
Every summer, I enter into an epic battle against the Weeds in my yard. They are determined to take over, and I am determined not to let them. My S.O. and I have agreed that we don't want to use any chemicals and herbicides. But I also don't want to spend my entire summer hand-digging out weeds. So over the years I have come up with some great natural weed killers and weeding hacks to make my job easier, without having to use any chemicals.
Green and Grumpy's Best No-Chemical Hacks to Battle Weeds
General Tips
Start early and keep on it. This is actually the most important tip. If you let your weeds get to the point where they start putting out seeds, you've lost the battle. They will be everywhere and it will be a nightmare trying to get them back under control. If you start in early spring before they get a foothold and get rid of them all, then do occasional maintenance weeding throughout the summer, you will save yourself a ton of time in the long run.
Don't create more flower and vegetable beds than you can manage. Mowing a lawn is actually a lot easier to manage. Flower beds and landscaped areas, even when mulched, will get weedy and you'll have to maintain them more. Don't create huge sections of mulched areas that you won't be able to keep up with.
Plant some ground cover. If you have large areas that you don't want to be grass, or grass won't grow, consider planting some ground cover like pachysandra or sedum. As those plants fill in they will crowd out weeds and require little maintenance.
Mulch is your friend, but not a cure-all. Throwing down a layer of mulch on top of a weedy flower bed is a waste of time and money. Those weeds will poke back out within days. If you're going to mulch an area, be sure to completely weed the area first. And I mean dig up those weeds by the root, not just pull off the top and leave the root intact underground. Yes, it is more work upfront, but it will save you work in the long run. And save some mulch for touch-ups throughout the season as you will have to continue to dig up weeds occasionally, and you can toss a little of that extra mulch over the holes.
Tips for flower beds, bushes and landscaped areas
Lay down mulch on top of cardboard to really smother weeds. We have a long row of bushes that runs most of the length of our backyard. The area underneath those bushes gets very weedy and it's tough to get in there without getting poked in the eye by the branches. It's a perfect spot to lay down some cardboard and throw mulch on top, which keeps that area weed-free all summer. I also lay down cardboard and mulch to create weed-free paths in my vegetable garden.
Use brown paper and grass clippings around veggies. The vegetable garden tends to get super weedy, but not if you lay down a layer of some brown paper or newspaper and top it with some grass clippings. Other cuttings from dead plants can work fine also, for instance when I cut back my dead daffodils, I throw those leaves right on there as well. This helps hold in moisture as well as keeping down the weeds. Just don't throw on really thick quantities of leaves or clippings as they can get too matted down and smother your plants.
Tons of tiny weeds or a big area that you can't weed by hand? Use a hoe. If you have an area that is sprinkled with lots of little weeds that would be a pain to dig up one by one, or a big area that would be far too time consuming to dig by hand, get out a hoe on a hot, dry day and simply chop up the area. As long as it doesn't rain again soon, most of the weeds will die. Come back out again in a few days and whatever weeds didn't die, chop them up again. Do this a few times and they will gradually diminish without a lot of effort.
Tips for sidewalks, driveways and patios
Use my vinegar hack for weed-free patios. Do this once a season and your patio will be totally weed-free without using any chemicals. Vinegar is one of the best natural weed killers and this is my absolute favorite weed-free hack!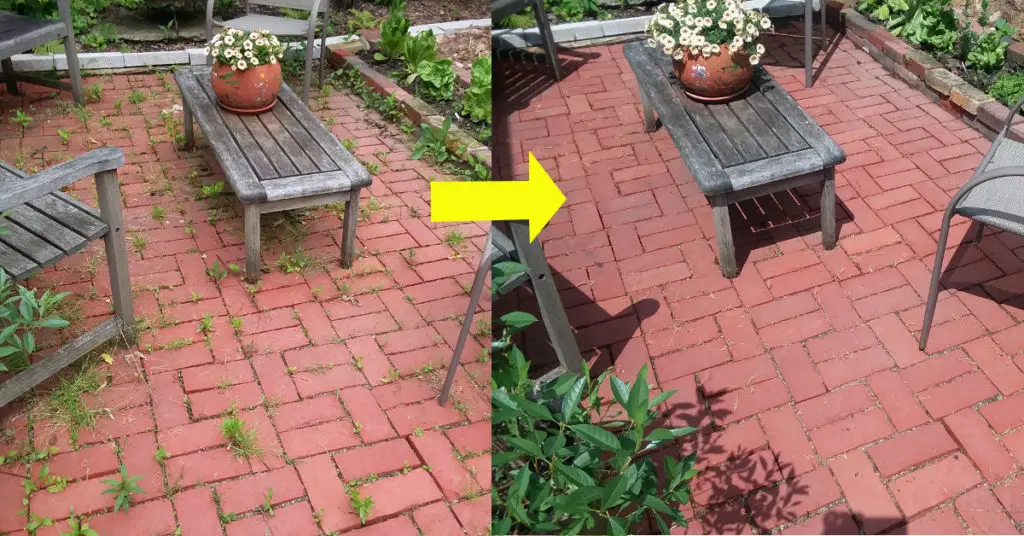 Eliminate weeds with this vinegar trick for patios and sidewalk cracks!
Got any of your own tricks for keeping weeds under control? I'd love to hear them!
The post Best Natural Weed Killers – No Chemicals! appeared first on Green and Grumpy.