Been wanting to do a post about his germinating presidential ambitions since before he came to Houston in June for an "intimate, high-dollar fundraiser". It's been almost two weeks since he was on Colbert and pseudo-declared, and he's said so again.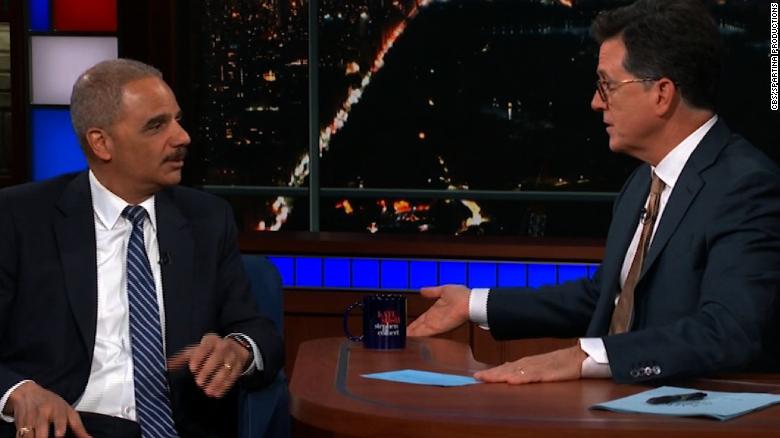 Once again I shan't bury the lede: Holder is in a three-way tie for first in my sports book for the 2020 Dem nom, and here's a few reasons why.
1. Holder should bring back the voters who sat out 2016.
2. Black Democrats, especially those of a certain vintage, are simply disinclined to support candidates on the left like Bernie Sanders. They are more religious and more conservative, and older African Americans as we know turn out for Democrats like it was an extension of Sunday morning church service (which 'Souls to the Polls' is, of course). If you need evidence, see Doug Jones, Alabama. But this piece from Briahna Joy Gray about the awakening political power of the black female vote, more specifically credited with carrying Jones to victory, is direct and a must-read. One short excerpt:
Recall that the majority of black women under 35 cast their lot with Democratic Socialist Bernie Sanders during the 2016 Democratic primary, and about 26% of black Americans identify as independents. Moreover, young voters of color disproportionately chose to stay home in 2016 rather than vote for Hillary Clinton.
Extending the premise in the last sentence: millennials, especially in Texas, may be getting louder but still aren't showing up on Election Day (at least in the primaries).
Before these digressions get too far, let's return to Holder.
3. I can vividly recall being at my precinct convention in the spring of 2008, where there were almost 250 people gathered (when there have been less than 10 at every one before and since) and listened to my black neighbors close to my own age say that while they respected Barack Obama's bid for the nomination, they simply could not support it because
they didn't think the country was ready for a black president
. Which was why they were caucusing for Hillary. (You may recall that Sheila Jackson Lee was also an early Clinton supporter ten years ago.) Meanwhile, all the young white kids in my precinct were caucusing for Obama, and in Texas Clinton won the primary but Obama won the caucuses, so they wound up splitting the delegates. Which is part of the reason the Texas two-step no longer exists, but that's also a digression.
The point -- so the logic goes -- is that America is ready for another black president to clean up everything that Trump has fucked up. Not only that, but Trump, by trying to undo everything Obama did, has made it personal. He is engendering a "blacklash" to Trump's 2016 "whitelash".
A reasonable enough premise.
To be clear, Holder would
not
be a Democrat I would vote for under any circumstance. He could have prosecuted the banker gangsters in the wake of the Great Depression of 2008-09 despite whatever Obama wanted; the USAG has that independent discretion and authority (as Jeff Sessions and Trump are demonstrating). In his post-Obama life Holder went to work for a tassel-loafered law firm, Covington Burley, whose clients include some of the worst corporations with a few of the biggest legal problems you can think of: Uber, Facebook, the NFL. Yes, Eric Holder's law firm is actually defending the NFL's owners against Colin Kaepernick's lawsuit alleging their collusion/blackballing him from playing professional football in their league.
Another report has him going way too easy on the opioid manufacturer McKesson while he was the nation's top cop by exploiting his cozy relationship with their top attorney, who had previously worked at ... Covington Burley.
Some people might smell a
quid pro quo
somewhere in there.
But keep in mind that Democrats in 2020, no matter what happens in three months, are just gonna wanna win, and as Michael J. Fox said in a movie once, they'll crawl across the desert and drink the sand if they think they see an oasis -- even if it's a mirage. The centrists combined with the black vote might be unstoppable irrespective of scandal, baggage, and misguided Obama nostalgia. (He and Joe Biden both, for that matter.) Still, I count at least two more strikes against Holder.
Holder has shown a tendency to play things safe politically. He has called the progressive push to eliminate the U.S. Immigration and Customs Enforcement agency a "gift to Republicans" and is urging Democrats not to talk about impeachment on the midterm trail.
That last leaves him opposed to one of the very few people willing to spend tens of millions of his own dollars on Democratic infrastructure, Tom Steyer. Here is the part where I echo Libby Watson at Splinter: Trust no billionaire.

Maybe—and this is just a thought—we shouldn't have individual billionaires set the agenda for a political party, let alone one that's supposed to represent working people (but doesn't). A party run by billionaires, however good their intentions might be, will never do what needs to be done—like ending the existence of billionaires, just as a start.
So while it's possible Holder cannot withstand scrutiny of his record, stances, and ethical conduct, his fellow dark horses at this too-early stage are also flailing. Wrecking both sides of her street, Elizabeth Warren outs herself as a capitalist. Trump cannot wait to go all First Peoples on her, either.
Cong. Joaquin Castro, standing in for his brother, goes mealy-mouthed about ICE. That's not helping Julian with their base, nor will it help any Latino who actually wants to be president (and not just vice-president) who stands off on this. There is no raft of law-and-order Democrats -- forget "moderate" Republicans -- waiting to board this ship.
(The "Abolish ICE" political opportunity almost backfired on Democrats in Congress: they let the GOP instantly call their bluff. But then they turned the tables on Paul Ryan, et.al., so maybe the Donks are not as dumb as they seem. Republicans are masters at inflaming their base with promises they cannot keep; Democratic electeds and hopefuls
not committed to chasing the mythical crossover Republican voter
should leave the chants to the activists.)
Kirsten Gillibrand might have an Al Franken problem. And not with just George Soros but with women, amazingly enough. The depth and breadth of these objections shocked me, and are excerpted below.
Many of these donors said that either they were unhappy with Gillibrand or knew plenty of people who were. The 2020 race is still years away, but as donors start to shop around, her comments on Clinton and Franken could be a factor.

"I viewed it as self-serving, as opportunistic ― unforgivable in my view," said Rosalind Fink, a New York donor. "Since then, I have not purposely attended any fundraiser where she was there. And there is absolutely no way I will support her."

Fink said she condemned Franken's behavior, but she believed the Senate should have investigated the allegations thoroughly before forcing him out.

"I think it was a big mistake," said Irene Finel Honigman, another Clinton donor from New York, adding, "I was not that impressed with her to begin with. I think she certainly had potential, but as for many people, this kind of sealed the deal."

[...]

Susie Tompkins Buell, a major Democratic Party donor who has championed female politicians, also said she was reconsidering her support for senators who called for Franken to resign.

[...]

Jill Farber Bramson, a Democratic donor and activist in Michigan, said she knew a number of women ― who tended to be older ― who were deeply disappointed when Gillibrand spoke out against Franken.

"They had always really liked Kirsten Gillibrand very much," she said. "They really respected her. ... They were just devastated that she pushed, they felt, all too hard and all too soon to have him resign."
(You should read the full HuffPo piece for the context, including the many powerful Democratic female donors who defend Gillibrand.)
At Netroots Nation over in NOLA this weekend, a surge of ballot-stuffing centrists have propelled ... wait for it ... Terry McAuliffe into the lead over Bernie Sanders for their Crowdpac-sponsored straw poll for the 2020 presidential nom. Kamala Harris is now third, with Joe Biden fourth and Warren fifth. The rest, including those I've already mentioned above trail far behind. As Kuffner says, 'it's a data point', but as usual, you can flush it after reading it.
Mark it Sanders, Biden, and Holder as the three front-runners with 2.25 years to go.