It's another cold day here in the CatBox, but upgraded to Winter Storm Watch from Winter Storm Warning. It's a slow day for news, but I found material for you. Kudos to the Denver teachers.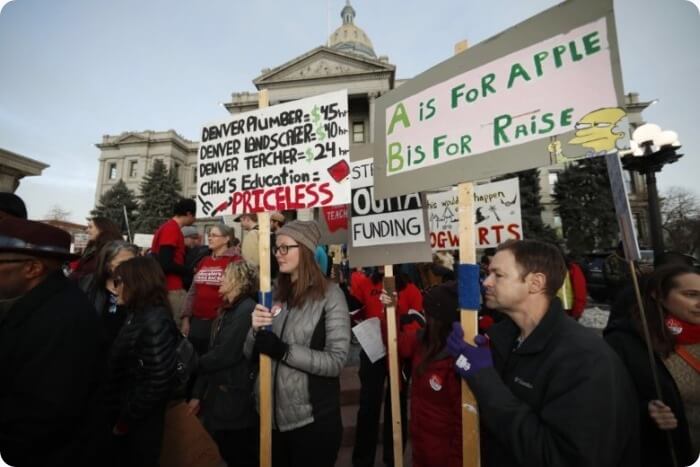 Jig Zone Puzzle:
Today's took me 3:37 (average 5:20). To do it, click here. How did you do?
Short Takes:
From YouTube (Parody Project Channel): FIFTY WAYS TO LEAVE A DONOR – Parody
Thanks Don. Corporate and billionaire donations come with no strings. The Pope is not Catholic. And bears never, ever shit in the woods. (Don replied, "And surfers never pee in the ocean." I responded, Only when standing on surfboards.") RESIST!!
From YouTube (CNN Channel): Amy Klobuchar throws her hat in the 2020 ring
If she gets the nomination, I'll support her, but there are more progressive, less corporatist, candidates I prefer. RESIST!!
From Washington Post: The last government shutdown may have ended just a few weeks ago, but odds are escalating that another one is just around the corner. With negotiators skeptical that a deal can be struck before Tuesday, it looks as if another shutdown will begin Friday night. So Republicans are going back to scaremongering about Violent immigrants.
President Trump set the tone early Sunday morning, tweeting [traitor delinked] that Democrats "want a cap on convicted violent felons to be held in detention!" Republicans on the Sunday talk shows echoed him: "How in the world after that speech does he sign a bill that would reduce the bed spaces available for violent offenders?" asked Sen. Lindsey O. Graham (R-S.C.) on Fox's "Sunday Morning Futures," referring to Trump's State of the Union address. "We got some problems with the Democrats dealing with [Immigration and Customs Enforcement], that is detaining criminals that come into the U.S. and they want a cap on them, we don't want a cap on that," said Sen. Richard C. Shelby (R-Ala.) on "Fox News Sunday."
"Protections for violent offenders" sure sounds like an odd stance for a political party to take. So it should be no surprise that it's not accurate. Yes, Democrats want to cap the number of unauthorized immigrants that ICE can detain at any given time. But the proposed cap — 16,500 — matches the level of detentions inside the United States in recent years. By capping the number, Democrats want ICE to focus on violent illegal immigrants, not waste resources arresting a mother in San Diego in front of her family or holding parents separated from their children.
So the Democratic ask isn't for protection for "violent offenders." And it is also quite small. Besides, why wouldn't Democrats ask for something? Republicans are asking for money for a border wall and in exchange they will not shut the government down … again. Voters gave Democrats the House last fall — it seems only reasonable that they would want something to show for it.
Assuming you have heard just the Republican lies, as I had before researching the issue, you now know how to counter them. RESIST!!
Cartoon: