It's a cool day here at the CatBox, and I'm loving it. I want to get as much rest as I can, because I'm burned out, and Monday is my semi-annual eye torture.
Jig Zone Puzzle:
Today's took me 3:45 (average 4:56). To do it, click here. How did you do?
Religious Ecstasy:

Since this was the dress rehearsal for regular season, I was quite pleased with the way my Broncos dominated the game. Here is one of my favorite plays:
Short Takes:
From YouTube (MSNBC Channel): Representative Duncan D. Hunter Throws His Wife Under The Bus
Given Fuhrer Drumphenfarten's love of copying other misogynists, someone had better check Melania for tire tracks. RESIST!! VOTE BLUE!!
From YouTube (Media Matters Channel): Tucker Carlson's Fox News show is a cesspool of white nationalist rhetoric
Barf Bag Alert!!
What else would you expect from the Republican Reichsministry of Propaganda, Faux Noise? RESIST!! VOTE BLUE!!
From The New Yorker: In an interview with NBC's Lester Holt, Donald Trump boasted that, if he is impeached, the television ratings will be higher than those of any other impeachment in history.
"Everywhere I go, people tell me that if I am impeached, they're going to watch it," he said. "The ratings are going to be through the roof."
He said that he expected his impeachment ratings to be "many, many times" the size of the audience for Bill Clinton's impeachment, in 1998.
"It's not even going to be close," Trump said. "The ratings for Bill Clinton's impeachment were a joke.
Dang Andy! If he's right, that's fine with me! RESIST!! VOTE BLUE!!
Cartoon: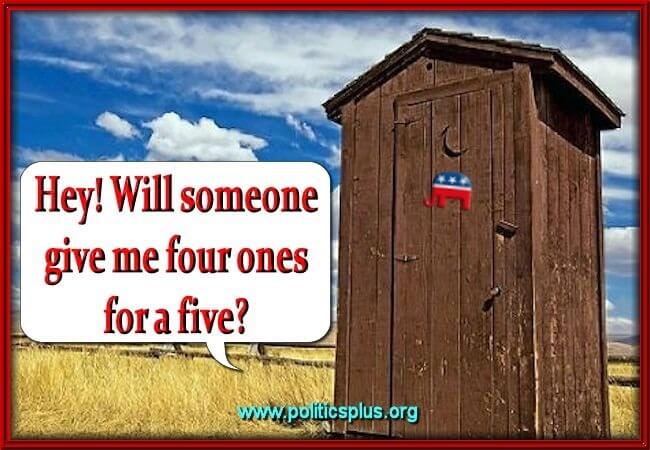 Give them three ones. Sheeple are stupid.