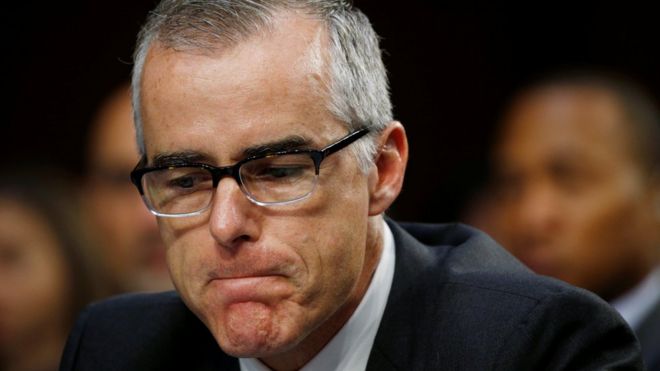 Courtesy of NBC News:
FBI Deputy Director Andrew McCabe, who has been attacked by President Donald Trump, stepped down Monday, multiple sources familiar with the matter told NBC News. McCabe will remain on the FBI payroll until he is eligible to retire with full benefits in mid-March, the sources said. One source said McCabe was exercising his retirement eligibility and characterized his decision as "stepping aside."McCabe has been at the center of ongoing tensions between the White House and the FBI and has reportedly been under pressure to quit from Trump, whose presidential campaign is being investigated for possible collusion with Russia. Earlier this month, The Washington Post reported that after Trump fired FBI Director James Comey, he met with McCabe in the Oval Office and asked him whom he had voted for in the 2016 election. Trump, the officials told The Post, also vented his anger at McCabe over hundreds of thousand dollars in donations that his wife, a Democrat, received for her failed 2015 Virginia state Senate bid from a political action committee controlled by a close friend of Hillary Clinton.
When reached for comment Trump had nothing to say on the matter, but this has his fingerprints all over it.
Trump has been attacking McCabe for months on Twitter, and of course also pressured Jeff Sessions to fire him as reported recently.
Oddly enough while NBC News was careful not to characterize this as a firing, Fox News just laid it on the line:
Top FBI official Andrew McCabe has been "removed" from his post as deputy director, Fox News is told, leaving the bureau after months of conflict-of-interest complaints from Republicans including President Trump. A source confirmed to Fox News that McCabe is taking "terminal leave" – effectively taking vacation until he reaches his planned retirement in a matter of weeks. As such, he will not be reporting to work at the FBI anymore.
Other sources are also reporting that this was not McCabe's decision alone.
#BREAKING:

Andrew Mccabe

- one of three FBI officials who could corroborate Comey's account of Trump pressuring him to drop the Russia probe before firing him - was just "forced" to step down as FBI deputy director https://t.co/1cdKBwet7m

— Caroline O. (@RVAwonk) January 29, 2018
Yes, as that tweet suggests Andrew McCabe was indeed one of Comey's backups in his story about Trump pressuring him to drop the Michael Flynn investigation.
And perhaps that, more than anything else, put a target on his back.
Of course this "forcing out" changes absolutely nothing about that, as Mueller can still, and probably already has, interviewed Andrew McCabe.
However it does certainly add more fuel to that obstructionism fire, now doesn't it?
Update: FBI field agents were taken by surprise.
Courtesy of Raw Story:
Appearing on CNN Monday, reporter Shimon Prokupecz said that he's heard from leaders in FBI field offices across the country who say they and their teams are frustrated that they are first hearing about these resignations through news reports and not through official channels. "This comes as a surprise to many people," Prokupecz said of McCabe's departure. "Certainly the initial reaction from folks in the field — and these are the field agents and the field leaders at the field offices — is that people are pretty angry right now. They are hearing about FBI leadership moves from the news." Prokupecz said that because news of McCabe's departure broke in the news before it was announced internally, it has added to a sense of chaos engulfing the agency. "There is some concern among field leaders, among field agents among the FBI staff about what the hell is going on and who is running the FBI," he explained, before noting that McCabe's abrupt departure was very similar to the firing of former FBI Director James Comey.
I think "What the hell is going?" on is a very reasonable question to be asking right about now.