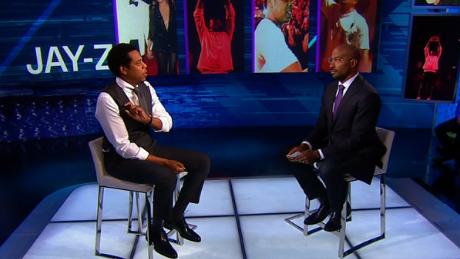 Courtesy of CBS News:
Jay-Z sat down for a wide-ranging interview with CNN's Van Jones on "The Van Jones Show" in which the two discussed the president's economic record among African-Americans and minorities. The unemployment rate among black Americans is 6.8 percent -- the lowest it has ever been, but far above the 3.7 percent rate among whites. Jones asked the rapper whether or not it was fair for Mr. Trump to "say terrible things but put money in our pockets." Jay-Z disputed that assessment, saying, "it's not about money at the end of the day. Money doesn't equate to happiness, it doesn't. That's missing the whole point." "You treat people like human beings. That's the main point," Jay-Z said. "It goes back to the whole thing -- 'treat me really bad and pay me well.' It's not going to lead to happiness, it's going to lead to, again, the same thing. Everyone's going to be sick."
Trump apparently missed that part where Jay-Z said the jobs did not make up for his blatant racism.
So he tweeted out this:
Somebody please inform Jay-Z that because of my policies, Black

Unemployment

has just been reported to be at the LOWEST RATE EVER RECORDED!

— Donald J. Trump (@realDonaldTrump) January 28, 2018
Once again that is the guy in the White House getting into a Twitter spat with a black entertainer.
But here's the thing, the black unemployment numbers were already rapidly going down BEFORE Trump took office.
As you can see the both the black AND white unemployment numbers started to drop right around 2010, when PRESIDENT OBAMA'S policies kicked in.
If Trump had inherited a spike in unemployment, and then saw it reduce under his administration, he might have some legitimate bragging rights.
But this is like taking over the wheel from a captain who just steered the vessel safely through an enemy mine field, and then taking credit for a trouble free voyage.
Besides, exactly WHAT policies has Trump put into place that he could possibly credit for a reduction in the black unemployment rate?
No seriously, I'm asking.