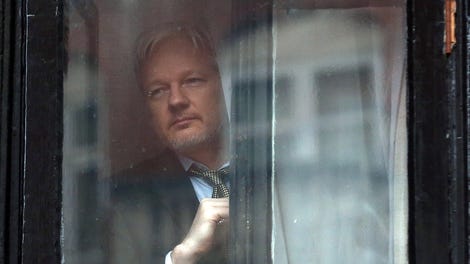 Courtesy of The Guardian:
Julian Assange's long stay in the Ecuadorian embassy in London is having a "dangerous" impact on his physical and mental health, according to clinicians who carried out the most recent assessments of him. The pair renewed calls for the WikiLeaks publisher to be granted safe passage to a London hospital. Sondra Crosby, a doctor and associate professor at the Boston University's school of medicine and public health, and Brock Chisholm, a London-based consultant clinical psychologist, examined Assange for 20 hours over three days in October. In an article for the Guardian, they wrote: "While the results of the evaluation are protected by doctor-patient confidentiality, it is our professional opinion that his continued confinement is dangerous physically and mentally to him and a clear infringement of his human right to healthcare." Although the two did not go into details, Assange's health appears to be deteriorating significantly after more than five years holed up in the embassy.
Well that's a real shame isn't it?
Poor little Julian has to hide out after working with the Russians to interfere in our last presidential election and to avoid those allegations of sexual assault.
That must be a terrible burden.
But do you know where you can get top notch medical treatment?
In a Federal prison.
Yep they would certainly fix him right up, and I am positive that there are open invitations to prisons from all over the world.
Or he could just stay where he is and take his chances.
Simply could not care less.