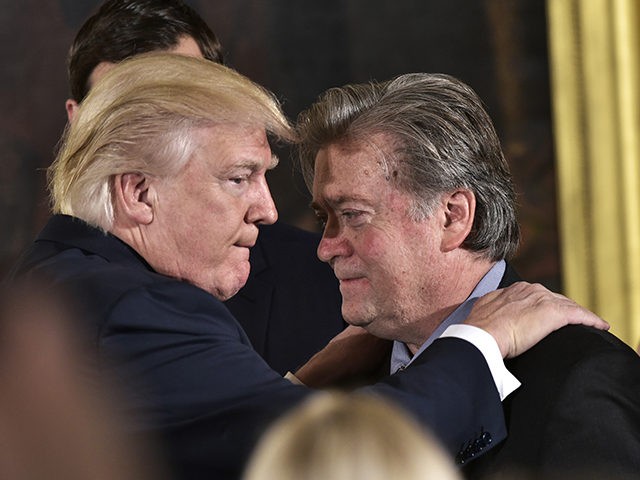 Courtesy of the New York Times:
President Trump essentially excommunicated his onetime chief strategist, Stephen K. Bannon, from his political circle on Wednesday, excoriating him as a self-promoting exaggerator who had "very little to do with our historic victory" and has now "lost his mind." In a written statement brimming with anger and resentment, Mr. Trump fired back at Mr. Bannon, who had made caustic comments about the president and his family to the author of a new book about the Trump White House. While Mr. Bannon had remained in touch with Mr. Trump even after being pushed out of the White House last summer, the two now appear to have reached a breaking point. "Steve Bannon has nothing to do with me or my presidency," Mr. Trump said in the statement. "When he was fired, he not only lost his job, he lost his mind." Mr. Trump berated Mr. Bannon for the loss of a Senate seat in Alabama and said the former adviser did not represent his base but was "only in it for himself." Rather than supporting the president's agenda to "make America great again," Mr. Bannon was "simply seeking to burn it all down," Mr. Trump said. "Steve pretends to be at war with the media, which he calls the opposition party, yet he spent his time at the White House leaking false information to the media to make himself seem far more important than he was," he added. "It is the only thing he does well. Steve was rarely in a one-on-one meeting with me and only pretends to have had influence to fool a few people with no access and no clue, whom he helped write phony books."
I love this so much I can barely stand it.
Watching these two arrogant assholes rip each other apart in public is almost like a second Christmas.
I think the last time I took such joy in reporting facts, which backed up what people had believed all along, was when I reported on the Palin Anchorage brawl.
We KNEW that Trump did not expect to win, and that is now confirmed.
We KNEW that he had no plan to implement policies if he won, and now that has been confirmed.
We KNEW that the Trump White House functioned like a badly written reality show full of drama and infighting among the "cast members," and now that has been confirmed.
And we KNEW that this White House would self destruct at some point, and now we are watching that happen in real time.
My only hope is that there is something left of the presidency for the Democrat who is going to be elected at some point to come in and clean up this mess.