 Courtesy of the New York Times:
Representative Blake Farenthold, a Texas Republican who settled a lurid sexual harassment claim with his former communications director for $84,000 and faced accusations from other aides that he ran a hostile workplace, announced Thursday that he will not run for re-election, saying the allegations have become "a political distraction." He is the fourth lawmaker in two weeks to announce his eventual departure from Congress amid the swirl of sexual allegations and the sixth this year. In a nearly five-minute long video posted on his campaign's Facebook page, Mr. Farenthold denied the sexual harassment allegations from his former communications director, Lauren Greene. But he admitted, with unusual candor, that he had run an "unprofessional" workplace and that his own temper sometimes got out of hand, describing himself as "profoundly sorry" for his conduct. "I'd never served in public office before. I had no idea how to run a congressional office, and as a result I allowed a workplace culture to take root in my office that was too permissive and decidedly unprofessional," Mr. Farenthold said. "It accommodated destructive gossip, offhand comments, off-color jokes," he went on, adding, "and I allowed the personal stress of the job to manifest itself in angry outburst and too often a failure to treat people with the respect that they deserved. That was wrong."
Gee ya think?
By the way that "I'd never served in public office before" excuse is extremely weak.
Farenthold was first elected in 2010, when he was about 49 years old.
He was a fucking adult! He was not some frat boy who suddenly got to play Congressman for a day.
By 49 years old you should know not to talk about your female employee's boobs, get shit faced on the job, and act like an out of control asshole to your staff.
As it turns out Farenthold may have been given a little shove by Speaker of the House, and Eddie Munster lookalike, Paul Ryan.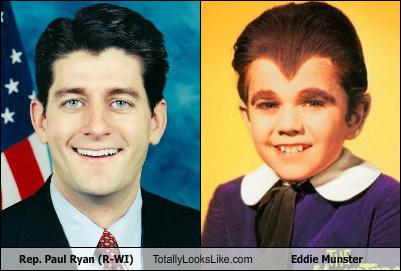 Courtesy of CNN:
Rep. Blake Farenthold, who's under fire for accusations of sexual harassment, is not planning to run for re-election, a Republican source familiar with situation told CNN on Thursday. House Speaker Paul Ryan spoke with Farenthold, a Texas Republican, twice late Wednesday. Rep. Steve Stivers, who chairs the House campaign arm, also met with Farenthold. "Look, I had a couple of conversations with Blake Farenthold," Ryan said at his weekly news conference. "I think he's making the right decision to retire. There are new stories that are disconcerting. Unacceptable behavior has been alleged in those stories. And I think he's made the right decision that he's leaving Congress. And that reflects on the conversations we've had."
This is now becoming a thing with Ryan who also recently had to give the boot to Trent Franks, who was trying to get at least one of his female staff members to let him plant his demon seed in their womb.
This new role has Ryan talking about leaving Congress as well:
House Speaker Paul Ryan has had soul searching conversations about his future with friends, some of his close friends tell CNN. Those people close to Ryan told CNN they believe it is possible that he could leave Congress after the 2018 midterm elections, if he can achieve his goal of passing GOP backed overhaul of the US tax system. Some say his departure could possibly happen even sooner. Some friends indicate that Ryan may be suffering from a bout of "Trump-haustion," but others believe there is serious contemplation of leaving Congress in 2018.
Ryan is now denying the accuracy of this reporting, but that is what they all say right before they resign.
So we will see.