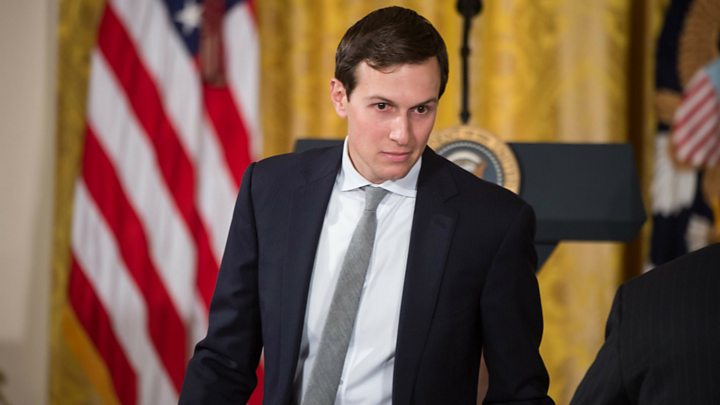 Courtesy of The Hill:
Senate Judiciary Committee Chairman Chuck Grassley (R-Iowa) and ranking member Dianne Feinstein (D-Calif.) on Thursday disclosed that White House senior adviser Jared Kushner received an email about WikiLeaks in the lead-up to the 2016 presidential election. The two senators sent a letter to Kushner's lawyer Thursday demanding additional documents from Trump's son-in-law as part of the committee's ongoing investigation of Russia's election interference. In the letter, Grassley and Feinstein say Kushner received an email about WikiLeaks in September 2016 that he passed on to an official within President Trump's campaign, in addition to communication about a "Russian backdoor overture and dinner invite." "For example, other parties have produced September 2016 email communications to Mr. Kushner concerning WikiLeaks, which Мr. Kushner then forwarded to another campaign official," the letter reads. "Likewise, other parties have produced documents concerning a 'Russian backdoor overture and dinner invite' which Mr. Kushner also forwarded," the letter says. "And still others have produced communications with Sergei Millian, copied to Mr. Kushner. Again, these do not appear in Mr. Kushner's production despite being responsive to the second request. You also have not produced any phone records that we presume exist and would relate to Mr. Kushner's communications regarding several requests."
Wait, an email about Wikileaks, a "back door" contact with Russia?
Yeah, those seem like things the investigators are going to want to see.
But wait, there's more.
Courtesy of Raw Story:
Among the revelations from Congress' news blast claiming the president's aide and son-in-law Jared Kushner failed to provide documents about an alleged "Russian backdoor overture" is a smaller — but still controversial — contact he had with a Belarusian-American businessman. Discussing the findings from a letter sent to Kushner's lawyers by the Senate Judiciary Committee, Business Insider's Natasha Bertrand told MSNBC host Chris Hayes that the lawmakers called the young real estate magnate out for failing to disclose that he'd been copied on emails from a businessman Sergei Millian. Millian, who founded the Russia-America Chamber of Commerce trade group, has claimed to have a business relationship with Donald Trump. He is also the alleged source of the rumor that Trump once hired prostitutes in Moscow to urinate on a bed that gave the infamous Fusion GPS document the nickname "golden showers dossier." Millian's name has appeared multiple times in 2017, most recently in relation to former Trump campaign aide George Papadopoulos. The reports from the Senate Judiciary Committee also claim that Millian was in regular contact with Papadopoulos after the latter tried to set up a meeting with him, Bertrand said.
If this plot thickens anymore we may have to place it on a diet.
Damn!