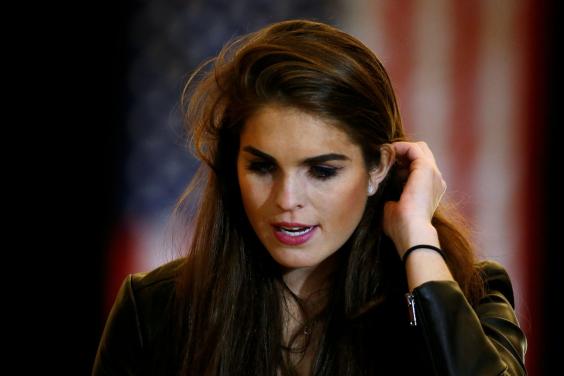 Courtesy of Newsweek:
Hope Hicks, who worked for Trump's campaign before becoming White House communications director, will be grilled by Mueller's team as early as next week, a source told Newsweek — and the questions will center on possibly fabricated statements she helped produce about the campaign's contacts with Russian operatives during the 2016 election. At issue is a statement provided to the media just days after the election, when Hicks flatly denied any campaign member conducted meetings with Russian representatives. "It never happened," she said at the time, even as Russian Foreign Minister Sergei Ryabkov was admitting "there were contacts" made with the Trump team. "There was no communication between the campaign and any foreign entity during the campaign." It is increasingly clear that Hicks's statement is untrue.
I know that Trump demands absolute loyalty from his people but it is hard to imagine that this young woman would be willing to do hard time to protect that orange tinged asshole.
Pretty sure she will spill the beans.
Speaking of spilling the beans, Mueller is now also shifting some of his focus to Rep. Dana Rohrabacher. Oooh now we're talking!
Courtesy of the LA Times:
As part of his investigation into Russian attempts to influence the 2016 presidential campaign, FBI special counsel Robert Mueller is questioning witnesses about a meeting that allegedly took place shortly before the election between Rep. Dana Rohrabacher and former Trump advisor Michael Flynn, NBC is reporting. Rohrabacher (R-Costa Mesa) has long advocated for a friendlier relationship between the United States and Russia. His name has tangentially come up in relation to the investigation, but this is the first direct mention that the FBI is looking at a meeting in which Rohrabacher participated.
Rohrabacher's name has been bouncing around since this whole Russia investigation first began, I figured it was only a matter of time before the Mueller team would shift their attention his way.
I actually think there are far more American politicians besides Trump and Rohrabacher that Putin has managed to put under his control, and I am hoping that Mueller will be able to flush a number of them out into the open.