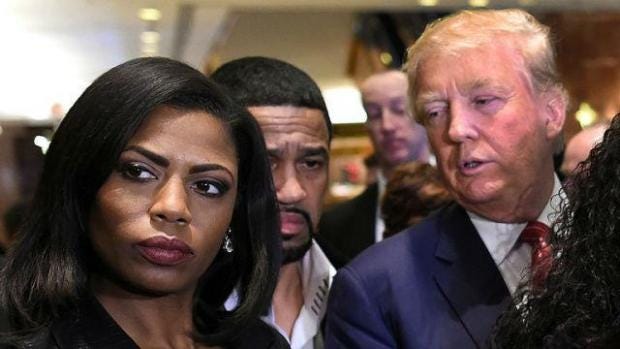 Courtesy of the Daily Beast:
Newly minted White House chief of staff John Kelly has sought to put a dent in the influence of one of President Donald Trump's most famous advisers: Omarosa Manigault. The former Apprentice co-star—who currently serves as the communications director for the Office of Public Liaison—has seen her direct access to the president limited since Kelly took the top White House job in late July, sources tell The Daily Beast. In particular, Kelly has taken steps to prevent her and other senior staffers from getting unvetted news articles on the president's Resolute desk—a key method for influencing the president's thinking, and one that Manigualt used to rile up Trump about internal White House drama. Multiple sources in and outside the Trump White House told The Daily Beast that, until recently, it was common practice for aides to slide into the Oval Office and distract and infuriate the president with pieces of negative news coverage. Manigault, they say, was one of the worst offenders. "When Gen. Kelly is talking about clamping down on access to the Oval, she's patient zero," a source close to the Trump administration said.
Apparently Kelly is also screening the materials that make it onto Trump's desk, and has rejected items from the Daily Caller, Breitbart, or Info Wars, which means that Trump's hunger for conspiracy theories is left un-satiated.
Trump's longtime personal bodyguard, and confidant, is also leaving the White House most likely due to Kelly's influence.
Courtesy of CNN:
President Donald Trump's longtime aide and current director of Oval Office operations Keith Schiller has told people he intends to leave the White House, three sources familiar with the decision told CNN. Schiller has told associates within the last two weeks that he plans to leave the White House at the end of September or in early October, the sources said. Schiller has told people his primary reason for leaving was financial, the sources said. Schiller earns a $165,000 annual salary at the White House -- a downgrade from his annual earnings before he followed Trump to the White House. Schiller's planned departure comes just over a month after Kelly became chief of staff with the mission of instilling new order inside Trump's often chaotic White House.
This removes key members of Trump's inner circle, and follows the removal of Steve Bannon, who also fed Trump's baser instincts.
But how long can all of this really last?
Courtesy of the New York Times:
Like every other new sheriff in town Mr. Trump has hired to turn things around at the White House or in his presidential campaign, Mr. Kelly has gradually diminished in his appeal to his restless boss. What is different this time is that Mr. Trump, mired in self-destructive controversies and record-low approval ratings, needs Mr. Kelly more than Mr. Kelly needs him. Unlike many of the men and women eager to work for Mr. Trump over the years, the new chief of staff signed on reluctantly, more out of a sense of duty than a need for affirmation, personal enrichment or fame. "It is inevitable that a guy who will not be contained and does not want to be handled or managed was going to rebel against the latest manager who wanted to control him," said Roger Stone, the longtime Trump adviser, who believes Mr. Kelly represents a kind of management coup by "the triumvirate" of two powerful retired generals — Mr. Kelly and Jim Mattis, the defense secretary — and one general who is still in the Army, the national security adviser, Lt. Gen. H. R. McMaster. "Ultimately Donald Trump is his own man, and he's going to resist all the control and regimented systems Kelly is trying to impose," Mr. Stone said.
I can only imagine what happens once Trump tires of being handled and fires Kelly.
And unfettered Donald Trump is a batshit crazy Donald Trump and that may be too much Donald Trump for even die hard Trump supporters to stomach.