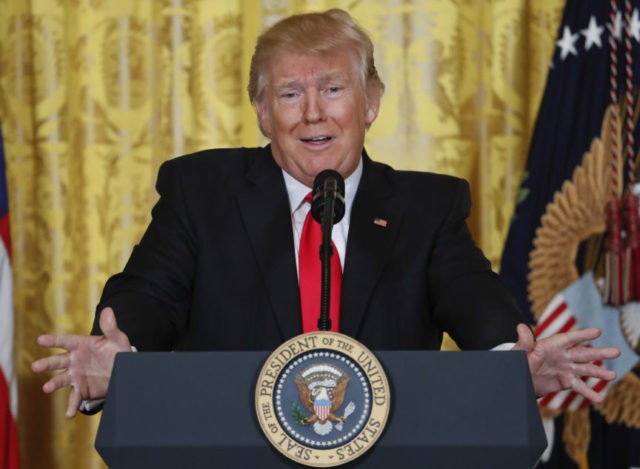 Trump did not realize that the decisions of a president involve life and death:
Number One, there's great responsibility. When it came time to, as an example, send out the 59 missiles, the Tomahawks in Syria. I'm saying to myself, "You know, this is more than just like, 79 (sic) missiles. This is death that's involved," because people could have been killed. This is risk that's involved, because if the missile goes off and goes in a city or goes in a civilian area — you know, the boats were hundreds of miles away — and if this missile goes off and lands in the middle of a town or a hamlet .... every decision is much harder than you'd normally make. (unintelligible) ... This is involving death and life and so many things. ... So it's far more responsibility.
he expected favorable press coverage:
I used to get great press. I get the worst press. I get such dishonest reporting with the media. That's another thing that really has — I've never had anything like it before. It happened during the primaries, and I said, you know, when I won, I said, "Well the one thing good is now I'll get good press." And it got worse. (unintelligible) So that was one thing that a little bit of a surprise to me. I thought the press would become better, and it actually, in my opinion, got more nasty.
Trump claims that he gets higher ratings than the bombing of the twin towers in 2001:
TRUMP: No I have, it's interesting, I have, seem to get very high ratings. I definitely. You know Chris Wallace had 9.2 million people, it's the highest in the history of the show. I have all the ratings for all those morning shows. When I go, they go double, triple. Chris Wallace, look back during the Army-Navy football game, I did his show that morning. AP: I remember, right. TRUMP: It had 9.2 million people. It's the highest they've ever had. On any, on air, (CBS "Face the Nation" host John) Dickerson had 5.2 million people. It's the highest for "Face the Nation" or as I call it, "Deface the Nation." It's the highest for "Deface the Nation" since the World Trade Center. Since the World Trade Center came down. It's a tremendous advantage.
Trump is obsessed with cable news, but wants everybody to think he never watches it:
TRUMP: OK. The one thing I've learned to do that I never thought I had the ability to do. I don't watch CNN anymore. AP: You just said you did. TRUMP: No. No, I, if I'm passing it, what did I just say (inaudible)? AP: You just said — TRUMP: Where? Where? AP: Two minutes ago. TRUMP: No, they treat me so badly. No, I just said that. No, I, what'd I say, I stopped watching them. But I don't watch CNN anymore. I don't watch MSNBC. I don't watch it. Now I heard yesterday that MSNBC, you know, they tell me what's going on. AP: Right. TRUMP: In fact, they also did. I never thought I had the ability to not watch. Like, people think I watch (MSNBC's) "Morning Joe." I don't watch "Morning Joe." I never thought I had the ability to, and who used to treat me great by the way, when I played the game. I never thought I had the ability to not watch what is unpleasant, if it's about me. Or pleasant. But when I see it's such false reporting and such bad reporting and false reporting that I've developed an ability that I never thought I had. I don't watch things that are unpleasant. I just don't watch them. AP: And do you feel like that's, that's because of the office that you now occupy — TRUMP: No. AP: That you've made that change? TRUMP: I don't know why it is, but I've developed that ability, and it's happened over the last, over the last year. AP: That's interesting. TRUMP: And I don't watch things that I know are going to be unpleasant. CNN has covered me unfairly and incorrectly and I don't watch them anymore. A lot of people don't watch them anymore, they're now in third place. But I've created something where people are watching ... but I don't watch CNN anymore. I don't watch MSNBC anymore. I don't watch things, and I never thought I had that ability. I always thought I'd watch.
This comes the day after the Washington Post reported on Trump's obsession with cable news:
In the morning, the president typically flips between "Fox & Friends," Maria Bartiromo's show on Fox Business and CNBC's "Squawk Box." West Wing aides assert that the president stopped watching MSNBC's "Morning Joe" after the show's hosts grew increasingly critical of his presidency, but some confidants think he still tunes in, especially for the top of the program. His feelings toward CNN and its president, Jeff Zucker, who greenlighted "The Apprentice" when he was running NBC Entertainment, are similarly fraught. Trump is furious with Zucker for what he thinks is the network's unfair coverage but admires Zucker's business bona fides and ratings growth, said a friend. Most of the televisions in the West Wing display four channels at all times — CNN, Fox, Fox Business and MSNBC. The president also likes One America News, a conservative-leaning channel whose correspondent often gets questions in Spicer's daily news briefing, and before the campaign told an aide that he occasionally enjoyed watching Al Jazeera.
As most of you know I typically like to sprinkle comments throughout a post like this, however most of what I quote from the AP article left me stunned and speechless.
Even after years of covering Sarah Palin interviews, this one was almost too batshit crazy to believe.
The man literally bragged about getting television ratings second only to the most devastating terrorist attack in this country's history.
How does one respond to that?