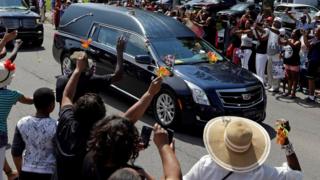 Thousands have attended a farewell procession for boxing legend
Muhammad Ali
in his home city of Louisville, in the US state of Kentucky. Onlookers lining the roadside waved, took photos and chanted "Ali, Ali" as a cortege led by the hearse carrying his coffin drove through the downtown area. The heavyweight champion and rights activist died last Friday aged 74. The cortege took Ali's body past key sites in his life ahead of an interfaith memorial service.
Born Cassius Marcellus Clay, 17 January 1942
A private burial service for Muhammad Ali's family and friends is now taking place at Louisville's Cave Hill Cemetery.
Spectators stepped into the street to touch the flower-strewn hearse as it entered. Actor Will Smith and ex-boxer Lennox Lewis are among the pallbearers, while former President Bill Clinton is to deliver one of the eulogies. Comedian Billy Crystal will also deliver a eulogy, while sports journalist Bryant Gumbel, the daughter of civil rights activist Malcolm X, Attallah Shabazz, and Ali's wife, Lonnie, and daughters, Maryum and Rasheda, are also expected to speak. Among those expected to attend the service is King Abdullah of Jordan.
Turkish President Recep Tayyip Erdogan attended Thursday's prayer ceremony and had been due at the service, but reports say he has cut short his visit to the US. The reasons for his departure are not clear, though there are reports of differences with the funeral's organisers.
President Barack Obama will not be there, as he is to attend his eldest daughter Malia's graduation. But in a video message, he said: "This week we lost an icon. A person who for African Americans, I think, liberated their minds in recognising that they could be proud of who they were." White House senior adviser Valerie Jarrett - who knew Ali - will represent the president. Lennox Lewis, a former world heavyweight boxing champion himself, said it was an honour to be a pallbearer and that Ali's memory would never fade. "The term 'float like a butterfly, sting like a bee' will always be remembered. He is an icon and a legend of boxing," he said.
The other pallbearers are family and friends, along with Will Smith, who portrayed Ali in the 2001 film about the boxer's life. Abi Ajram, 48, who has made a 4,000-mile trip from London to pay his respects, told PA: "I feel Muhammad Ali deserved the world turning up for him. He was the number one."
The funeral service will be streamed live online. One sour note was the report that some people were trying to sell the free tickets to the service on the internet. Ali family spokesman Bob Gunnell said he was "personally disgusted" at attempts to profit from the event.