British embassy in Jordan appoints ex-rescue cat as 'chief mouser'
22 Nov 2017
The British embassy in Jordan has recently appointed 'Lawrence of Abdoun,' a fluffy black-and-white tom, as its chief mouser.
The appointment of the former rescue cat opens to the world an old tradition popular among the ministries of London.
Other than mousing duties, Lawrence maintains an active Twitter profile, reaching out to 3,708 followers, informing them of his work and the nation of Jordan.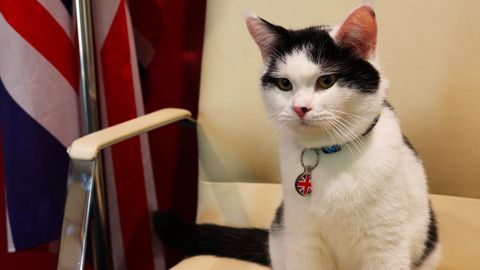 Lawrence was adopted from an animal shelter last month
Details
Adopted from an animal shelter last month, Lawrence tweets using @LawrenceDipCat. His Twitter profile describes him as a diplocat, mouser and former resident of the Humane Centre for Animal Welfare.
Based at the British embassy in Amman, he's the first overseas envoy under Palmerston, another cat that serves as the chief mouser at the UK's Foreign & Commonwealth Office.
Interestingly, Palmerston has 57,300 followers.
Lawrence is helping UK embassy in Jordan change its image
Significance
After Lawrence's appointment, the British are seeing the UK embassy in Jordan differently, deputy ambassador Laura Dauban told Reuters.
Through Lawrence's Twitter account, she said the embassy is trying to show Britons the real Jordan a peaceful, prosperous nation that they should come and visit.
Lawrence is named after TE Lawrence, a British officer who fought alongside the Arabs during World War 1.
The Grumpy Cat, StreetCat Bob: Other famous cats on Twitter
Mass following
Lawrence and Palmerston aren't the only famous Twitter cats. In fact, their popularity fades when compared to other celebrity furry felines that rule over the micro-blogging site.
Sockamillion, a grey-and-white cat, has 1.41 million Twitter followers. The Grumpy Cat, whose bio says it's the world's grumpiest cat, has 1.38 million followers. The golden StreetCat Bob has 91,900 followers and best-selling books to her credit.