Mizoram's Lalhruaizela to represent India at MotoGP Spain
03 Sep 2017
15-year-old Lalhruaizela from Mizoram finished second in the final round of the the Red Bull Road to Rookies Cup.
For Lalhruaizela, this means he would now represent India at the qualification round of next year's Red Bull MotoGP Rookies Cup in Spain.
At the end of the final round, the youngster had a total 48 points, 12 points ahead of the rival Lalnunsanga.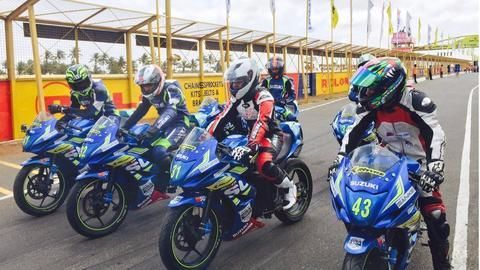 What's the Red Bull Road to Rookies Cup?
Championship for young bikers
The Red Bull Road to Rookies Cup is held as part of the JK Tyre FMSCI National Racing Championship 2017.
Young biking enthusiasts between 12-16 years of age are eligible to compete in it.
It is the second such edition where most talented rider would get a chance to take part in the Red Bull MotoGP Rookies Cup Qualifiers, Spain.
Top contenders for the Cup
FACT
15 contenders were selected this year of which eight teenagers hail from Mizoram. They included the likes of April Lalhruaizela, Lalnunsanga, and Varoon S.
April Lalhruaizela, biker profile
03 Sep 2017
April Lalhruaizela began competitive racing in 2016 when he was selected by NXT Racing Team in the Mizoram Motorsports Association (MiMSA) Motorcycle Racing Championship.
At MiMSA, he had podium finishes and a win in the 160cc category.
The young rider from Aizwal idolises multiple MotoGP champion Marc Marquez.