United Naga Council's economic blockade
01 Nov 2016
The United Naga Council (UNC) imposed an indefinite economic blockade in Manipur since 1 Nov, to protest the state government's move to create new districts - Sadar Hills and Jiribam.
They claim that it would bifurcate the ancestral lands of Nagas in Manipur.
The blockade on two key highways, NH2 (Imphal-Dimapur) and NH37 (Imphal-Jiribam), has cut of essential supplies to the state.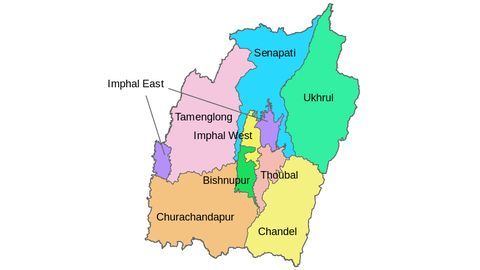 Manipur government's announces creation of 7 new districts
09 Dec 2016
While Manipur had 9 districts in total (5 hill districts, 4 valley districts), the state government through a gazette notification announced creation of 7 new districts.
The newly created districts are - Kangpokpi, Tengnoupal, Pherzawl, Noney, Kamjong, Jiribam, and Kakching.
According to Manipur's Congress Chief Minister Okram Ibobi Singh the division was done for, administrative convenience and as response to demands of locals.
Major point of objection by Nagas
FACT
A major complaint of Nagas is that the government had not consulted Hill Area Committees before taking the decision. These committees protect the rights of hill people and as per Article 371(c) of the constitution, they must be consulted on matters concerning tribal people.
Violence ever since the economic blockade
17 Dec 2016
Ever since the UNC's economic blockade wide spread violence has erupted in Manipur.
Suspected militants carried out several attacks, leaving 3 policemen dead and 14 others injured in the past few days.
The latest of these attacks came on 16 Dec, when 3 bomb explosions took place at Nagaram in Imphal West district.
Curfew has been in place in affected regions.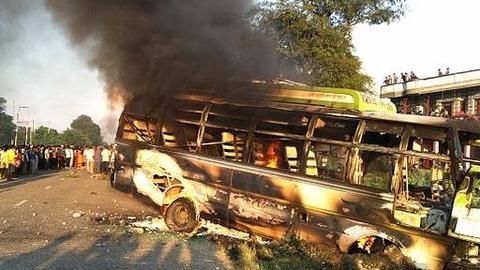 Violence continues in Manipur, internet services blocked
20 Dec 2016
Manipur continues to remain tense with protesters, those angry over economic blockade imposed by Naga Council, torching over 20 vehicles in Imphal East district, on 18 Dec.
The targeted vehicles were coming from Naga-dominated hill districts towards Imphal.
In the wake of the incident, indefinite curfew continues in Imphal East and mobile internet service has been banned till 25 Dec.
Politics at play?
FACT
Manipur goes to polls in 2017 and Ibobi Singh who has been the CM since 2002 hopes to retain power again. The creation of new districts is thought to be a move to woo the Meiteis, the majority of population in Manipur.
Rijiju heads to Manipur, Mary Kom urges PM's intervention
23 Dec 2016
Union Minister of State for Home Affairs Kiren Rijiju arrived in Manipur to assess the situation in light of the economic blockade in the state; Home Minister Rajnath Singh lambasted the state governments of Manipir and Nagaland for failing to resolve the blockade imposed by the United Naga Council.
Meanwhile, Mary Kom urged PM Modi to intervene to resolve the crisis in the state.