John Deere has introduced a new high-lift option on the 344L Compact Wheel Loader for customers who need a little more dump clearance and increased Hinge Pin Height. The 344L High-Lift now offers further reach for dumping, stacking, ag material handling, general construction or landscaping, and snow removal tasks.
The high-lift option has a maximum hinge pin height of 13 feet 2 inches, which is about a foot more than the standard 344L.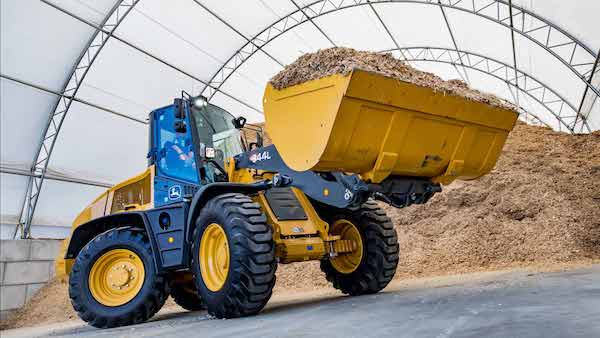 Let's take a look at the features of the 344L High-Lift and how it can help you with your specific tasks.
Articulation Plus Steering System
The 344L High-Lift has the industry-exclusive Articulation Plus steering system that delivers a greater full-turn tipping load, a tighter turning radius, and more stability than a standard articulation loader. The new loader-arm coupler design also delivers better load-carrying capability throughout the lift path. This keeps the load level from ground to truck-bed to full height, retaining more material in the bucket or forks.
Engine
A redesigned engine compartment and cooling package on the 344L High-Lift improve airflow and reduce the amount of debris entering the system. Customers can also choose to add a reversible fan for quick core cleanout in high-debris applications.
Cab and Controls
Operators have maximum visibility in the redesigned cab, meaning there is no issue viewing the loader arm and bucket while on the job. There are also more ergonomic controls in the 344L High-Lift, and rim pull control allows operators to adjust the machine to existing conditions, reducing tire and driveline wear.
Power
The 344L High-Lift has a gross power of 106 horsepower and a net power of 103 horsepower. Its operating weight is 19,533 pounds, with bucket capacities ranging from 2.0 to 2.6 cubic yards.
If you have any questions about the 344L High-Lift, you can contact your local John Deere dealer.
If you enjoyed this post or want to read others, feel free to connect with us on Facebook, Pinterest, or Twitter!
The post Exploring the Capabilities of the John Deere 344L High-Lift appeared first on John Deere MachineFinder.