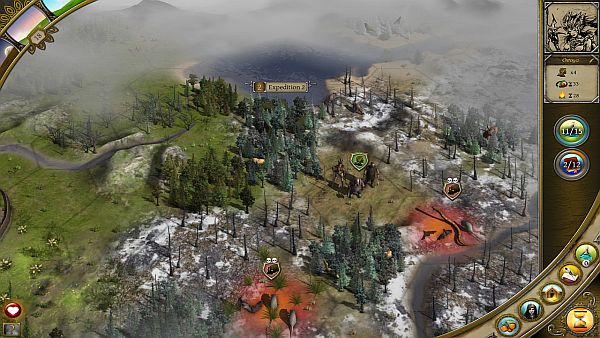 While there are many strategy games that feature great empires squaring off in a battle for supremacy, there are very few that take a more intimate look at the lives of those who live in a small solitary village. In your village, everyone has a name and everyone has a purpose, and it is up to you to determine if they will survive long enough to uncover the truth behind their long age of darkness. Why has the sun returned, and why has your chosen god come back? Developer MuHa Games' upcoming turn-based fantasy strategy game, Thea: The Awakening, hopes to let you answer these questions as well as many others. Thea is a harsh world inspired by rarely seen Slavic myths and legends, and while babies may grow in cabbage (yes, it's true), people still die by the sword.
We've certainly seen some great fantasy strategy titles as of late, so separating oneself from the pack is important. Thea veers off the beaten path in several key areas. With no empires to conquer, and only a single village to maintain, it is clear this is no 4X game. Instead of empire building, the game is about surviving, exploring, and discovering the truth about the world. It is about managing your village and its people on a relatively micro scale. Your people each have a name and an occupation. Your village has children that grow up and become contributors. Your people go out and uncover events and experience encounters. A great deal of the game's appeal is in discovering the events the world has to offer. These play out like a smarter and more dynamic "choose your own adventure" tale. Multiple solutions to these are typically offered, and the choices provided are often expanded or influenced by your villagers and their unique stats and situations.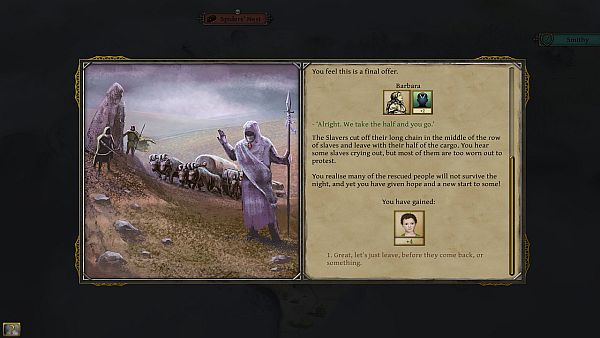 Thea is a game that is as much about having an adventure as it is about achieving victory. It is certainly a strategy game and your decisions matter greatly, but fate can be a fickle mistress. A unique scoring system reinforces the concept that progress and the journey are what is truly important. With each game you play, you earn experience as you go depending on your accomplishments. At any time you can check and see just how much you've earned. Experience rewards you with extra powers for your chosen god and also unlocks new gods, of which there are 8 in the game. It is also worth noting that the game also provides only a single save slot, so ending a run that is going poorly so you can start anew is an important consideration.
Thea: The Awakening's features also include multiple endings, a day/night cycle that impacts gameplay, an economic system of gathering and crafting, and a card based combat resolution system that is quite unique. The combat system is likely the most polarizing feature of the game. While it avoids the intricacies of a true tactical combat system, it also allows battles to take place using skills we don't typically associate as combat skills such as wit, stealth, and a sharply honed tongue. As it turns out, bringing along a good orator in your war party may not be such a bad idea after all.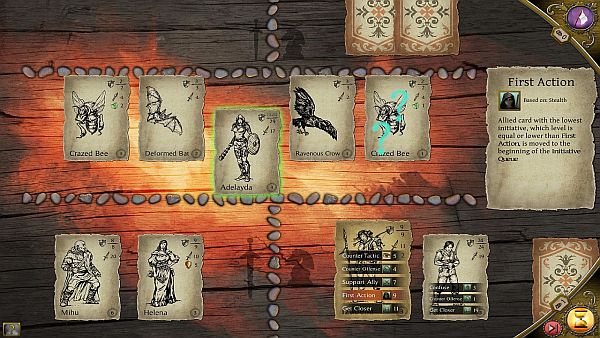 First Impressions
I've been playing this in its early access form, and can tell you that Thea is in many ways a refreshingly unique strategy game. If you're a fan of storytelling, strategy games, or RPGs, this is one you'll want to pay close attention to. With the game's release imminent (Nov 20th 2015), I don't want to reiterate too much here of what will be in my upcoming review. It is worth noting that I've had no performance or stability issues whatsoever thus far, which is certainly something we like to see right before a game leaves Early Access. There are a few other items I'd also like to touch on to give you a taste for what I've experienced so far.
Without a doubt, I think the aspect most likely to turn some heads, and perhaps not in a good way, is the combat system. I must admit that initially it was a huge turnoff for me. The system itself looks very simplistic and abstract at a glance. In an era of excellent turn-based tactical systems that are both highly strategic and exciting, the use of a card system with a seemingly small decision space seems like a rather large step back. With many battles, which the game refers to as challenges, now under my belt, I can say that it has a bit more depth than I originally thought. It is important to keep in mind that this same basic, and more importantly quick, system is used for a wide variety of encounters. It is used for sneaking, hunting, and even social encounters. Rather than the standard random skill check roll that takes place behind the scenes in many games for these types of activities, this system actually allows you some strategic involvement in the outcome. It is in these challenges that you realize your hardened dwarf warrior with all the best armor is less useful than your cloth robed, poorly armed, but incredibly talented medic. This leads to a need for well rounded parties that is appreciated.
There's also a lot more meat to this game than I expected. Not just literal meat, although that is in the game in multiple varieties, but in the general potential replay value and ways to branch out. You have control over how you decide to run your village right from the get go. When you start the game, 2 of the 8 gods are randomly unlocked for you while the others must be unlocked through experience. You also get to choose whether your starting villagers are skewed towards gathering, crafting, or warriors. Speaking of crafting, while there may not be a lot of village construction going on, there is a ton of gathering and crafting. There are over 50 resources to collect and a huge range of items to craft dependent on these resources. I'll elaborate more on how this works in the review, but suffice it to say here that you have a lot of control over what you decide to craft.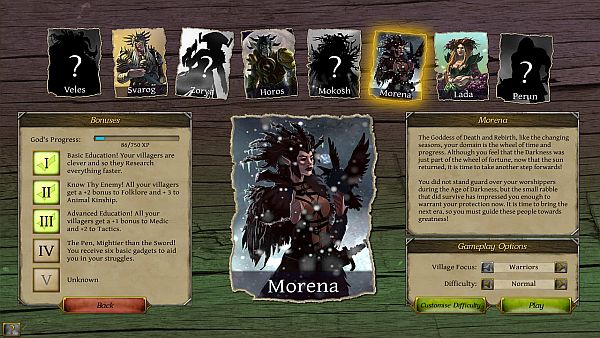 It's fair to say that if you don't enjoy reading, this may not be a good choice for you. On the other hand, if you do appreciate an interesting story, Thea has a lot to offer. Not all of the writing is superb, and some of the jokes don't land quite right, but in general I found it quite a bit better than what I've seen in many other bigger releases. The text to me strikes a good balance and remains thematic yet brief.
What remains to be seen is how often the events repeat (the game touts over 200) and whether or not the game will manage to stay fresh over a long period of time. One aspect that does help is that events do offer different options and approaches depending on your villager skill levels, so there is some diversity even if you see repeated challenges over multiple games. I'll be continuing to evaluate this and hope to have more answers for you in my review.
Thea: The Awakening is set to release on November 20th 2015 for $19.99 USD. While we will strive to provide a full review as soon as possible, it is worth mentioning that it is available right now on Steam in Early Access. If you want an even better deal, MuHa Games has a promotion running on the Humble Store where an early access Steam key is available for $15.19 USD for a couple more days.