Today we meet Ruben, a creator of Automated Systems and TTSS system.

Great contributor and helpful zcode member, Ruben is posting picks on the WALL and Forum
Ruben is successful with Nba quarter plays and pregame plays
ytd: 232-8 +95.5 units 10.78% roi
Ruben is a creator of the new Table Tennis Scoring System (TTSS).
Check his topic here
(Members only)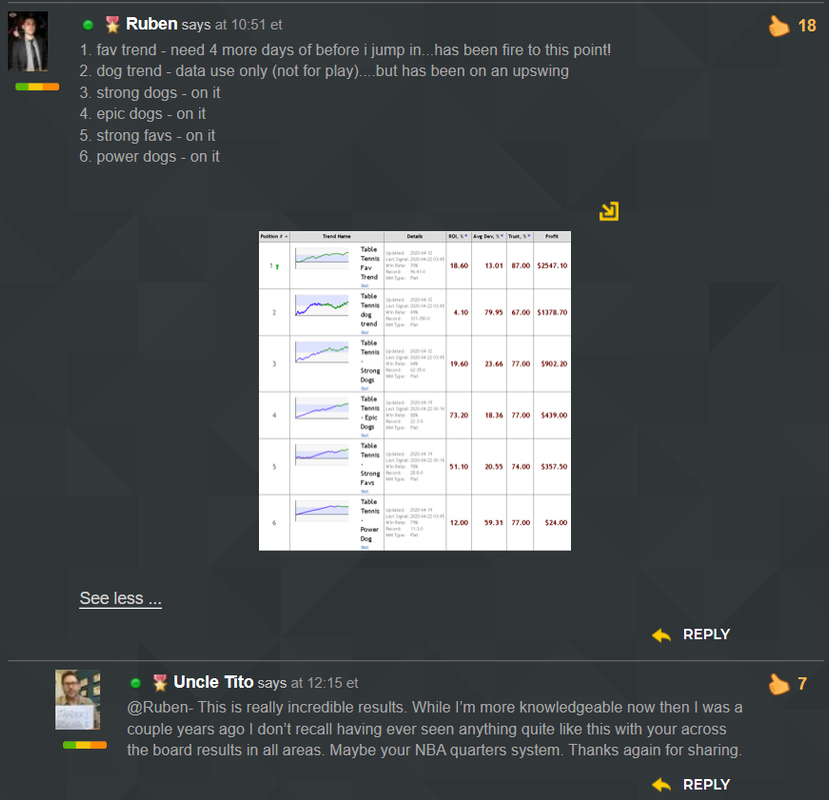 Listen to Ruben's new podcast here:
P.S. Don't miss the action! We have sports 24×7 even during covid era!
Inside Zcode you can get:
✅ Expert picks and daily pro selections
✅ Action never stops, even during Covid era: We support esports, esoccer, table tennis and horse racing + of course worldwide football, hockey and basketball!
✅ Fully automated systems – verified winners: backtest + forwardtest.
✅ Pro tools (Line reversals, Score predictor and more)
✅ zLive betting bot – winning live bets 24×7
✅ Bundesliga starts 16 MAY! UFC is back too!

The post Meet Ruben – the creator of great automated systems and TTSS system appeared first on NFL Picks | NHL Picks | Hockey Predictions | Winning Sports Picks | MLB Predictions | NBA picks | MLB picks | Soccer Picks.