Regardless of where you are and what smartphone you use, health is a matter of particular importance. Fortunately, a large number of applications in the category "Health" are available on Android and iOS platforms, turning smartphones into a valuable diagnostic tool, allowing you to learn about the diseases and improve your condition. Seven applications for measuring blood pressure are described below. All of them are free and available on different platforms, so they can be installed right now.
iCare Health Monitor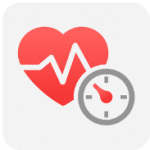 iCare Health Monitor is an effective program for measuring Blood Pressure. It is available for both Android and iOS devices. The application receives a pulse wave signal through the photoelectric component, receives the heart rate, blood pressure, blood lipid levels, oxygen in the blood and other physical parameters through pulse wave analyzes.
In addition to medical functions, there are a number of useful opportunities for sports. The program includes various exercises for leg training, press, as well as cardio training, while it has a built-in pedometer that will approximately measure the amount of work done, and the amount of energy spent.
It is extremely simple to use the application. Choose the desired function, click on the screen, then put it close to the body, and hold the flash and the main camera with your finger, since they must be closed to the end of the measurement itself. The more often you use the program, the more accurate the final results will be. With iCare Health Monitor, you no longer need to carry various devices with you, everything is accessible right on your smartphone. The application also contains various training programs and detailed statistics. With its help, it is very easy to follow and manage your physical activity, and play sports.



Blood Pressure – SmartBP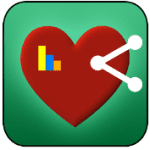 SmartBP is a universal application for iPhone and Android users. It is the only application for monitoring blood pressure with an intuitive and user-friendly design.
With its help, you will monitor the dynamics of blood pressure changes in the form of graphs and statistics by time and date. The control is easy. You can record your systolic and diastolic pressure, time of measurement, pulse, weight, pulse pressure. Manage records with simple tools: charts, average calculation, and export of data via e-mail.
There is a possibility to use E-mail to keep up-to-date with your family and friends, as well as your doctor about your health, for making decisions about treatment and medications.
Smart BP is designed to be used as a database tool for sharing with your doctor. This application is not intended to be a substitute for professional medical advice, diagnosis or treatment. The developers of the app warn that they are not responsible for any damage resulting from the use of this application.
Main advantages:
Simple, attractive, elegant interface
Record systolic/diastolic pressure, pulse, weight and time of measurement
Easy data entry
Calculation of average arterial pressure and pulse pressure
Reports by email
Built-in reminder – You do not miss the measurement time



Blood Pressure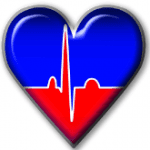 Blood Pressure is a software for users who want to monitor their blood pressure and successfully cope with hypertension. Download the application, track and save the level of blood pressure in the body.
The program analyzes the data, helps you to navigate in numbers and get accurate results. You will be offered additional information on the treatment of hypertension, which you can take with you to the doctor. A convenient and competent interface allows you to quickly use the application. All measurements are stored in the database.
Edit, update or describe the measurements if there was an increase in pressure after a walk or a stressful situation. Create special marks – brief descriptions of high figures, place of measurement, pulse, and weight. Use the opportunity to measure the pressure of several users. Study visual graphs and tendencies of your health. In the special tab, you can find out detailed statistics about the pulse, the average blood pressure or the pressure indicator.
The data is exported in two convenient formats, CSV and XML, or in PDF files. The program notifies you about the need for measurement daily. Set up the filters, choose which parameters will be displayed in your account. Make the design of the app individual, choosing an excellent theme. The developers warn that it is necessary to have a tonometer, to check the results. It should also be borne in mind that the software does not replace the advice of a qualified specialist.

Blood Pressure Log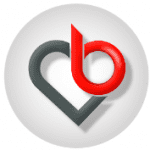 Blood Pressure Log is an application with the help of which you can collect and analyze the measurements of your blood pressure and all related activities such as heart rate, medication, exercise, and weight.
Graphs and statistics allow you to monitor the results and constantly monitor your pressure, and thanks to reminders, you will no longer forget about measuring the pressure and taking the appropriate medication.
Application Blood Pressure Log is used only to record blood pressure measurements and related parameters. The application does not replace doctor visits, so do not change your treatment without consulting a specialist doctor in advance.

Smart Blood Pressure
Smart Blood Pressure is an app developed and provided to you by professionals in medicine! An ideal tool for monitoring, analyzing and sharing the data of your blood pressure, weight and pulse, which is always with you.
Smart Blood Pressure is a program for monitoring and analyzing blood pressure with an intuitive interface and a modern iOS design. Smart Blood Pressure turns your iPhone, iPod or iPad into a personal blood pressure and weight monitor. The program has data visualization, statistical reporting, export to e-mail, built-in reminder and many other useful functions.


Blood Pressure Tracker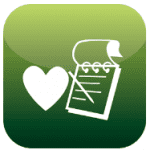 To measure blood pressure once is not always enough. In some cases, it is necessary to observe changes in blood pressure over a period of time. For some people, it is recommended to measure blood pressure daily. Doing this is completely easy and does not require special expenses. It is better to do this several times a day, as morning and evening results may differ.
Blood Pressure Tracker helps you with this by recording your blood pressure and heart rate. The program automatically records the systolic and diastolic blood pressure, heart rate and measurement time. Blood Pressure Tracker is a very convenient data storage tool and, in addition, allows you to analyze the results. Such an analysis can help you and your doctor to make a correct schedule of taking medications and their dosage.
Features:
– Intuitive interface for recording systolic, diastolic blood pressure and heart rate;
– View changes in blood pressure and heart rate over a long period in a graphical form;
– All data can be saved in a text file in order to copy it to a PC or transfer it to your doctor;
– Data can be saved as a CSV file for archiving and backing up data.

Finger Blood Pressure Prank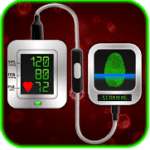 Finger Blood Pressure Prank is a fun application simulating the process of measuring blood pressure by fingerprint. A great way to play tricks on friends! A comic scanner for simulating blood pressure measurement is now on your phone.
The app looks very realistic and is absolutely free. With its help, you can play friends or family by giving out an application for the latest scientific achievements.
It's very easy to use. After starting, you need to select the gender of the subject and confirm your choice. In the appeared window with the scanner, it is required to put a finger and wait until the analysis is completed. The result will appear automatically after the calculation – the blood pressure of the subject! These data can even be shared with friends.
The scanner is detailed and perfectly animated, all the steps of the "measurement" look very natural. The interface is serious and concise, it causes confidence in the upcoming manipulations.
Important! The app is a joke. It is not a real pressure measurement, all results are generated randomly. Do not forget to tell this info to your friend or relative to laugh together.

Attention! There was the list of top apps to measure blood pressure which is on the market. However, you should be careful! The application, in the description of which it is written that it measures the blood pressure of a person without a special device, can be dangerous if the user will believe the data that it shows, and cease to consult a doctor for help or use more reliable and certified devices.