Nowadays we cannot imagine ourselves without chatting online. We can send mesages to any part of the world. But, with all the advantages it causes many problems too. Now people are not sure that the private information they share will stay safe and hidden from others' eyes. There are also less and less chances to Chat with no strings attatched. Luckily, there are apps which allow to send messages anonymously in different ways. Take and look and find the one you need.
1. Psst! Anonymous
In this app you can discuss any content anonymously. This is an anonymous social network which will allow you to connect with other users, share news, opinions, secrets, confessionals, daily life experiences, funny jokes and photos openly, secretly, confidently without revealing your identity. You can send messages and express your opinion on different topics. Later if you want, you can add friends and open up to them. Only people whom you've added as friends can IM photos. So you won't get random photos like other apps.
You can also follow a person secretly and receive notifications when that person posts again. The thing is, you never know who are you following and they do not know who follow them! Texting private messages leaves no traces and history. Everything on this app is temporary. Nobody can take screenshots and can delete their profile forever. The app doesn't not use your date in some money targeting ways. Your email is only used for forgot password and you will not receive spam. Posts on Psst stay active for 48 hours then disappear forever.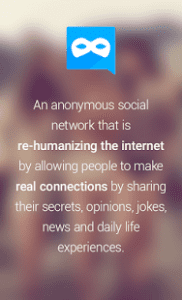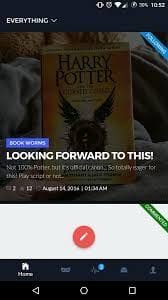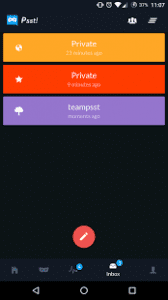 Download for Android
2. Moco – Chat, Meet People
Nowadays you have a chance to talk with people all around the world, make new friends, be social, flirt, play games and more, all free. You can chat with strangers, take part in public conversations, forums or create one on your own. You can find any type of person here – depending on age, gender, location, sexual preference including gays and lesbians and more. If you have good connection with someone you can play social games together such as MatchMe, FriendShop and Street Wars. You can create your real account or conceal all the information about yourself still seeing everything about others. The thing is you never know if the account of a person you are talking to is real or not.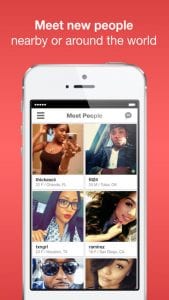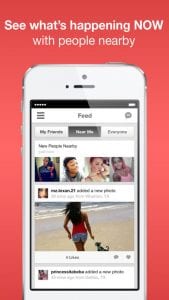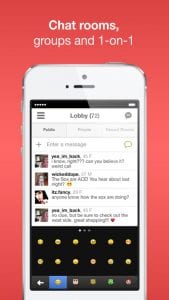 Download for iOS
Download for Android
3. Chatous
This is another app which connect you to different people from all around the world for you to hold conversations with them. You can find someone who wants to share the topic with you by using hashtags and creating chats. All messages and conversations are private and anonymous and are getting deleted from the base of Chatous. It is easier to find friends here than in Omegle or Chat roulette because you have the possibility to choose the topic of your conversation. You can also share your favorite YouTube videos in the chat. Keep in mind that the developers of the app do not take the responsibility for the content which are sent by users to each other. It is always up to you either you want to reveal your personality or create a fake account.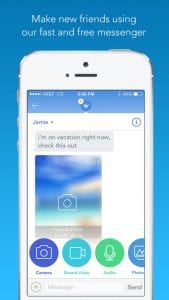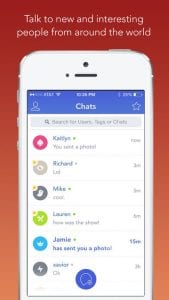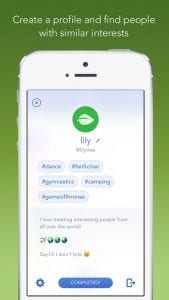 Download for iOS
Download for Android
4. Anonymous Chat Rooms AntiChat
Besides taking into consideration the fact that this app was developed for you to talk with strangers, it counts more than 1,600,000 users worldwide. Messages delete themselves and all the chat is anonymous. You can meet new people here, ask them any questions. Dare the luck, share secrets or just kill the time with it. Anyway, nobody here will know who you are. No history is recorder. All messages are deleted after some time. Moreover, the app does not have any add or spam and it constantly checks its system to find bots. No violence is allowed here.
You can meet new friends, confessing or searching for partners to date online. What is more, you don't have to create an account to talk in this app. Since the app is available worldwide you will get a chance to meet people from all over the Earth (UK, US, India, Australian, Canadian, Asian, Arab, Russian, French, German communities). You can also find any type of dating here – from grown-up teenager dating to building serious relationships for adults. In addition to many chat rooms you can also choose an option random chat. This app can be used for random chatting with strangers, but it is restricted to trade nudes with the people you do not know as they may be offended.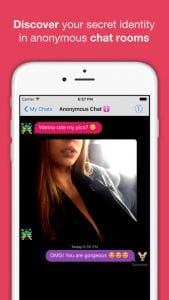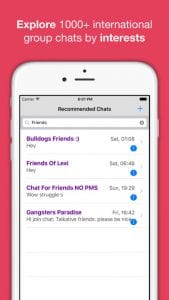 Download for iOS
5. Connected2.me Chat
Here you can create a profile with a photo and a little information about yourself or leave it empty. This app guarantees you complete safety and anonymity. Once you share your profile, people can chat with you with a nickname that hides their identity. The identity of others also will be hidden and you will find them out only if they decide to reveal it to you. You can follow them in order to know when they are online and to start conversation with them. Even celebrities, experts, and specialists are found on Connected2.me, so you can chat with them too! Ask questions or share your secrets. As you launch the app you are getting involved into random chat. Business people can use this app to find out the opinion of consumers about their products. The fast messages system allows to talk fast and with no extra options. Like in other messengers, there is a possibility to send voice mail, videos and so on.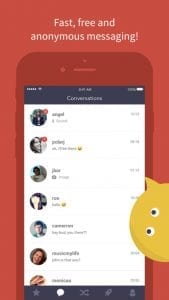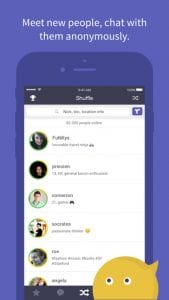 Download for iOS
Download for Android
6. PepperChat
Well, this app called PepperChat also allows you to chat anonymously with strangers without creating account. As always, all messages will be deleted after they are sent to other people. You ID or any other personal data is not stored. In order to use this app you must be 18 years old. Do not upload inappropriate content, nudity, racial or offensive content. If you get caught violating our terms, your access may be permanently blocked. There are no real avatars of people – only animated images. You can choose a person that you want to talk by a gender, age or image (if those have it). The history of messages is displayed in your bar for some time. Moreover, there is an indicator which shows if the person is online.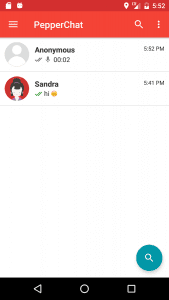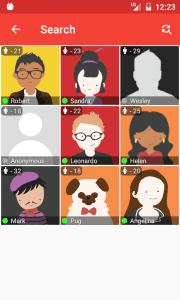 Download for Android
7. Secure Private Browser
This app will allow you to use your favorite sites securely and privately. This is a full browser which you can use as your usual browser with multiple tools. You can create a passcode and therefore protect your personal data you upload. This browser also gives you a chance to stream photos and videos. You can share your personal files, download photos from your camera roll. With an app like this people who are afraid of stealing their data or those who don't want to be spotted at certain sites can be sure that their secrets will be hidden well.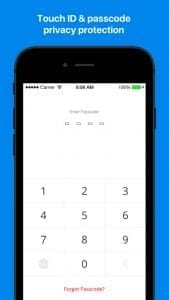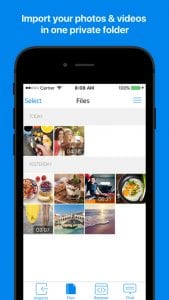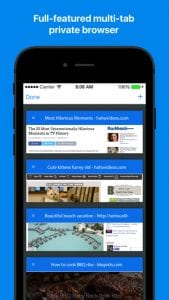 Download for iOS
8. Scandal
Scandal is mega popular app for anonymous chat. It counts more 20000000 users. No registration, personal data or names are needed for this app, you can start conversations with people who are nearby around you. You can discuss any topic you wish since you have the total privacy. What is more, you can create group chats and anonymous conversations on your own. With the help of this app you can discuss something which worries a lot of people around you but no one really wants to be caught discussing it. So if you need to hold a private conversation with people around you or you are just bored you can start using scandal.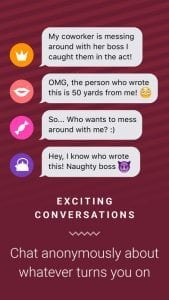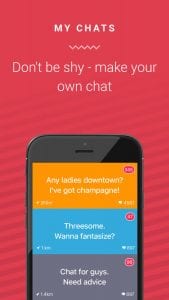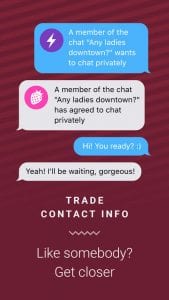 Download for iOS
Download for Android
9. NoName – Anonymous Chat Rooms to Meet New People
Another convenient social network for those who is willing to hold anonymous conversations with strangers. Now this app gives you a chance to meet new people easily. If you feel alone or you are bored and you want to find someone to talk to then this app will become a real benefit for you. All you have to do is to enter your name and you can start chatting. You don't need to create an account or sign up. Anything from your data isn't required so you can be sure that you will save total privacy during conversations.
The goal of this app is to help you find others who think like you, to find new friends or just talk to others. Unlike other apps where the number of chat invitations is limited, here you can invite people with no restrictions, share videos, photos, music and messages with them and this is a main feature of NoName. All messages are self-destructing so you can stay with no worries about the necessity to constrain yourself while chatting.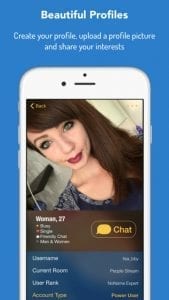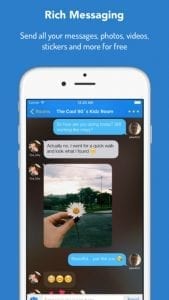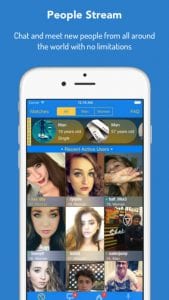 Download for iOS
10. Cipher
Cipher for iMessage lets you send secret and digitally signed messages with Touch ID. So next time when you will be sending any important and secret information (cheat codes, passwords, card numbers), the recipient will have also to enter the password in order he/she would be able to read it. Only the owner of one device will see your message. The app will show you what the recipient gets and reads the message. When the reciever gets message, in the beginning they see only coded text. They have to enter the password or prove their ID to read the information in the message. In general, this app allows you to avoid cases when you can send an important information to the wrong person or you are afraid you may be hacked.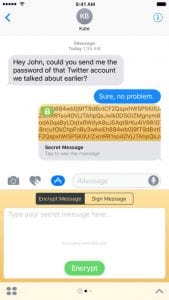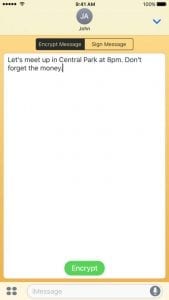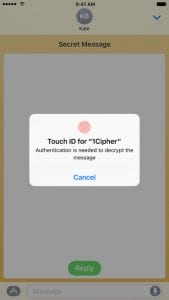 Download for iOS
11. Cipher – Stranger Chat + Date
The app with the same name but with a different purpose – it is created for you to chat with strangers. Unlike the most apps like this, here you will have to register and create a name and a profile. Or you can pick one from auto-generated profiles. You can find other people by their usernames or talk with complete strangers that you've never seen before. The app has an updated notifications system. Moreover, you can share private videos from your gallery securely and safely. You can lock the app by using a fingerprint or a password. What is more, you can hide the app icon. For those who hate the sound when the message is sent or you receive it – these people will appreciate this. Your messages are not stored anywhere besides your phone. After 30 days all the messages are deleted.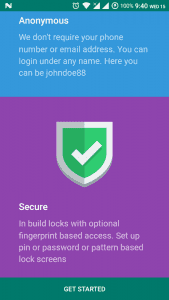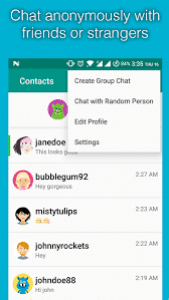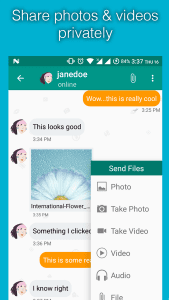 Download for Android