Every kid has a Phone now. And every kid behaves like a child. We also watch them action movies where everybody surveils everybody. So, we should totally use kids' phones as a way of looking after them and that certainly feels like spying. We give you 15 best spy apps for Android and iOS.
Location Tracker (powered by mSpy)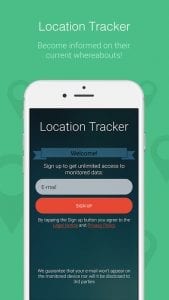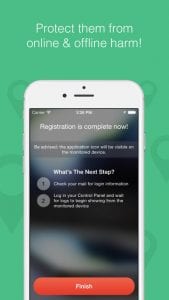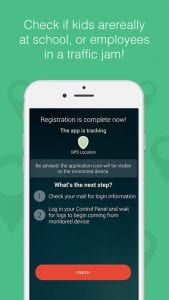 You could start with a simple location tracker and here is one of them. Because it does not have heavy duty functions its setup is easy. I mean the entire setup fits into those 3 pics above. Naturally, it uses the GPS unit on the phone, so the GPS has to be operational. And there is another obvious thing about GPS tracking – it drains the device battery, don't forget that.
This tracker works only with iOS, though.
Get Location Tracker (powered by mSpy) Free For iOS Here
Spy Camera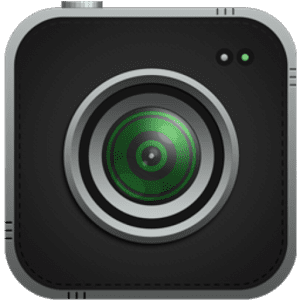 Certainly a different way to spy, this Spy Camera app makes and records videos with zero GPS tracking. It is also helpful when you lose your phone. You just need to send an SMS message to the phone and it will take picture of where it is now.
Another useful feature is Schedule To Capture. Basically, you set up the time to take pics.
All the pics and videos can be uploaded to Google Drive.
Get Spy Camera Free For Android Here
Spy Cam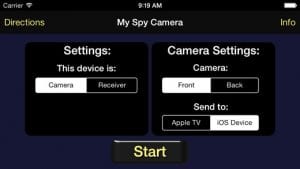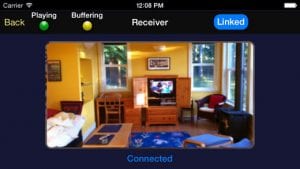 A similar spy camera option is the Spy Cam app. It records videos with audio and sends them up to Dropbox. First cool feature is periodical recording option where the app makes short videos every time in 1 to 30 minutes that you set up. The videos' length is also adjustable between 5 and 60 seconds.
And of course, Spy Cam is password protected. You stay in control.
And it supports both inbuilt and plugged in cameras.
Get Spy Cam For iOS Here
Highster Mobile

Let's get to the real stuff. Highster Mobile is one of the best mobile spying apps on the market. It is packed with features that turn any phone into a weapon and it definitely provides monitoring of everything that happens on the cell phone. Highlight of Highster's features:
Real-time GPS Tracking: Of course, Highster provides the good old tracking option. The location is shown on a map with a control panel.
Stealth Camera: Another feature that looks basic with this app.
Photos & Video are logged and stored, obviously.
Social Media Monitoring: The next level stuff starts with this feature. Highster monitors WhatsApp, Facebook, Twitter, Skype, Viber, Instagram, BBM, and iMessage. And e-mail.
With Call Monitoring you get access to incoming and outgoing phone calls, minor things like date and time of the calls, phone numbers. Highster keeps up a log of all phone calls made as well.
Contacts and Calendar: You can see every new contact and calendar entry.
Browser History: Another feature that should be with any spy app.
Text Message Monitoring. This one is kind of obsolete but it's gold for monitoring people who can't get a handle on social network apps. And you can record everything.
Get Highster Here
mSpy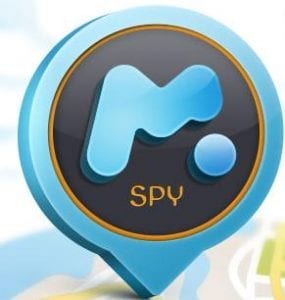 mSpy is a truly powerful monitoring tool with some great features. But it's simple to use. The customer service makes it even easier with proper help. And with mSpy, you don't have to jailbreak the device to make the app work. This app has all the basic features like GPS tracking, reading text messages and monitoring of instant messages. The amazing features that deserve some description and explanation:
Keylogging feature: with mSpy, you can see all keystrokes tapped into the monitored phone. It is great because it works with every messenger and social network, even the encrypted ones. The minor con here – works only on Android devices.
Blocking websites and apps: When it comes to internet usage mSpy doesn't just let you read what the user reads. This app gets you to next level where it just blocks everything you don't like. This is not stealth feature but it works great as a parental control software. And mSpy controls more than the browser, what apps and games are run and played are under your control as well. That means your kid can't install a different browser and get around the controlled one.
Geo-Fencing: mSpy has a control panel, the control panel has a map and on that map, you can mark all the Allowed and Forbidden areas you want. Every time the device leaves or enters one of those areas you get an alert.
Unlimited device change: The mSpy license is active on one device at a time only, but you can deactivate the license on the first device and then active the license on the second one and so on, without limits. Basically, you can test the app on your phone before installing it on your kid's phone.
24/7 Customer Support: It works. Also, mSpy offers you four ways to reach them: phone call, email, live chat, or a support ticket.
Developed by a UK-based company.
Get mSpy Here
FlexiSPY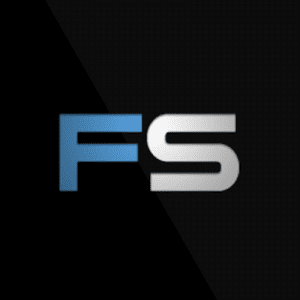 FlexiSPY is also feature-rich spy software and it also makes this list. FlexiSPY has been providing cell phone spy software since the year 2005. It has all the up-to-date advanced features to help you spy on mobile phone users, and is available on a wide variety of mobile platforms, including iOS, Android, Blackberry, and even the ancient Nokia Symbian.
The first striking difference from mSpy is that you have to jailbreak the device for this one.
Right after the jailbreak you can install FlexiSPY and go for recording all those activities: SMS, emails, phone calls, messages from Facebook, BBM, iMessages, Viber, WhatsApp, and Skype messengers, photos and videos, websites visited, and, of course, the GPS locations.
All of these features come with the Premium version. But you can also get the Extreme one and there you find even more advanced features. Check them out:
Call Intercept: You can listen in to a live phone call in real time.
Record Phone Calls: You can also remotely record that phone call, whether it's made to or from the target phone. The recordings get uploaded to your FlexiSPY control panel.
Record Surroundings: The same can be done with the phone's surroundings mp3s. You can listen to them in real time or record in mp3 and store them.
Spy on Passwords (Password Cracker): An industry first. This groundbreaking unique feature gives you a nice view at all passwords input on the phone. You see the actual passwords they use for messaging, emails and apps.
RemCam: The classic feature where you use their own camera to take pictures and the pics are uploaded to your account.
Instant GPS Locations: Current GPS location is always available, also check out the latest locations on a map.
Remotely control the phone: FlexiSPY allows you to make various changes remotely through your online web panel.
After the FlexiSPY app is installed and configured, the phone activities get collected and stored on the FlexiSPY servers, so you can access them, just log into your control panel from your computer or mobile device.
Get FlexiSPY Here
iKeyMonitor

iKeyMonitor is somewhat simpler but still powerful spy app that logs WhatsApp and SMS messages, keystrokes, passwords, websites, makes screenshots and even compiles a detailed report and sends to your email. The simplicity is obvious with the clear and easy to use interface, and it does what it's supposed to do.
The things that make iKeyMonitor different:
Free 3-day trial: Great opportunity to check out the app before buying.
View every keystroke typed: The keylogger is one of the most important features, so iKeyMonitor logs all forms of text messaging no matter the app. Moreover, you receive every kind of content exchanged over all text messaging apps.
Capture screenshots periodically: The app takes a screenshot automatically when the phone screen changes and every screenshot can be recorded. This gives you access to browsing history in real time and the same thing with the apps.
Multi-language support: iKeyMonitor supports a number of languages besides English, such as Spanish, French, German, Russian, Portuguese, and Italian. You can change the settings in the administrator interface. More settings can also be set through this interface, e.g. storage parameters, password for iKeyMonitor, security options, etc.
All in all, this is probably the best app for iPhone. The keylogger is pure stealth technology.
Get iKeyMonitor For iOS Here
PhoneSheriff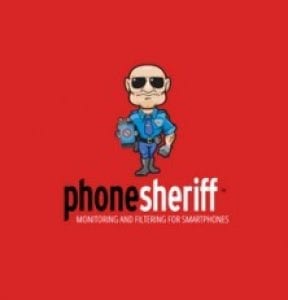 PhoneSheriff is a great phone monitoring and tracking app for you to monitor ALL the activities of any iOS devices, Blackberry, Android phones, and tablets. PhoneSheriff is user-friendly and it starts with super easy installation on the device you want to spy on. It offers all of the regular features that come with this kind of software, e.g. making logs of calls and photos/videos taken, GPS tracking, reading of SMS and emails, viewing browser history. Other features we list specifically:
Social network monitoring: View incoming and outgoing messages from within social network apps, like Facebook, WhatsApp, Viber, and iMessage.
Create time restrictions: This is one hardcore feature. You can completely block access to the device, or block all calls for certain periods of day.
Geo-Fencing Alert: You are alerted when the device exits the specific area you have designated on the map with your control panel.
Profanity Alert: You get to be a censor with this one. You define and input the vulgar words and you get alerted you every time one those words is tapped into the device.
Block services: Another hardcore feature. You block access to apps, websites, and even contacts of your choice. The same works for messaging and calling services. Basically, you make up a whitelist and a blacklist for allowed and blocked things respectively.
This app is worth every buck.
Get PhoneSheriff Here
Ear Spy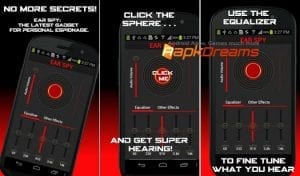 Ear Spy is a sharp little thing. It appears to be a music player but it secretly amplifies the sounds around you. Basically, you eavesdrop through your phone's mic. Then the app amplifies the sound and you can listen in through your earphones. Obviously you have to let the phone mic unobstructed.
Ear Spy also has an equalizer to clear the sound that comes to the earphones. There is also some echo cancellation (AEC) and noise suppression (NS) for more clarity.
The cool thing is that you can record mp3 audios.
Get Ear Spy Free For Android Here
Ear Spy – Super Ear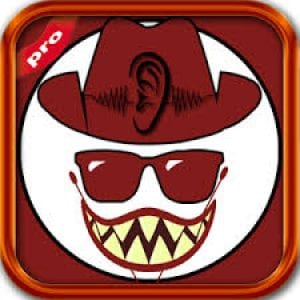 Ear Spy Super Ear is a another spy application and it's been updated more recent than the Ear Spy app above.
A little less features here, but you still get Ringtone and Voice call boosts, also Media and Alrm boosts. Notifications are not really a useful thing, though.
Get Ear Spy – Super Ear Free For Android Here
Find My Friends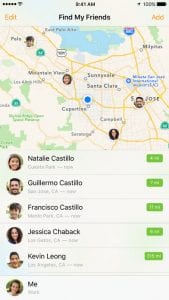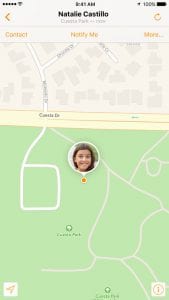 Find My Friends is one the most innocent apps on this list. This app helps you to know basic, most necessary things, like when your partner leaves work, your kid leaves school or when a visiting friend arrives at the bus station, airport or KFC. Your friend/relative needs to share their location first, though.
Find My Friends does that thanks to syncing with phone contacts and maps. Users can also choose what the app's other users they want to interact with on this network.
Do not confuse with Find My iPhone that searches the location of a lost or stolen phone.
Get Find My Friends Free For iOS Here
There is a similar app with exactly same name for Android.
Get Find My Friends Free For Android Here
XNSPY

This mobile monitoring app is compatible with all Android and iOS devices, despite only iPhone operation promoted heavily on the app's home page.
XNSPY is not free but its features/price ratio makes it a valuable option. With this app, many of the features work in real-time that allows the users to access even the data deleted from the monitored device. You get access to phone logs, social media, and location history. Moreover, the user can download the entire phone log from the monitored device to a different device or storage. XNSPY isn't pricey and that's what makes it different from the other spy apps.
Moreover, the user can download the entire phone log from the monitored device to a different device or storage. XNSPY isn't pricey and that's a major difference from other ones.
SpyEra

With SpyEra you can do plenty of spying as well. For starters, the app records incoming and outgoing data on the iPhone. You get email and SMS logs, Facebook posts and Skype conversations. Every detail is for your eyes as long as you don't feel bad about it.
The tracker feature allows tracking the other guy (or your lady) in real time.
More unique and worth mentioning about this app is the SIM card change alert. You will learn when the guy switched the SIM card on you the minute it happens.
Get SpyEra Here
Mobile Spy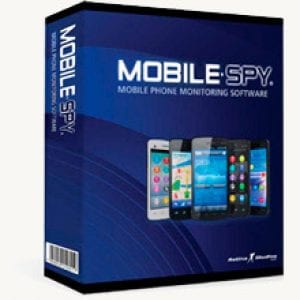 Mobile Spy is better than other apps in one specific thing -stopping gambling addictions. This app is able to check if there are any gambling apps installed or running on the iPhone. Basically, this is a spy app that helps people. Other than that, it works pretty much like the previous three apps where you can track location, record incoming and outgoing calls, view pictures taken by the targeted iPhone, look at the browser and call histories etc. while being invisible.
Other than that, it works pretty much like any of the previous apps. With Mobile Spy, you get to track location, record incoming and outgoing calls, and view pictures taken by the targeted phone. If you are into reading – read browser and call histories etc. while staying invisible.
Get Mobile Spy Here
Phone Tracker for iPhones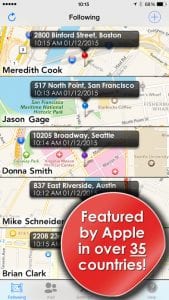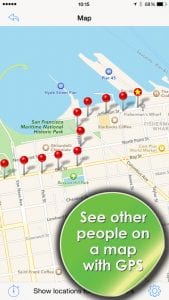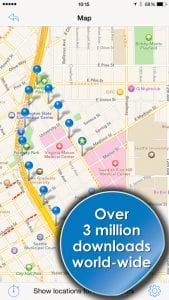 The best of the simplest is what I'd call this app. Works perfectly for people who feel disturbed enough only to track location. Once you install this on an iPhone there is no need to launch it every time to switch it on. The app is able to locate the other guy's location for the past 72 hours. Also, you can set up the app to map locations every 2 to 60 minutes.
This is perfect for finding lost devices.
But it does work only with iPhones and iPads.
Get Phone Tracker for iPhones Here