Tennis historically was a sport for aristocrats and rich people. A hundred years later it became an Olympic sport and now it is one of the loveliest sport in the world. If you are a real fan of tennis, you exactly know who is the first racket of the world now , when will the Davis Cup start , this post is for you. Whether you are a beginner or just observer ,you also will be able to be a part of the world of tennis, become a member of the world's famous tournaments and get the most prestigious awards! Of course, I can't turn you into Rodger Federer, Andrew Murray or Caroline Wozniacki, but I can provide you 15 best tennis apps for iPhone and Android .
This collection will present you the best applications for playing tennis wherever and whenever you want because they will be launched on your iPhone or Android. It is very convenient and useful, especially if you face the problem with spending time while road trips, traveling by train or in shop centers when your girlfriend tries on an another dress in a dressing room.
---
By the way, check other FreeAppsForMe's posts. The post about 8 Best Biathlon Game Apps For Android & iPhone will get you a full list of the best apps to try yourself in this strong sport like Biathlon. But if you are still looking for Pokemon, check 15 best apps to catch them all.

---
1. Virtua Tennis Challenge
Before you will show all your skills on a stadium in a professional Mode you can use a training mode and learn from the professionals in this practice mode by running through drills.
After that, 50 different self-confident players wait for you to compete for the first place in a tournament. You can choose a mode you will play, whether it will a single or double challenge, like in real life ( but in the game, your partner is less nervous:)). Saying " like in real life" I mean that everything from shots to top spins seems like real playing. Also, you will be able to make slice shots and lobs and drop shots through different touch gestures.
There are multiple modes you can choose from . For example , SPT World Tour: Pick a customizable character to compete through full seasons of competition around the globe. Earn money by progressing through matches to buy your way into new tournaments. Each real world day offers new challenges and competes in 18 famous stadiums.
Another cool feature is that you can challenge your friends or family via Game Center.
Designed for all iPhone, iPad, Android and tablets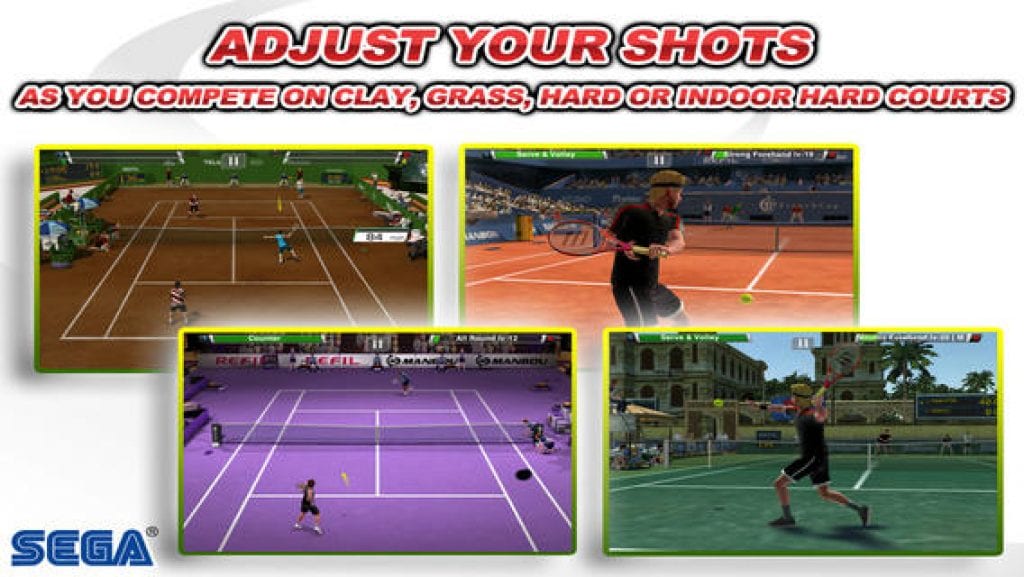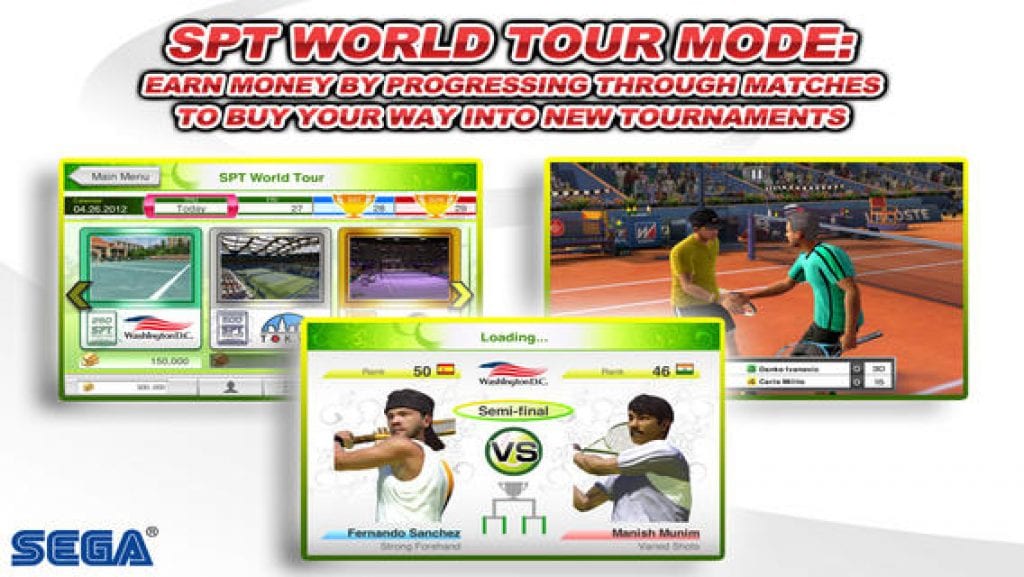 Get it on AppStore
Get it on Google Play Store
2. Cross Court Tennis 2
Another cool app for Tennis lovers! It is an app where all physics laws are real and due to a high-quality animation the gameplay becomes very realistic. Every time you or you competitor make slice shots, topspins or backspins, strokes, volleys, smashes and drop shots, you will see it in detail.
Not only graphics turn this game into a real tournament, but an ability to customize your perfect player , choosing from variety of clothes, skin and hair colors. Every workout increase player's level of preparation to serious tournaments. After a few lessons, you will be able to perform in up to 15 different stadiums, competing with more than 45 players.
If you are not a professional, just customize your mode in settings. Choose from: pro, medium or beginner.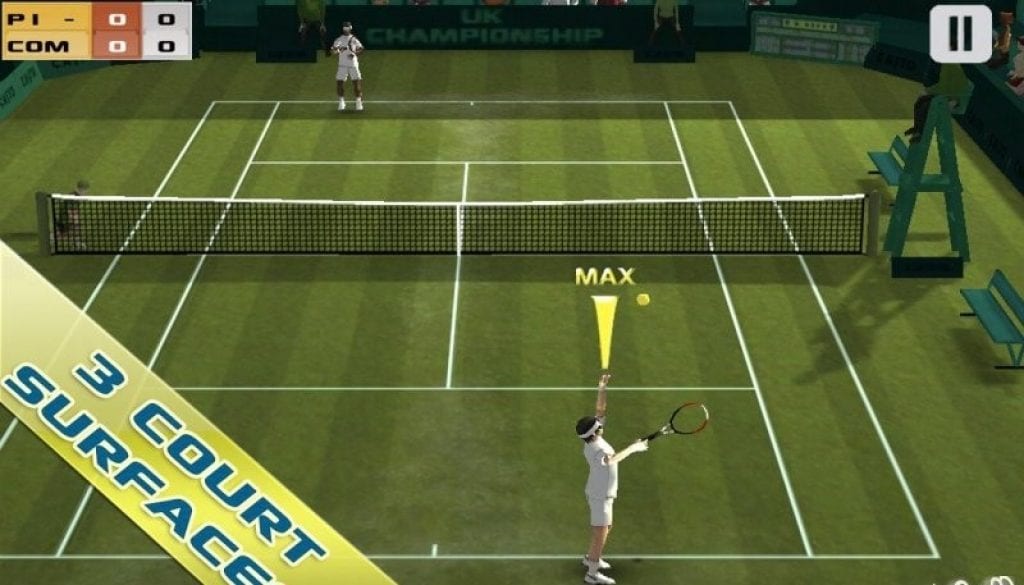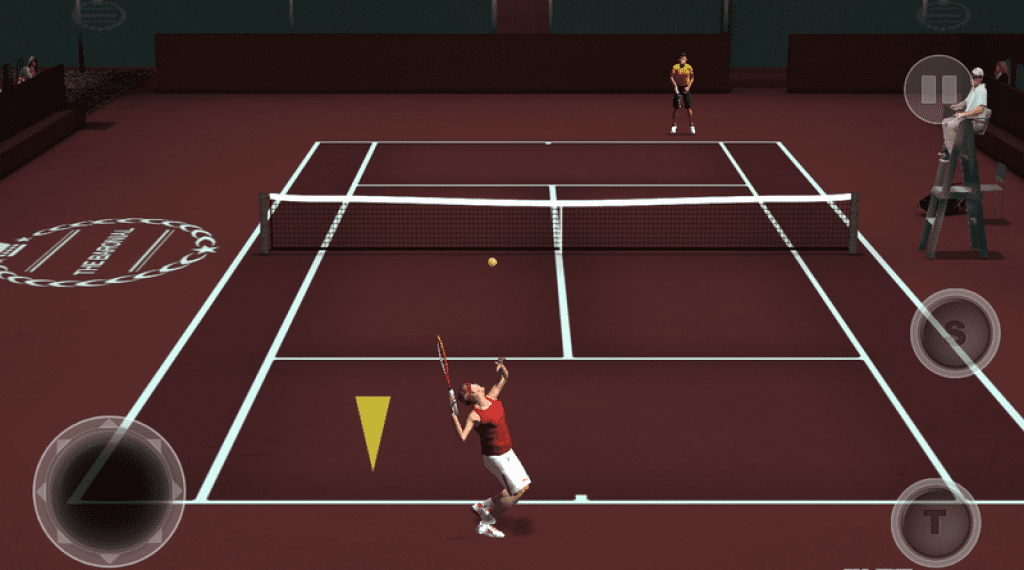 Get it on AppStore
Get it on Google Play Store
3. Ultimate Tennis
First of all, I want to say that this app has one of the most beautiful graphics, thrilling gameplay, and a great pack of action. It is a tweaked version of the familiar finger-swipe tennis gameplay combined with a detailed element that gives you near to unlimited options for improving and customizing your character or characters, the choice is up to you.
Speaking about its features, firstly, you need to create your player with the editor: chose his sex from both men and women and remember that both have a unique playing style. Customize his equipment and skills to the smallest detail. After that, you will be able to start training and updating your skills, master up to four different special moves to put your competitors out of the match. Also, there are several modes, depended on your level of a preparation : such as World Tour, League, and Online.
Available on iPhone, iPad, Android and tablets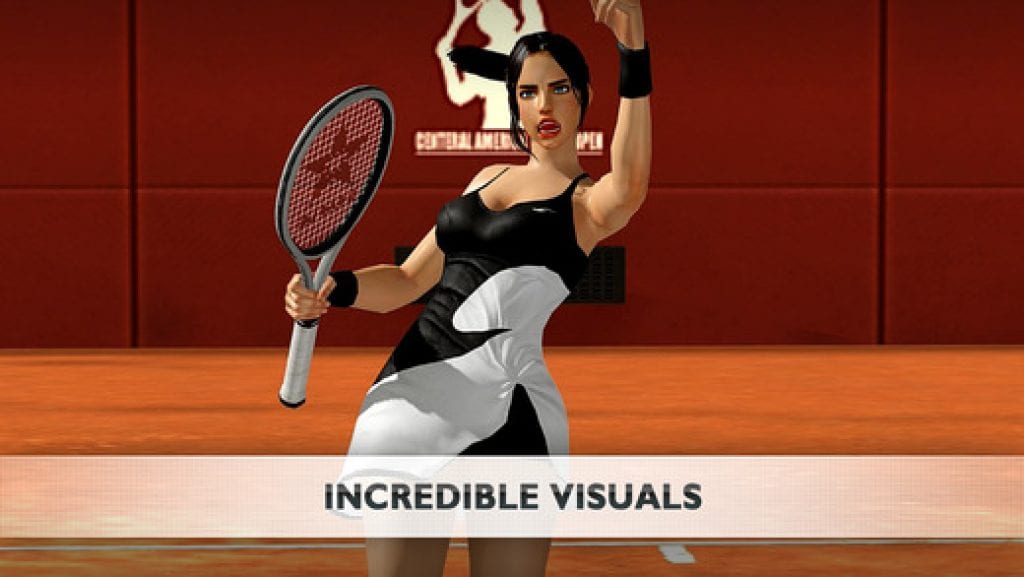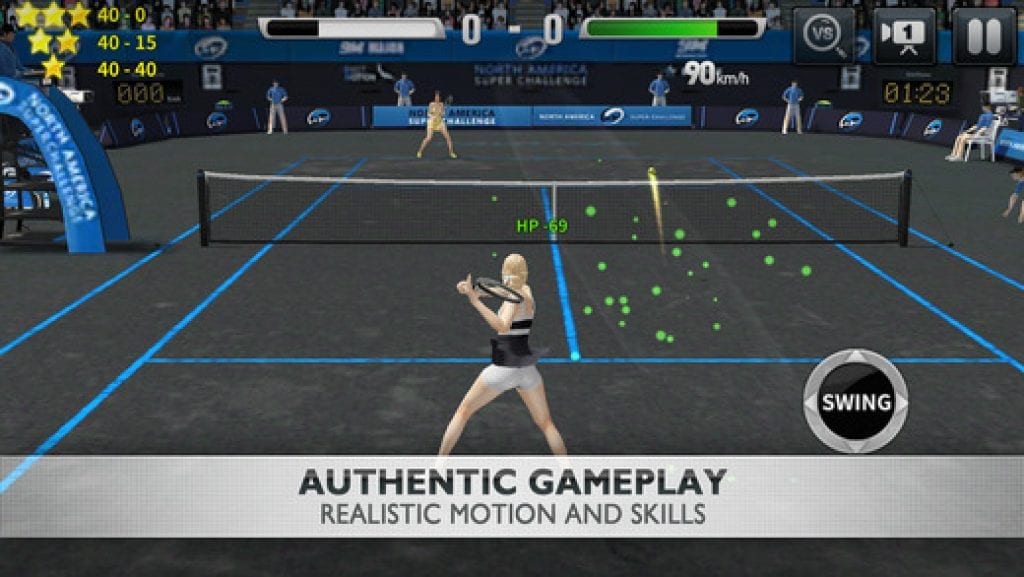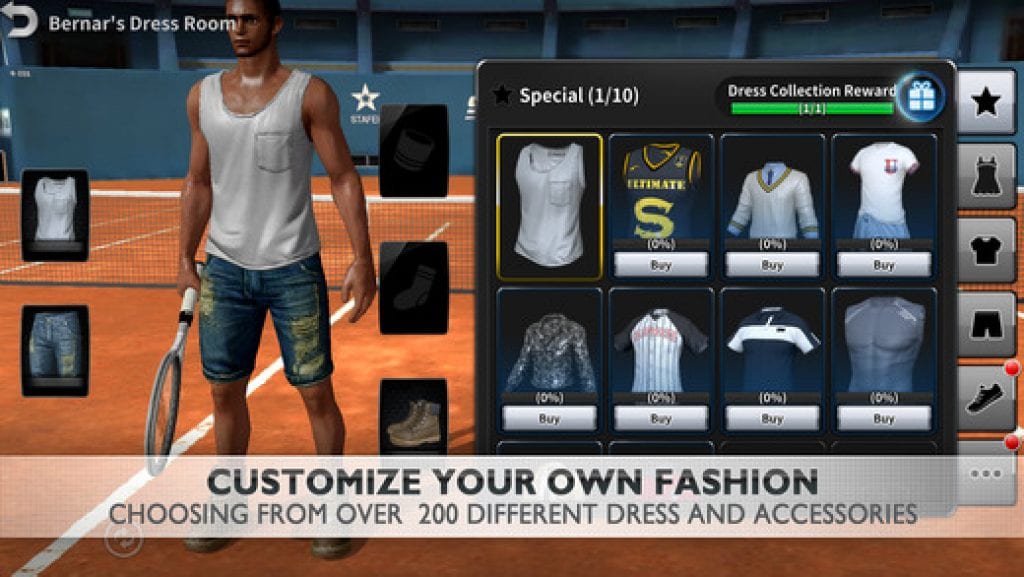 Get it on AppStore
Get it on Google Play Store
4. Stick Tennis
Developers of the"Stick Tennis" bet everything not on having characters looking like real people, but animated characters. It is only up to you, whether you would like to play with this kind of players or " lively" players. But this app will pleasant wonder you.
It is very easy to understand and play , but difficult to master. With just a simple one-fingered swipe you'll soon be thumping crosscourt winners, yet at the core of Stick Tennis is a highly sophisticated physics engine that rewards tactical play. You will be able to earn trophies, doing an everyday challenge, Unlock up to ten famous courts all over the world and more than seventy players.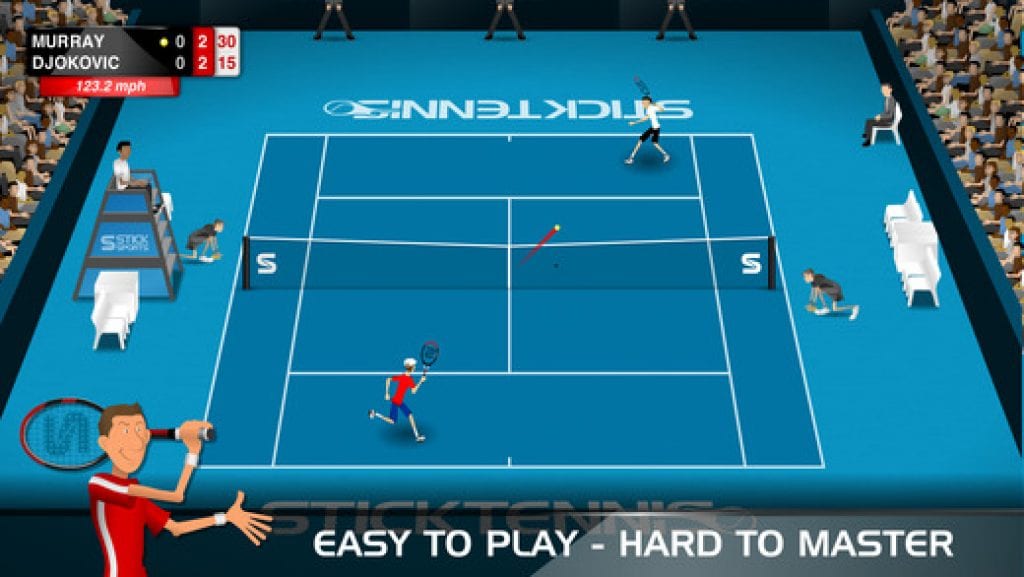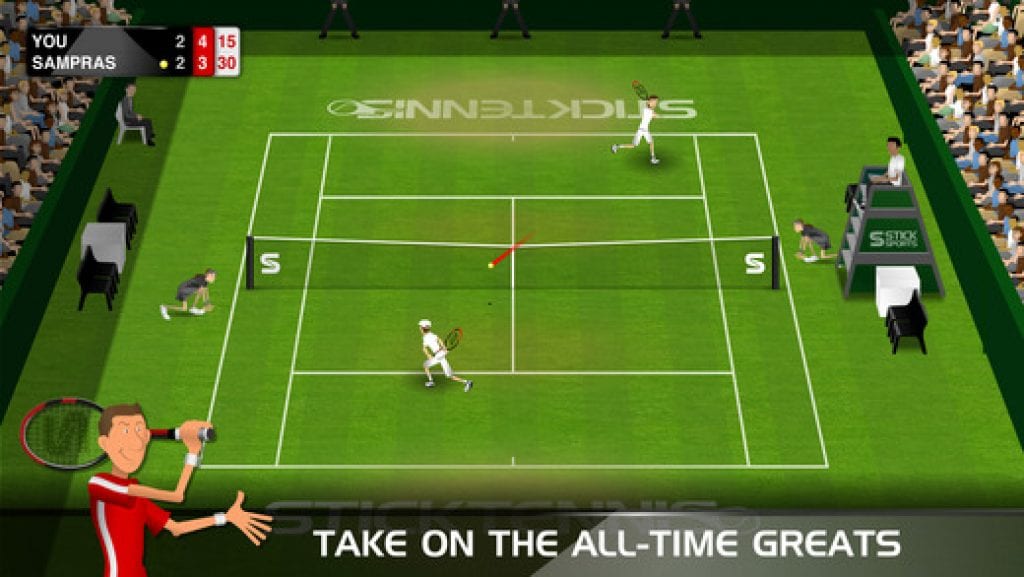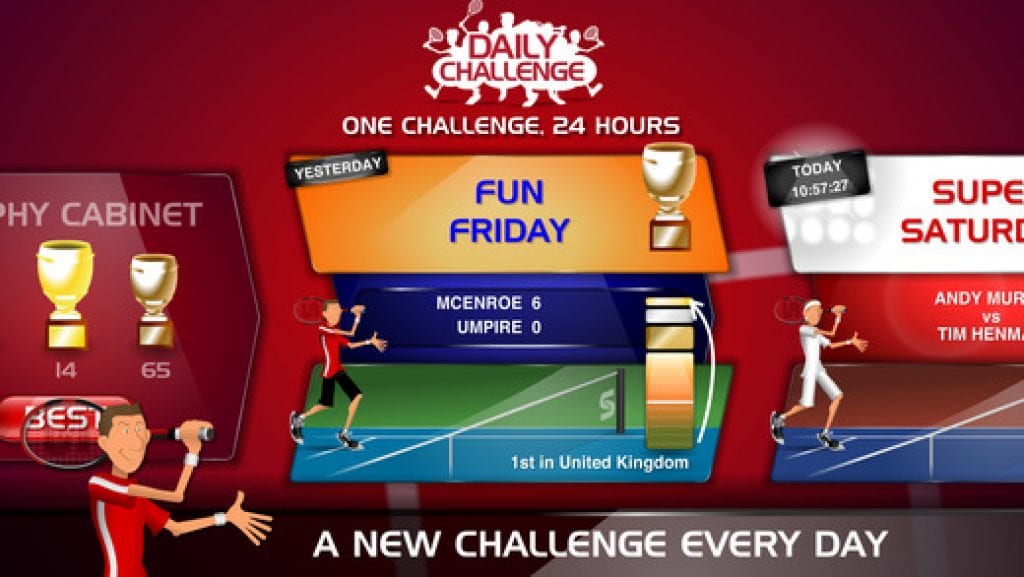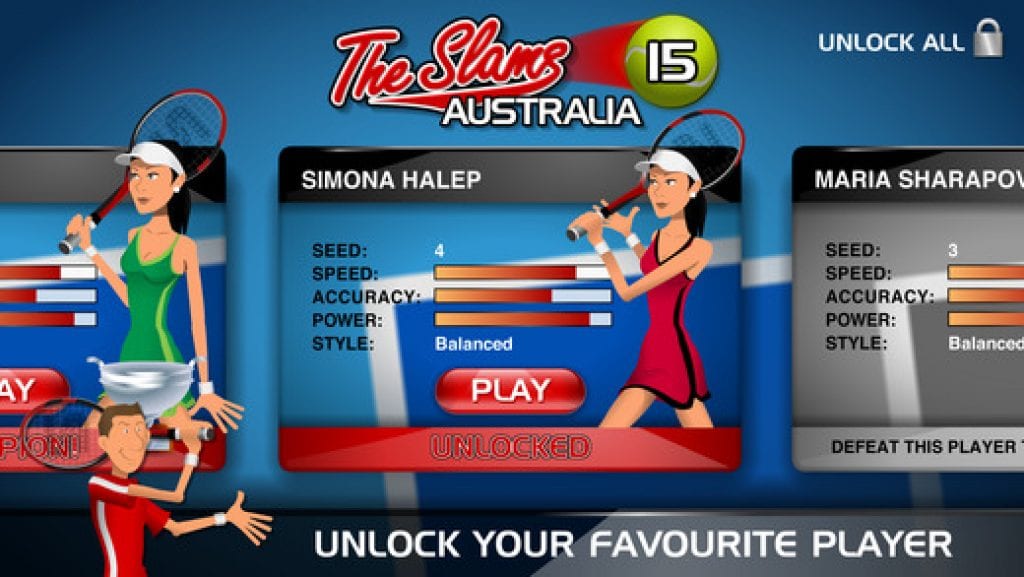 Get it on AppStore
Get it on Google Play Store
5. Tennis 3D – World Championship
This 3D Tennis application provides you an ability to play tennis even if your schedule every time is busy. Real graphics show you every hit and shot in detail. Catch the best spin shots, reverses, smashes, backspins , volleys and that kind of things!
Moreover, you can choose a mode you will play in. It can be a quick game mode to play only once for getting scores or you can choose a tournament mode and go to the top, competing with more than 20 perfect players. One important point is that you have to win a match to unlock the next country. By the way, there are up to 10 challenging countries.
Available only for Android and its tablets.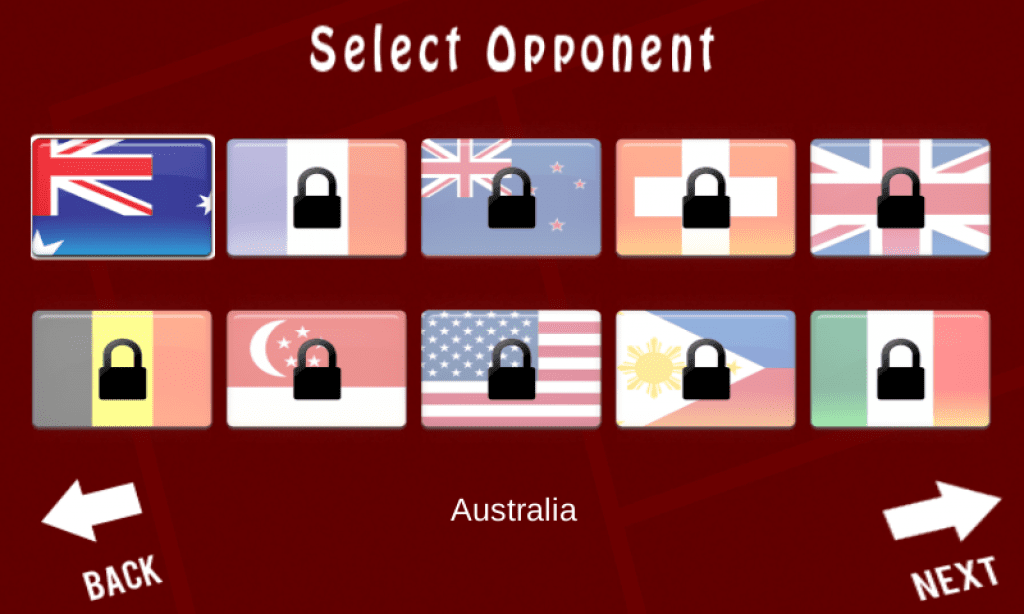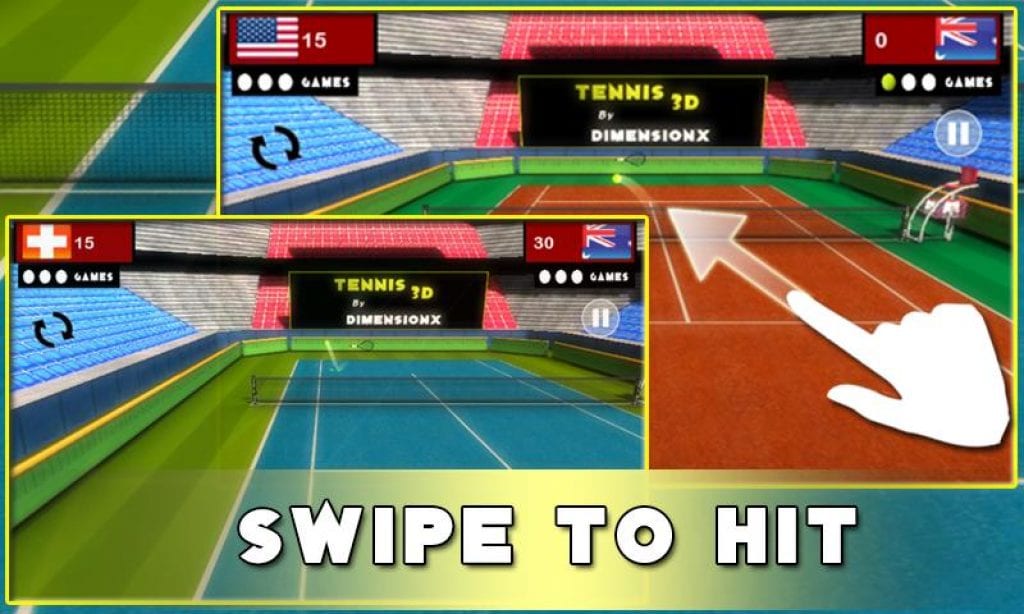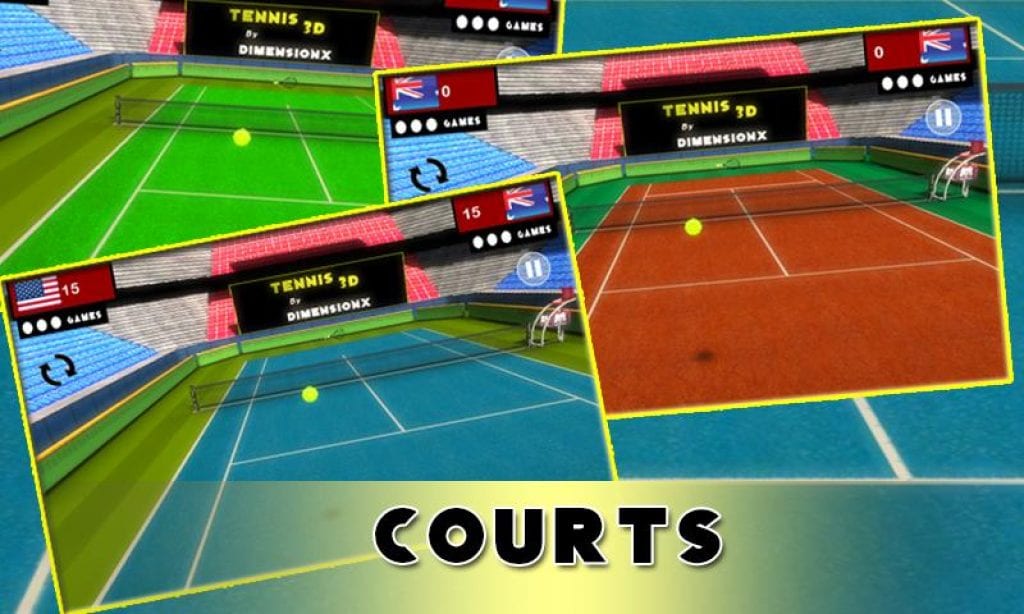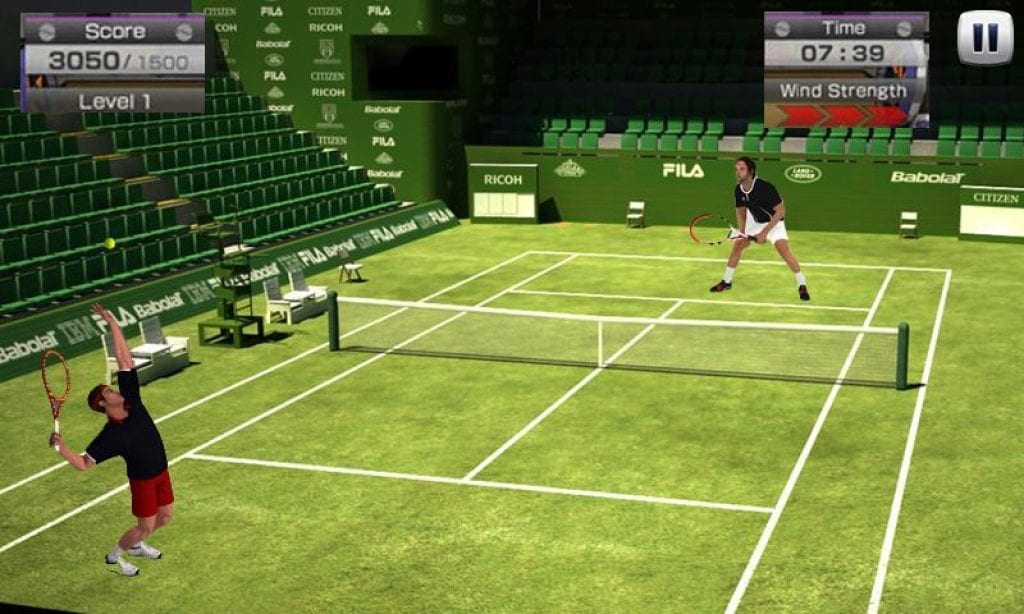 Get it on Google Play Store
6. Hit Tennis 3 – Swipe & flick the ball
It is a pretty simple tennis game. How does it look? Well, there are no players on a court, only your racket and your opponent's. All you need is to swipe or flick your finger to hit the ball. Get scores and win tournaments. By the way, your opponent can be not only a beginner but a real professional, so pay a lot of attention to it.
There are 24 perfect tournaments across 8 locations all around the world, so you can battle your competitors and put them out of the match in order.
Available on both iOS devices and Andriod, including tablets.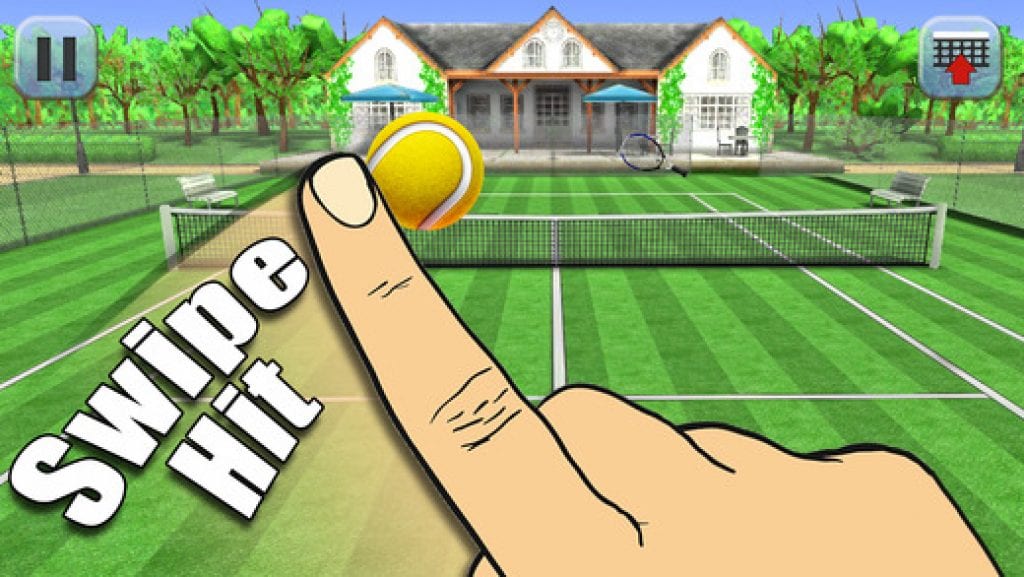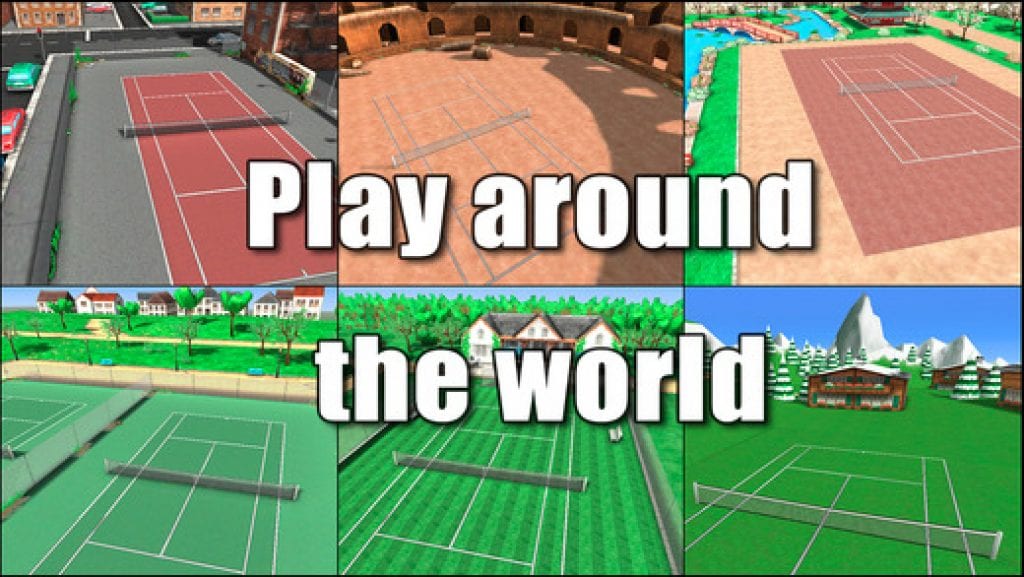 Get it on AppStore
Get it on Google Play Store
7. Ketchapp Tennis
Ketchapp Tennis belongs to such kind of apps with minimalistic animated characters. I really don't know people who don't like playing this game, if they downloaded it once.
On the one hand, it is absolutely free and doesn't require any paid subscription or fees but, on the other hand, you will get an access to simple control, more than 65 different characters with their own style and 25 super courts.
Play with single player or create a pair game.
Another appreciative feature is an ability to use your iPhone as a motion controller and Play on your Apple TV or your iPad as a TV screen.
Available on both iPhone and iPad, Andriod and a tablet.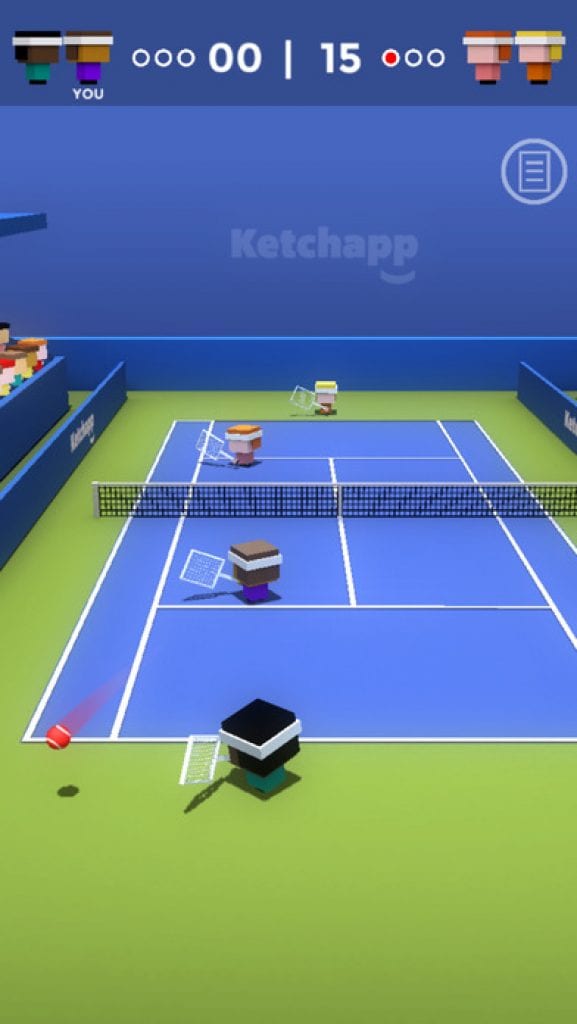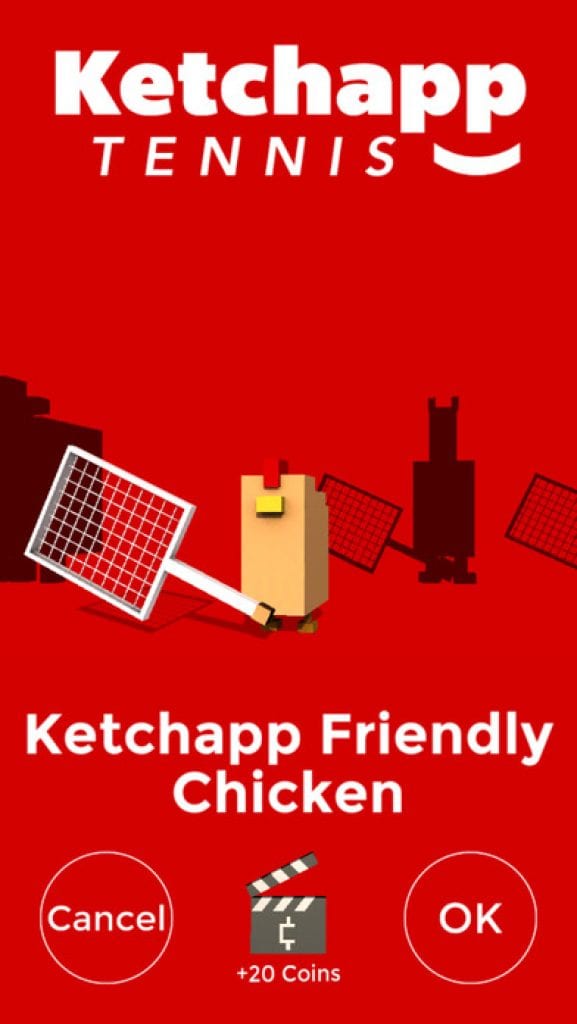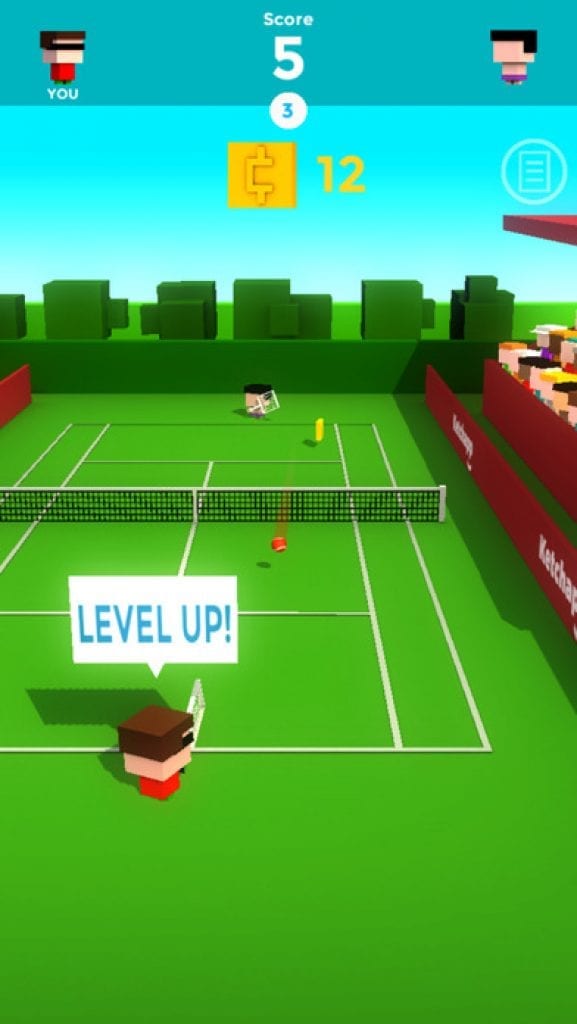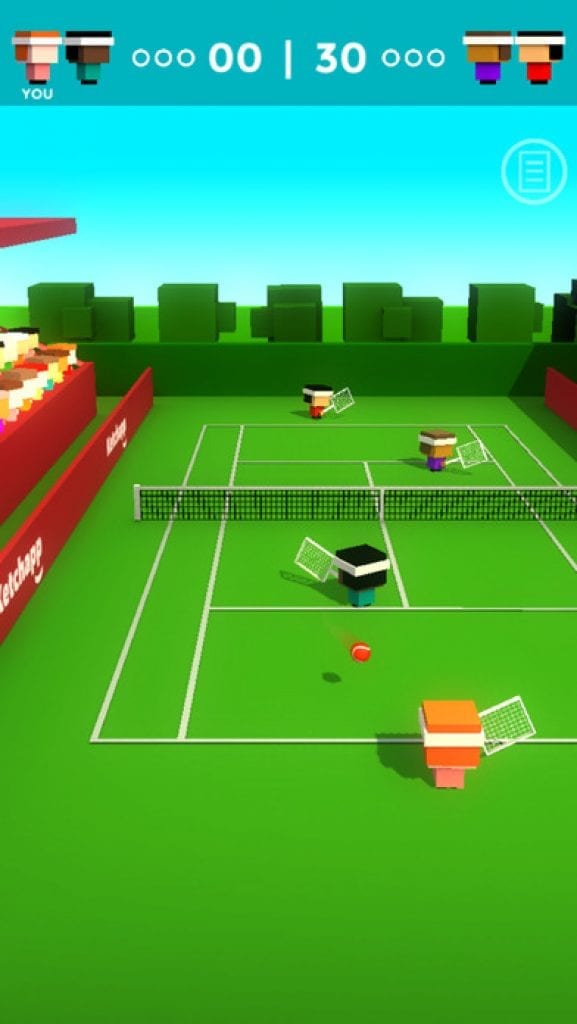 Get it on AppStore
Get it on Google Play Store
8. Flick Tennis Online
The description says : " Play like Nadal, Federer, Djokovic in top multiplayer tournaments!"
High-quality graphics make this app one of the best sports apps on AppStore . Everything is going to be like in a real life you will have to keep control on 9 amazing courts with strategic movements and variety of shots like groundstroke, lob, drop, slice.
Speaking about its features, it is a real online app, so you can compete with users around the whole world. You will participate in events or weekly tournaments all over the world and compete for the first place with world's best e-players. Every week you need to prove your skills on a court and level up, then you will earn points and increase your ranking.
What is more, it supports Wi-Fi and Bluetooth, so you can compete with your friends and family wherever and whenever you want.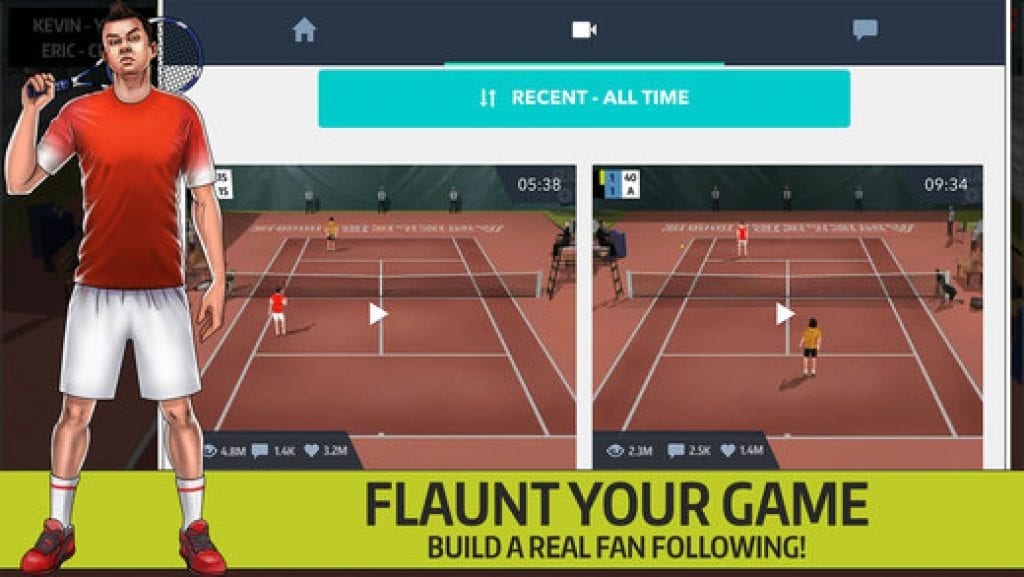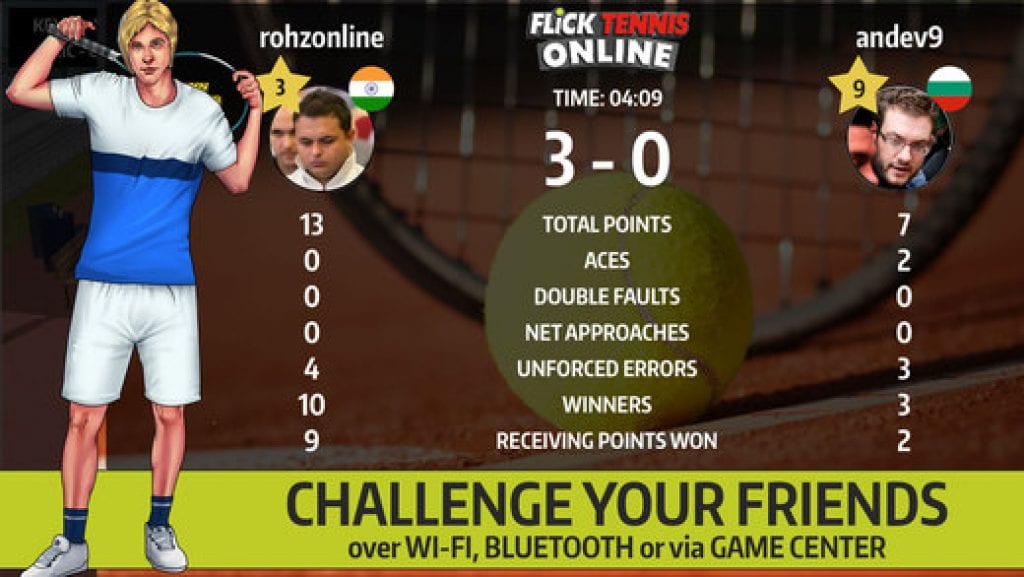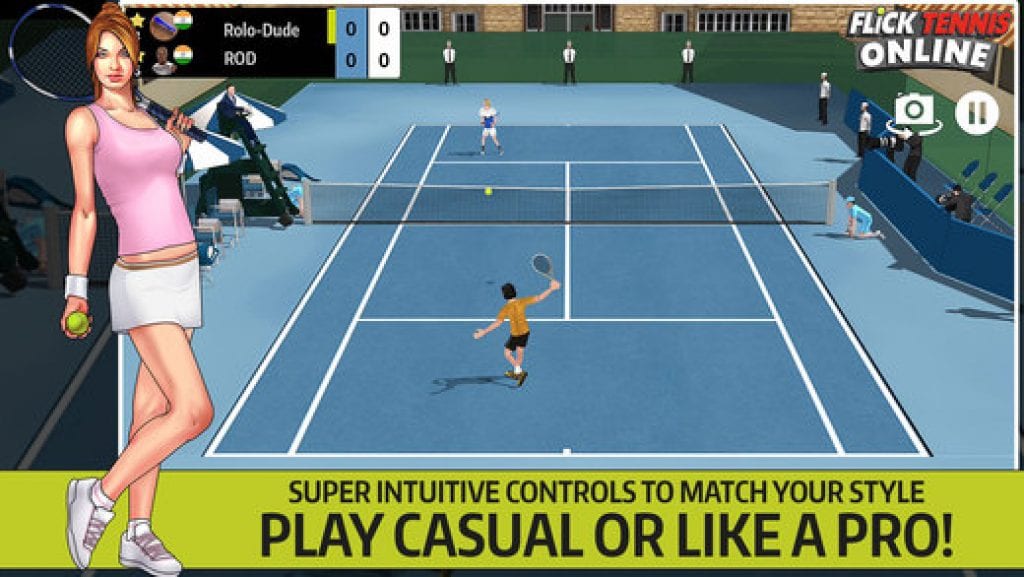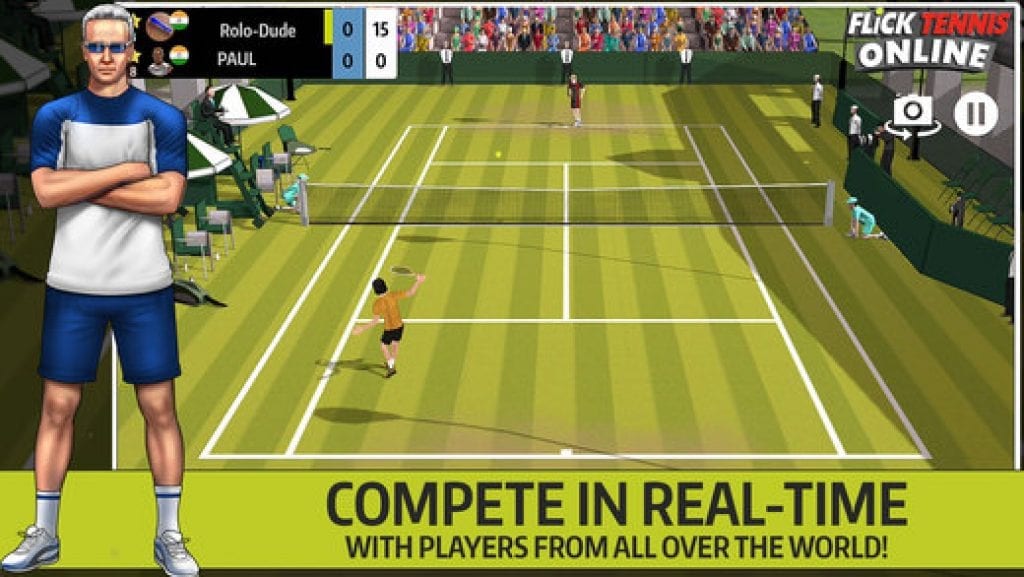 Get it on AppStore
9. Tennis Champion
To get the best experience on a mobile the best way is to download a game with a swipe control. In this case , you will enjoy every shot you make on a court. And HD 3D graphics will help you to see every smash, backspin, volley and that kind of things.
You can play against your friends, challenging them via Game Center, or play with real users all over the world. Participation in different tournaments will provide you an opportunity to show all your skills to your competitors and put them out of a match.
And another important feature- there is a split screen multiplayer : one is for you, another for your opponent.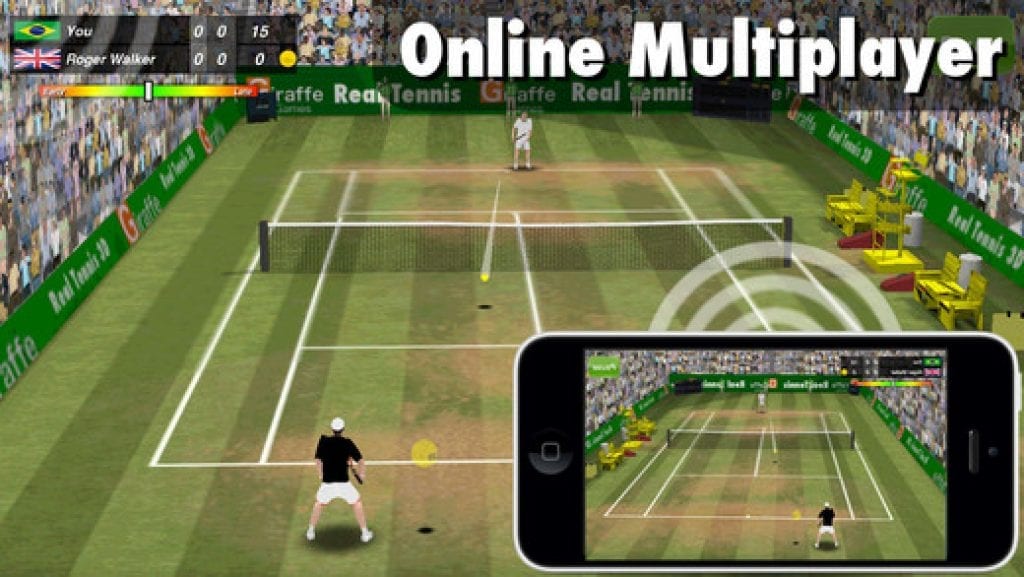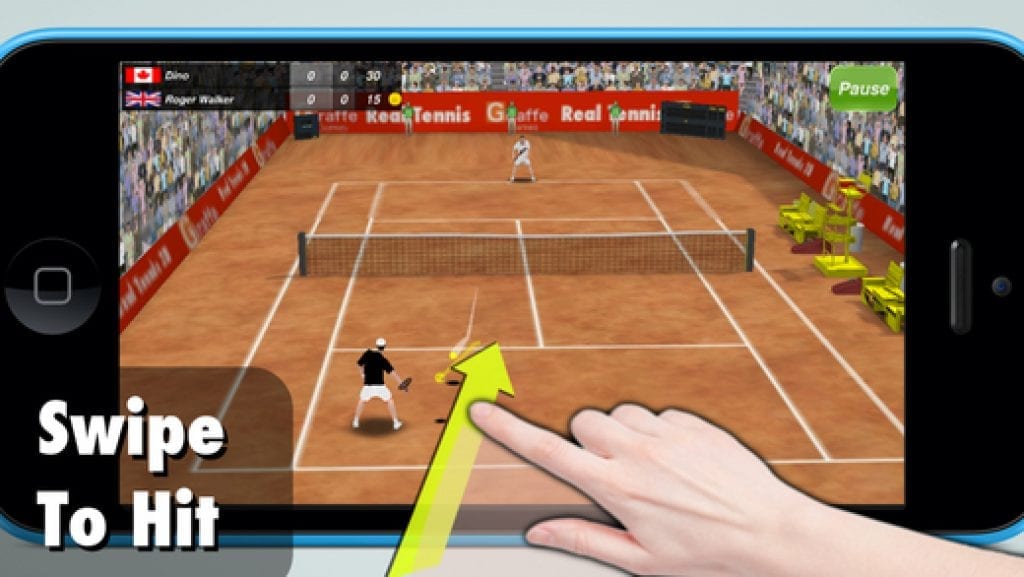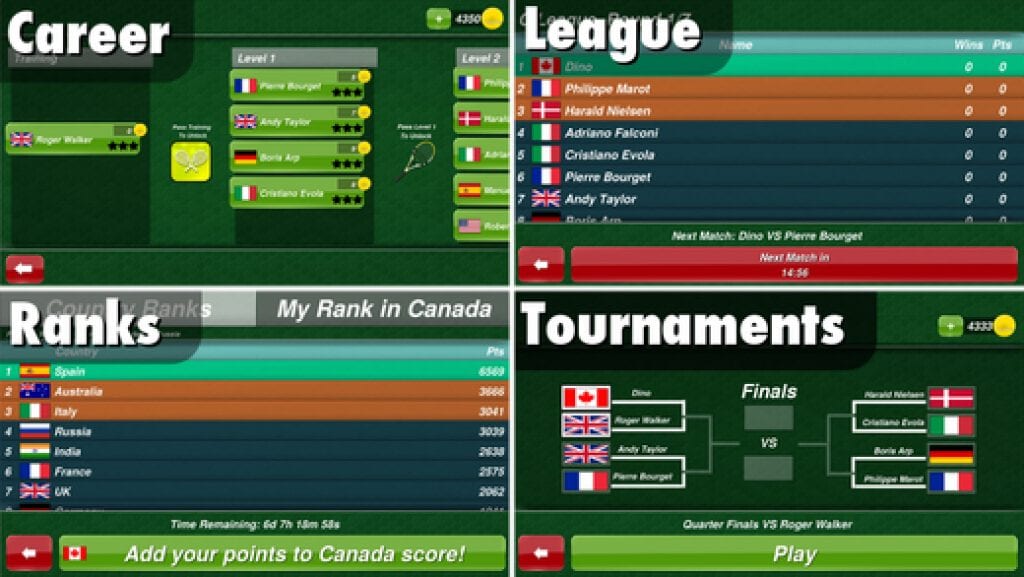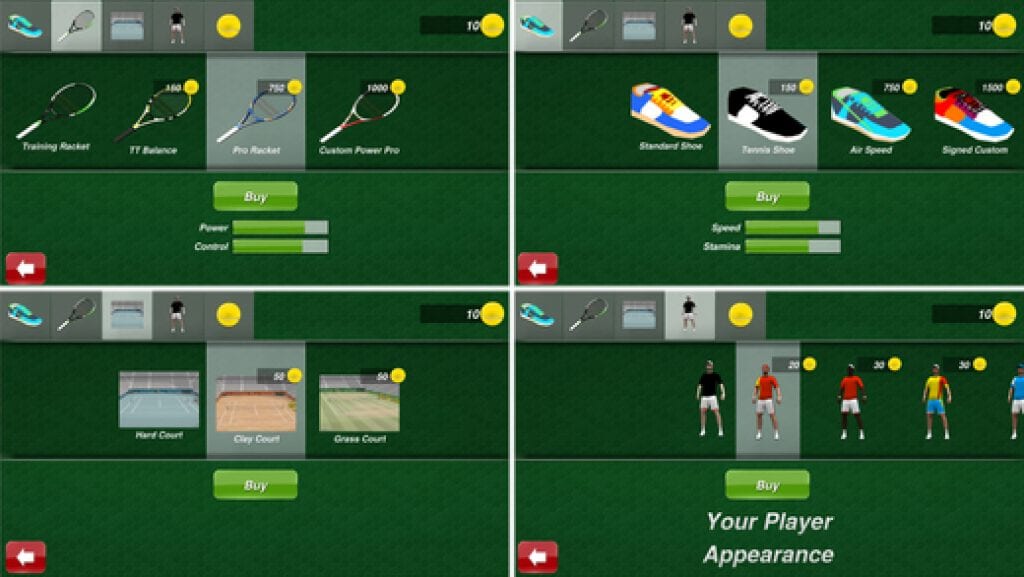 Get it on AppStore
Get it on Google Play Store
10. Tiny Tennis
It is a legendary application By Fat Fish Games Ltd. You exactly have to know him by such application as Tiny Goalie, Tiny Touchdown, Tiny Rugby and Tiny Sticker.
So the playing principle is very simple – choose from one of 9 different tennis courts and slide your finger to move your tiny player to hit tennis balls, you need to avoid flying red water bottles to get scores. One useful tip will help you to boost more scores : try to collect multiplier badges. As long you keep the ball and your scores will be doubled and tripled. After you fail, you will be awarded one of 4 medals : Bronze, Silver, Gold (hard), Platinum (very hard)
Your results you can share on Twitter.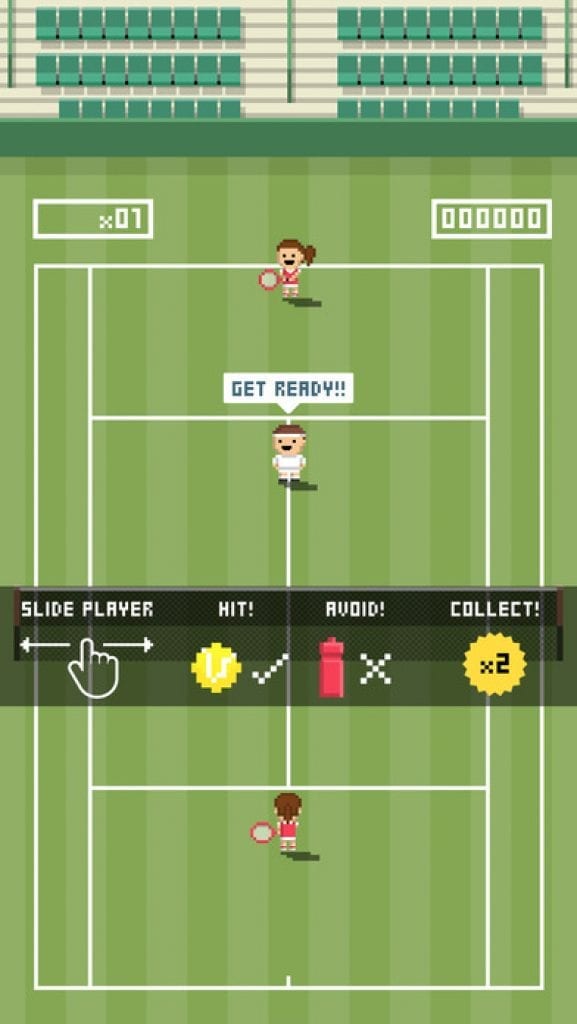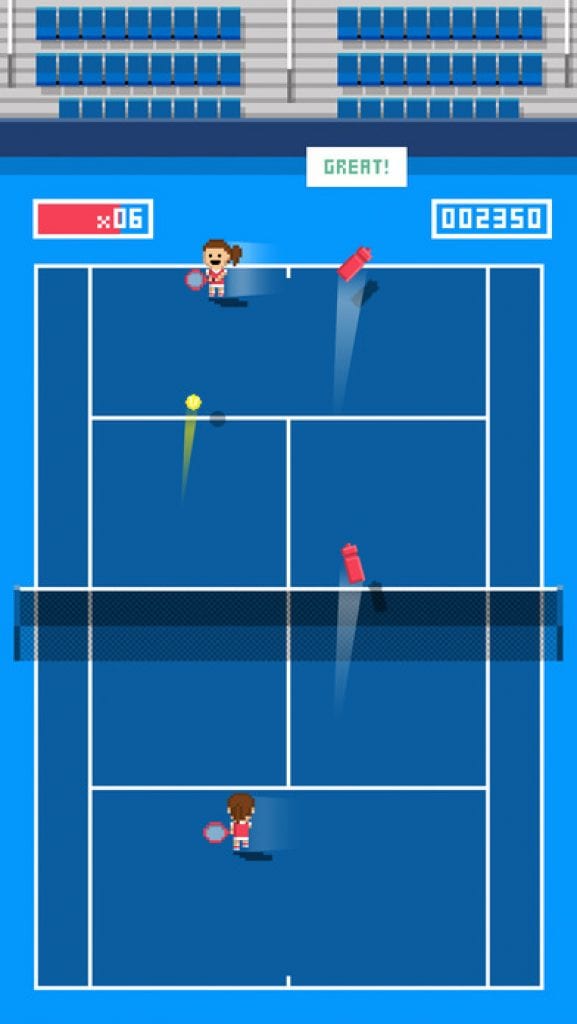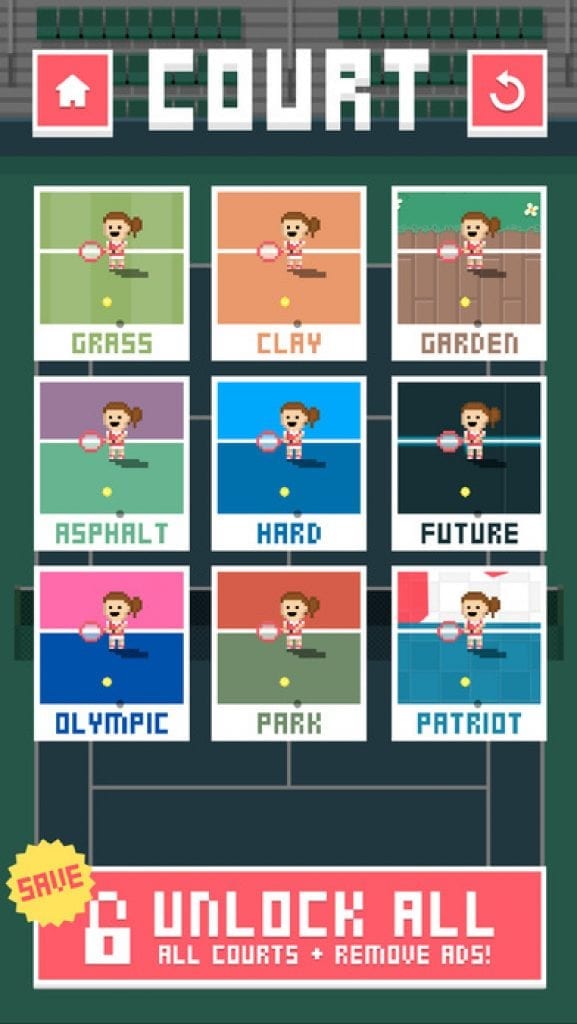 Get it on AppStore
Get it on Google Play Store
11. Play Tennis Games 2016
Another cool tennis app where you are in a role of a player. World's leading 3D single player tennis game for 2016. The game is equipped with 3D physics mechanics and realistic shots, easy to play controls yet challenging and enjoyable features. The Game has two modes
-Quick Match: Quick match allows you to challenge a team randomly.
-Tournament: Tournament is based on a knockout system. It comprises of four matches. You have to win all matches in order to qualify for finals.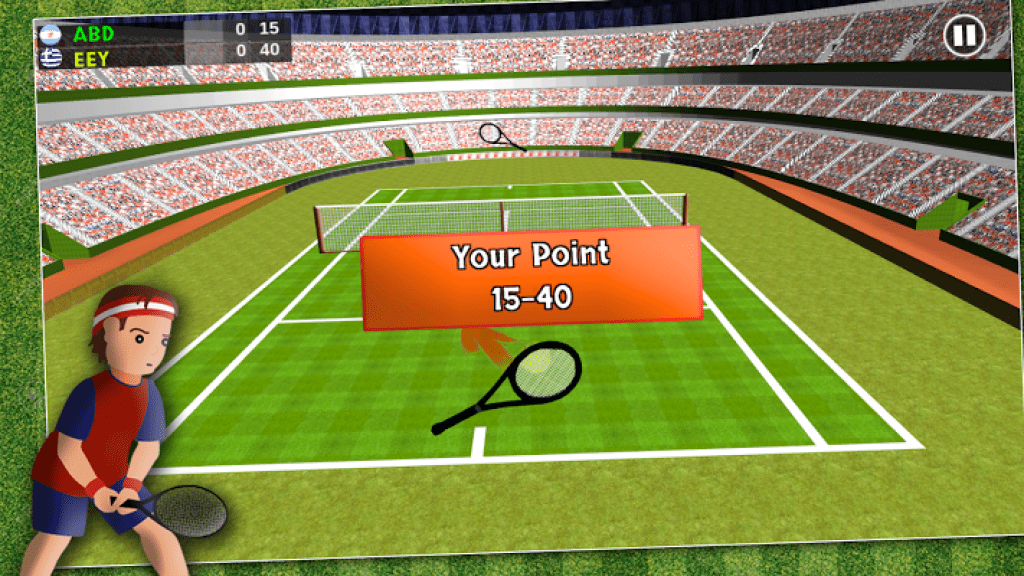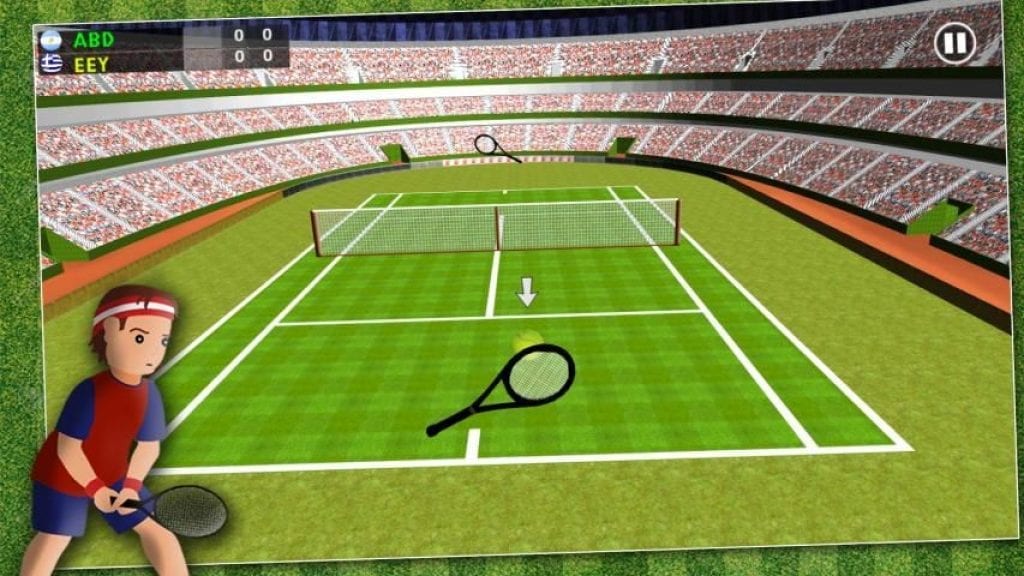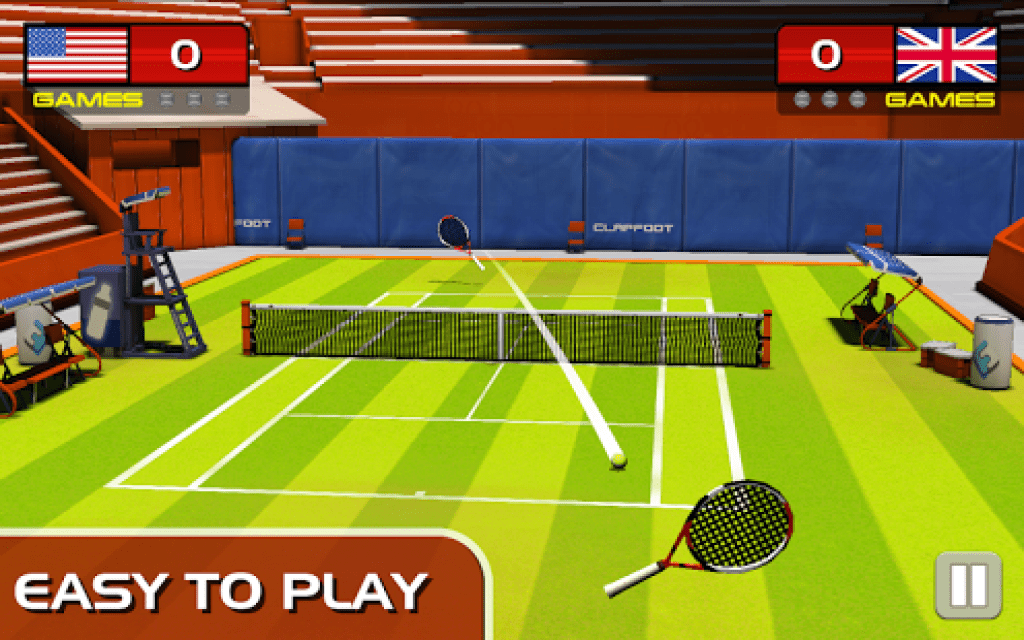 Get it on Google Play Store
12. Cross Court Tennis
It is the previous version of the Cross Court Tennis 2. But it has its own features. Let's look at them . There are 3 levels of difficulty and career mode, so after some training sessions and upgrading skills through.
Also, you can compete against 35 different Opponents with varying skills, try for Pro or advanced level players can use the replay challenge system and participate in 8 unique tournaments.
If you exit accidentally, don't be afraid of it, it saves Career matches & tournaments in progress automatically.
Use Auto-Run mode to develop your shots, then challenge yourself in Free Run Mode by tapping the court to run
Hit lobs, slice, topspin, Flat, drop volleys, all with EASE!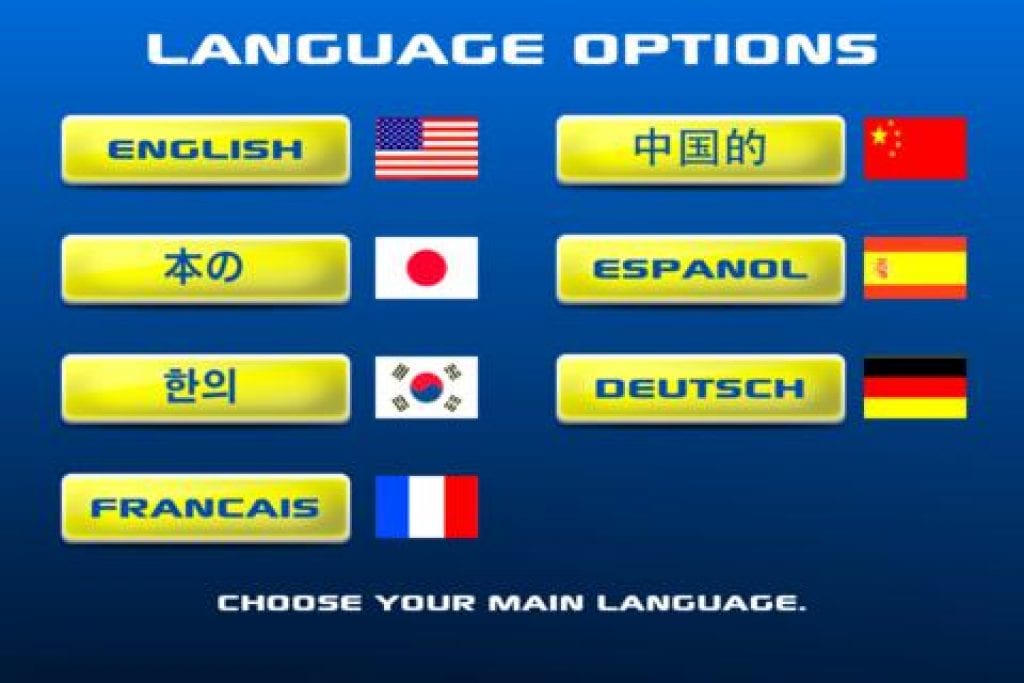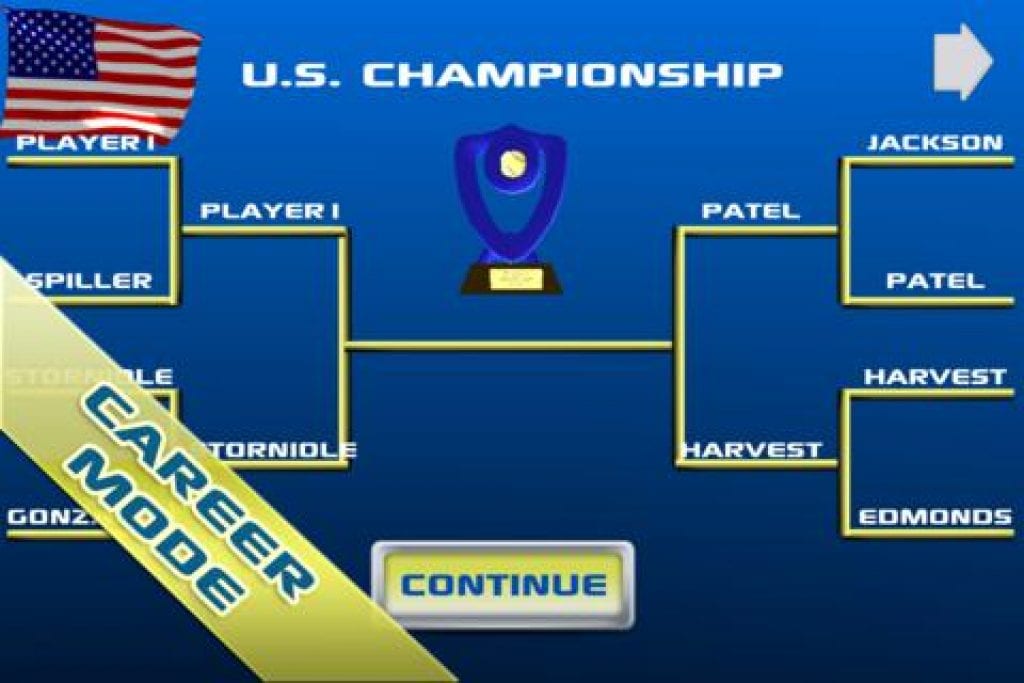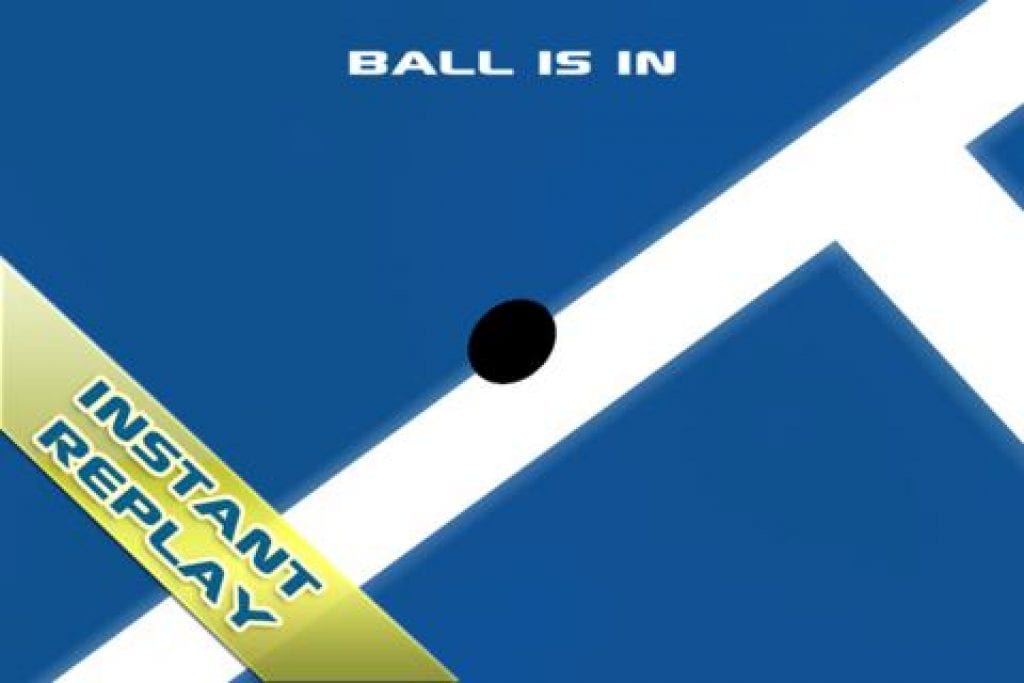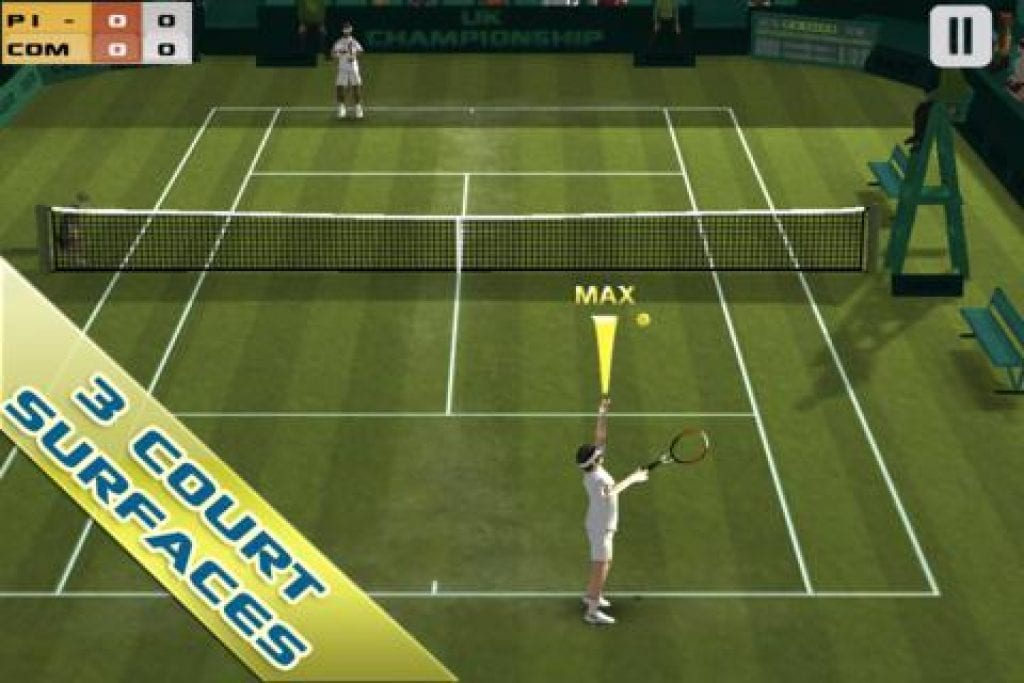 Get it on AppStore
Get it on Google Play Store
13. Play Super Tennis
If you are addicted to tennis and want to pick up the basics, I think, trying a game like Play Super Tennis is the best option for you. Due to high-quality graphics, you can see every short in detail, each pose, and hit.
Speaking about the game, there are 10 different level countries, where you face your opponent. You have to win to go to the next country.
The game principle is very simple, to hit the ball you need to swipe a finger ( Make sure that you didn't eat fries from MacDonalds or Burger King before you start playing)
Also, there are two modes : a quick game or a tournament mode so you can play against only one player or many players respectively. In tournament mode, you have to do all your best to take the first place.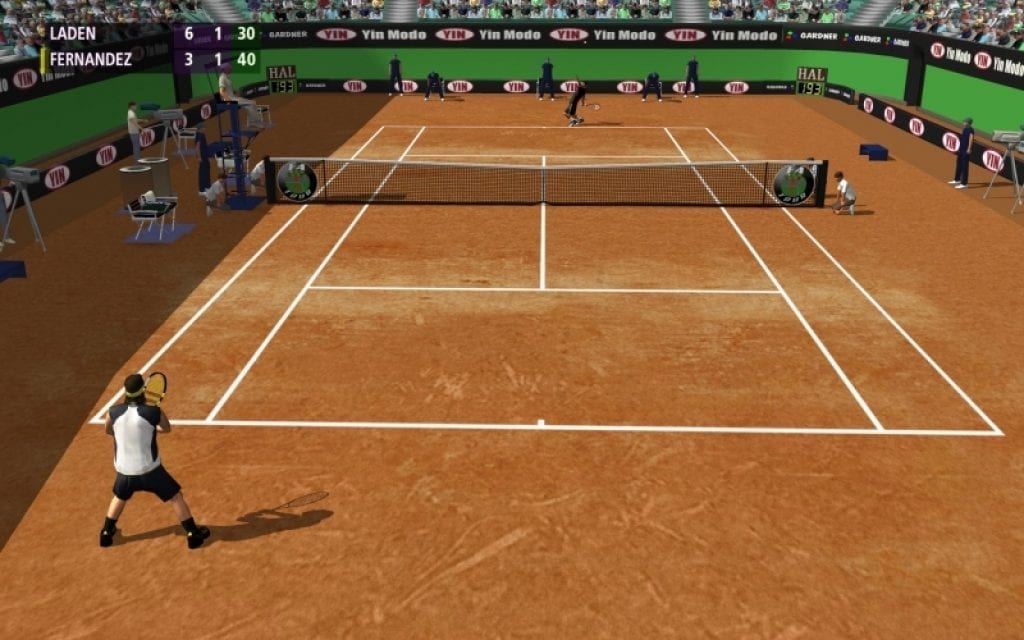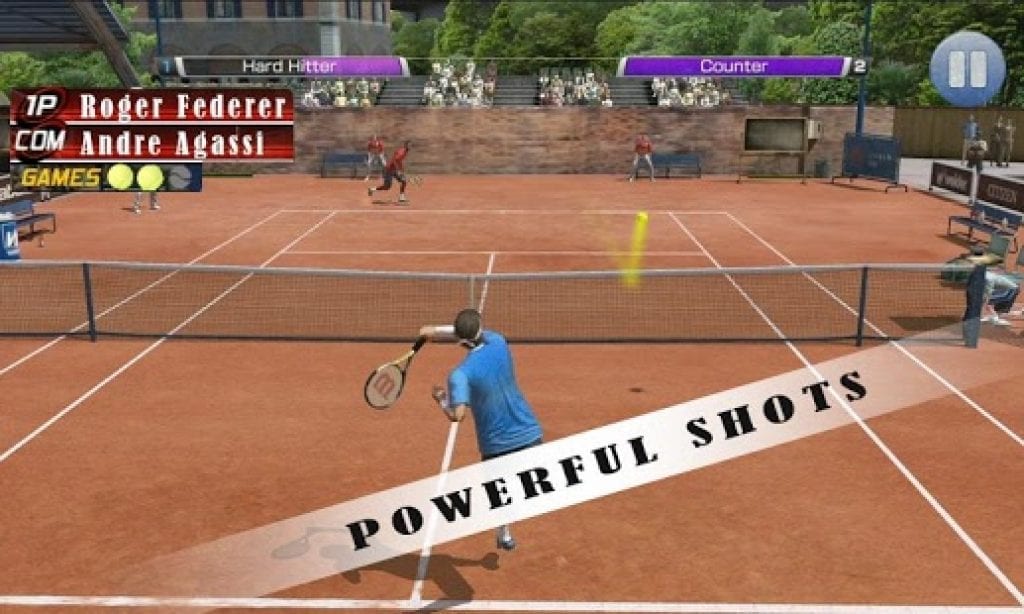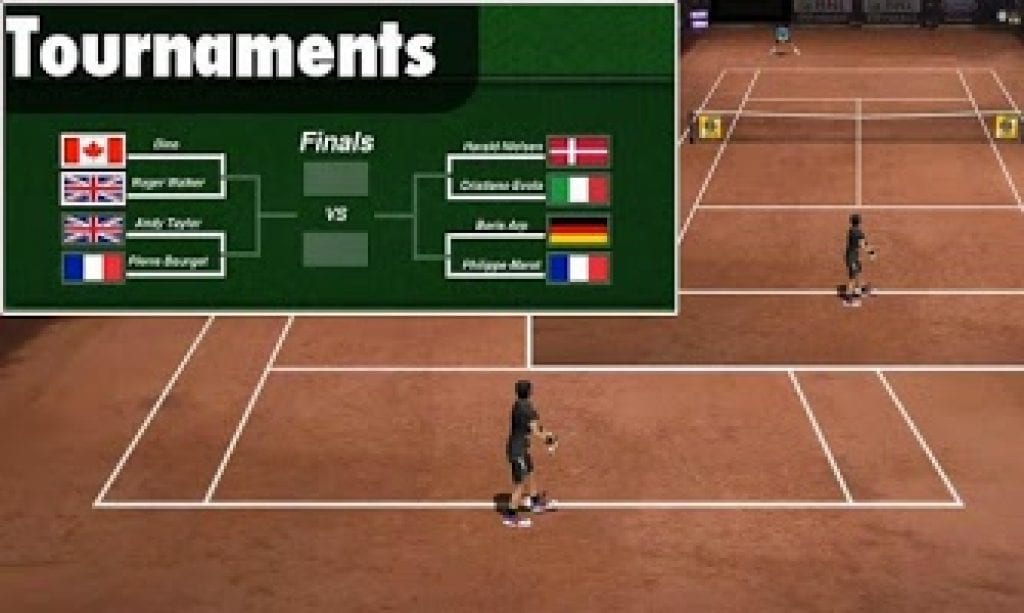 Get it on Google Play
14. Stickman Tennis
You definitely know who is Djinnworks GmbH. Yes! It is the developer of such games as Stickman Volleyball, Stickman Football, Stickman Basketball, Stickman Soccer player and that kind of things that have more than 1.5 million of downloads.
As for the game's graphics, it is unbelievable! And you can play top spins, slices, lobs and smashes, play cross, longline or inside-out and choose between automatic and manual running.
As for the game's features, first of all, you can customize a player in your way, improve him, buy accessories, push him to the limit by playing against the best players in the world. By the way, the game offers you to compete with more than 100 players from beginners to pros. What is more, there are training court with ball machine to improve your skills before a match, 10 different courts: hard courts, clay, grass and 4 difficulty levels for longterm motivation: easy, medium, hard, pro.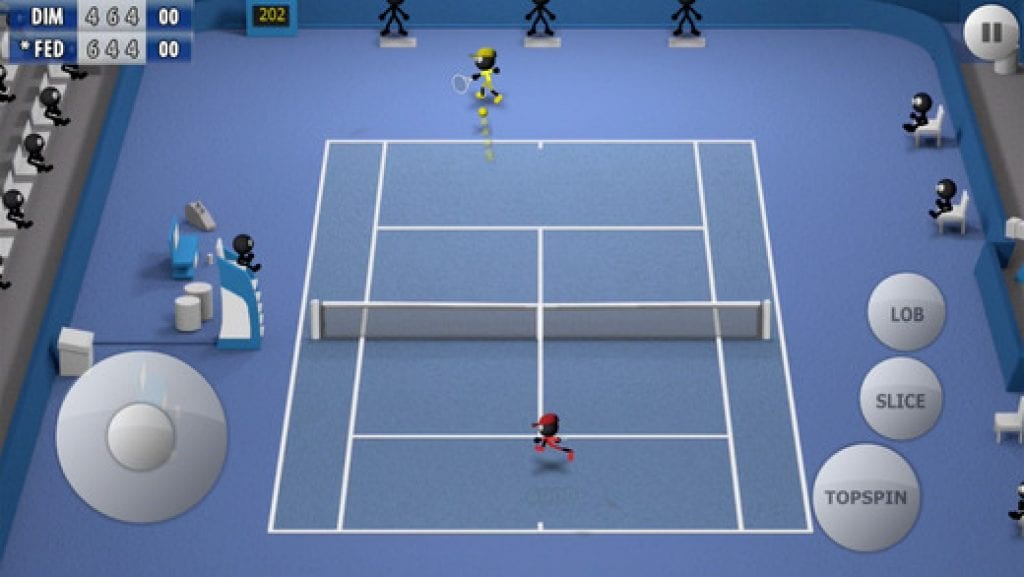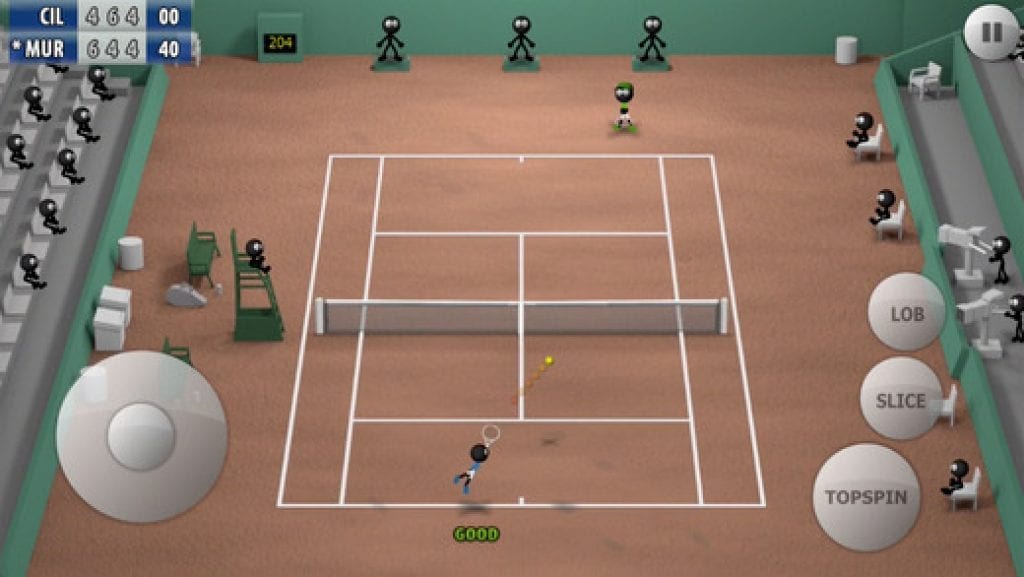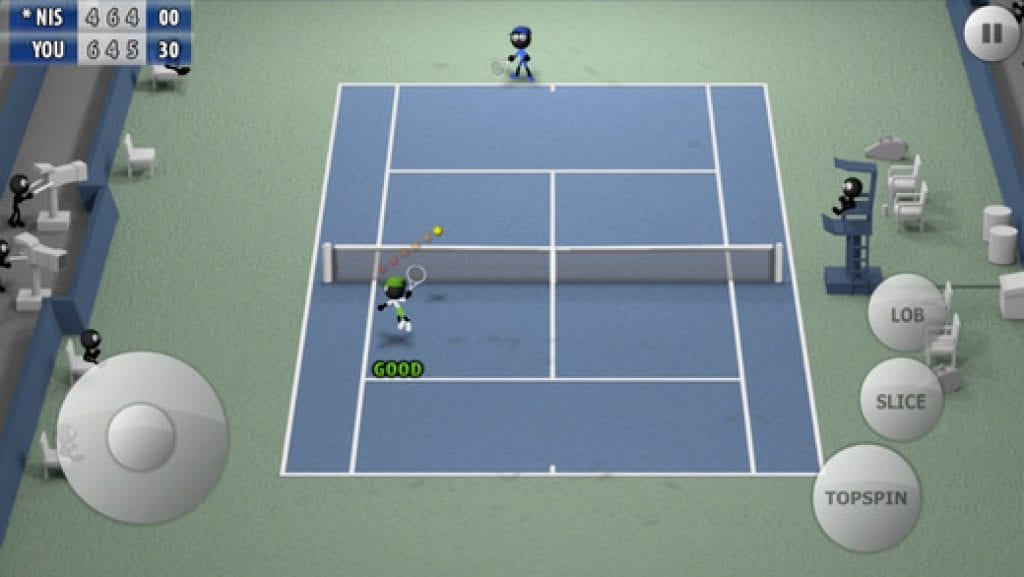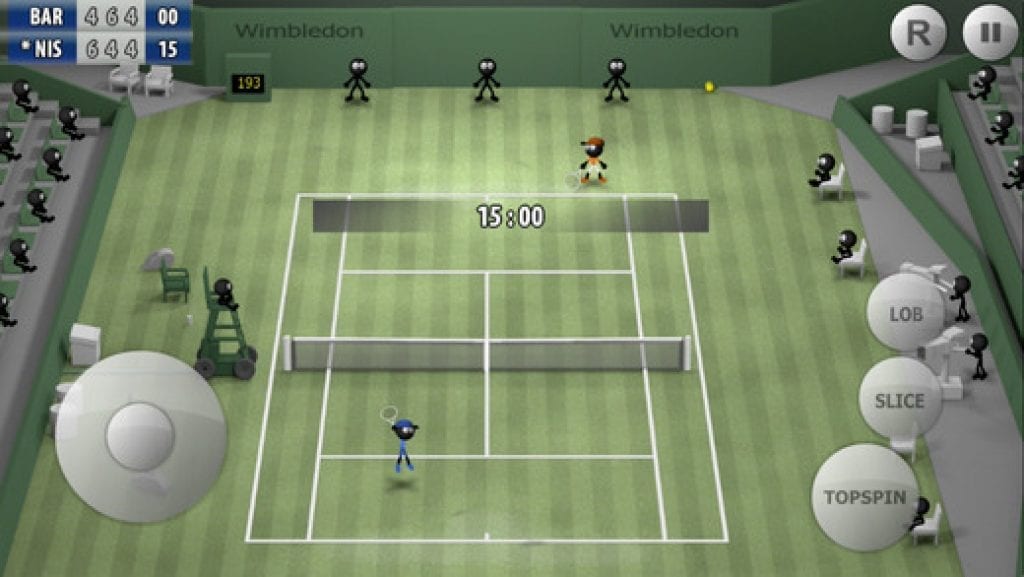 Get it on AppStore
Get it on Google Play Store
15. Virtual Tennis Live Smash Tour
Tour game to play real tennis shots with the tennis ball to feel realistic tennis physics. in our Play tennis game, you can become tennis master by crossing different levels.
As for instructions, all you need to do is to swipe or drag the screen with your finger to swing the racket and hit the ball over the net. Though the game is simple to start but to master it is the real challenge. But then again, all it takes is a few swings to get the hang of it, so don't give up.
You will be able to compete with up to 10 as low level as strong players. Real 3D graphics will help you to enjoy every moment you spent, playing Virtual Tennis Live Smash Tour.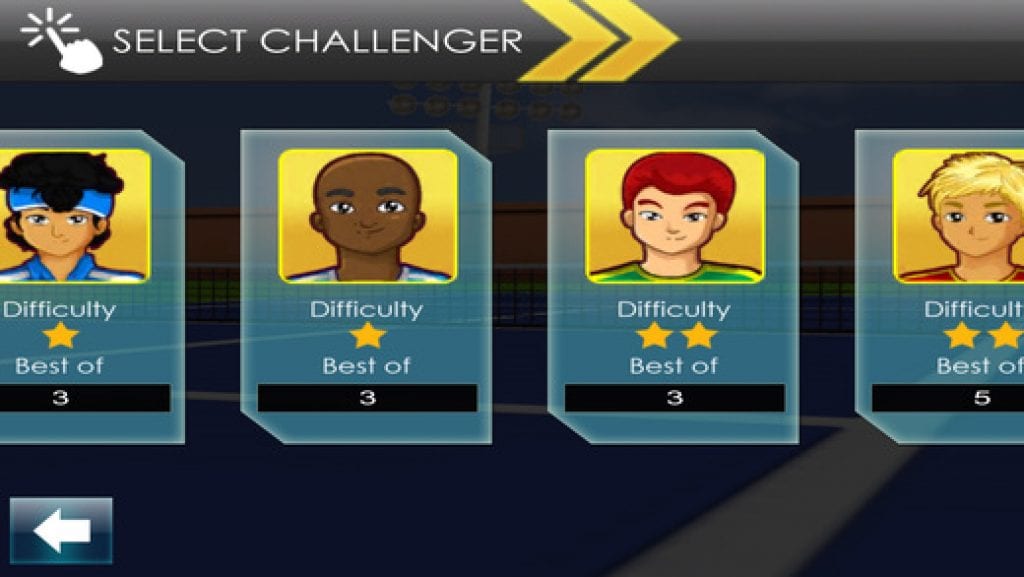 Get it on AppStore
---
That's all! By the way, we noticed that we are the only one who makes a collection of apps for playing tennis. But I am sure that there are a lot of tennis lovers among us and they will enjoy the best collection of tennis apps. See you in next posts!