Lenovo has just added three new Legion Desktops to its line-up, growing its gaming-focused brand by and large with its already impressive roster of products. The new desktops are meant to provide a complete gaming package for enthusiasts who want no compromise. The biggest feature that these desktops will bring, is that they will all come with VR.
Lenovo Legion Y920
The Y920 will be the most powerful desktop PC among the newer entrants, featuring the GeForce GTX 1080 or the Radeon RX 580 and Intel's Core i7-7700K processor. There is also Dolby Atmos audio on-board, with PCIe based solid-state storage that is zippy for file transferring. The Y920, apart from having the best specifications among the newer models, will also be the only system in the new series to come with Windows 10 Pro and Windows 10 Home. The system will also come with up to 64GB of RAM with optional Intel Optane memory. To show off the internals, the desktop will also be the only model that will have a clear window at the side along with Thunderbolt 3 connectivity on offer. The Y920 comes with a price tag of $2,000 starting.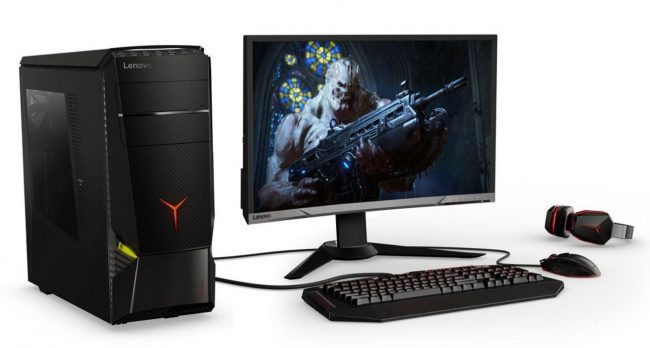 Lenovo Legion Y720
While the Y920 was for hardcore gamers, the Y720 is perfect for the mainstream segment, offering just enough power for performance, including options or a GTX 1070 card or a Radeon RX 570. It will also come with up to the Intel Core i7-7700 processor. Lenovo cut down on performance with storage here by offering SATA connections over SDD, but will still retain the option for using Intel's Optane memory to boost transfer speeds. This model will also not receive Thunderbolt 3 like its more powerful sibling, it also won't feature Dolby Atmos, but will instead use the Dolby Audio Premium software for enhanced audio. Considering that Lenovo has been cutting costs to make this a more approachable product and reducing the specs, it is also noticeable in the price, which starts at the $1,000 mark.
Lenovo Legion Y520
For the crowd that still wants premium gaming but at an affordable cost and wants to run the latest games in VR, the Y520 has the best that money can buy. This will be the only system of the three to come with the Intel Core i3 processor and wireless AC connectivity ranging up to 433 Mbps. It will feature the GTX 1060, which should be the preferred option over the optional RX 560. The desktop will come at a starting price of $900 and will be available October 2017, along with the other two desktops.
The post Lenovo to launch three new Legion desktops for VR on any budget appeared first on Gadgets Post.