There is a new app to predict when a person is going to fall Sick. Aptly named as 'ColdSense', the app developed by Zicam, is currently available on the iTunes App Store.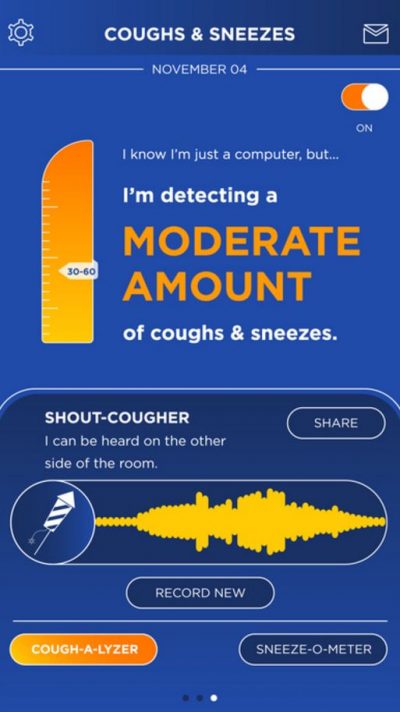 It sounds a lot like a minority report, but for sickness. The app will use the phone's sensors to take in the movement and other statistical analysis that they will pick up, based on the lifestyle of the user and their surrounding environment. While there are a few other apps that monitor the user's health, this one will take into account the history of the user's behaviours and their local data to come up with a conclusion.
The algorithm will consider things like calendar events, recent travels taken, weather and also if the user has sneezed at any given point in the area. According to the Observer, Zicam was interested in helping out people to find their symptoms earlier on to avoid getting sick altogether. Which is why the company decided to sponsor the making of the app.
Lori Norian, the VP of marketing at Zicam said that there is a strong misinterpretation of how people think they're getting their colds and that the app would Enable Users to be more aware of how they're getting sick due to the conditions that they are in. The app will enable users to take into consideration new factors that they didn't before.
Among the tools of the app are the 'Cough-a-lyzer' and 'Sneeze-o-meter' for users to record their coughs and sneezes. The data is then put up to be compared with all the other coughs and sneezes in the database to provide some more intensive user data. ColdSense can also use the phone's mic to pick sounds in the environment to help determine the extent of risk for their sickness. So in the event that there's some surrounding coughing by other people in the vicinity, the app will know if the user gets a cold because of them.
Furthermore, the app will also analyze the personal health of the user like sleep patterns and location and movement. Of course, thanks to Android's privacy policy, it'll ask for permission first. Although it's not supposed to replace the doctor on any account, it will provide the user with some much-needed insight on how they're keeping themselves safe in their environment and know what's the cause behind the sickness.
The post This app can tell you're getting a cold before it happens appeared first on Gadgets Post.