It is official. Lenovo is prepping up a Moto phone for launch at the upcoming Mobile World Congress in (MWC) next month. The Chinese electronics giant has sent media invites for the annual trade show event.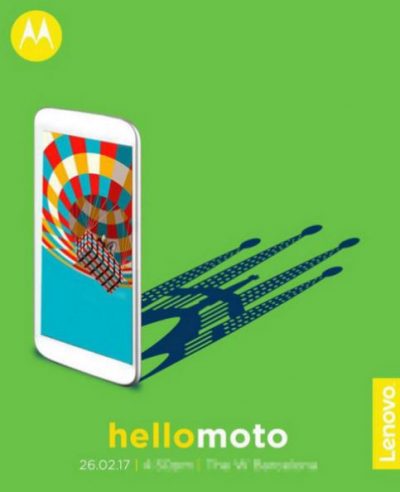 The invite mentions the date as February 26 and depicts a smartphone with the title "hellomoto". Of course, it hints at the upcoming Moto phone that rumors speculate is Moto G5 Plus.
Part of the G series lineup, the device will succeed the Moto G Plus that was launched in May 2016. It was a 5.5-inch display device with Snapdragon 617 processor and 4GB RAM.
The latest iterant, the Moto G5 Plus will sport an all-metal body with a 5.5-inch display. To be powered by Snapdragon 625 processor, the hardware will also include a 4GB RAM and expandable 32GB storage.
The 4G VoLTE device will be backed by a 3,080 mAh battery. The phone also runs Android Nougat and features a fingerprint sensor on the front.
Meanwhile, the MWC 2017 could also see the unveiling of new Moto Mods for the Moto Z series modular phones. But take that with the tiniest grain of salt as there is no official word on it as yet.
The post Lenovo Media Invite Confirms a Moto phone for MWC 2017 appeared first on Gadgets Post.