Lock Screen apps are a great tool if you want to customize and better personalize your smartphone. In this article, we will discuss some of the best Lock Screen apps currently available for download and use.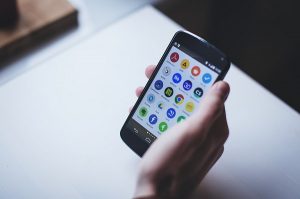 Best Lock Screen Apps
1.

Semper
Semper is a lock screen Android app that used to be called UnlockYourBrain. When you have Semper on your phone, whenever you need to unlock your device or access a frequently used app, the program will ask you questions on vocabulary, math, general knowledge, and other areas. If you don't know the answer, it will display it for you anyway and let you unlock the phone.
Semper is a very popular app among people with energetic, curious minds who never want to stop learning. One can pick up a surprisingly large amount of new knowledge through simply having this app on his or her phone. Semper can be downloaded from the Google Play store, and has many great user reviews.
2.

Echo Notification Lockscreen
This is an excellent Android app for people who favor minimalistic design and want to stay organized. It will help improve your access to what you need. Echo Notification Lockscreen offers the flexibility of being able to make personalized notification categories. You can organize your other apps into these groups for better organization and convenience.
This app allows you more direct access to your other apps than some other lock screen programs. Echo Notification Lockscreen is famous for its speed and user-friendliness, and is very popular in many areas of the world. If you find notifications annoying at a given time, you can use the app's "snooze" function. This lets you see them again later.
Echo Notifications Lockscreen lets you easily keep track of your usage with special graphs and notifications. Additionally, it allows you to see and read all of your messages quickly and easily. This app also gives you the ability to play and control your music without having to unlock the phone, and lets you set up useful reminders. You can download this app from the Google Play store.
3.

Hi Locker
This popular Android app provides the option of using one of a few different lock screen styles (iOS, Lollipop, or classic). This app is quite easy to customize in other ways, too. You will find numerous options for wallpaper, fonts, and custom greetings.
If you want to have a screen exclusively for your calendar, this app allows you to do so. This can be a great option for busy people with a full schedule and lots of meetings and appointments, as it can be a wonderful organization tool.
Hi Locker is known for its very good capabilities with regard to security and the process of creating a PIN or security pattern. You can download this app from the Google Play store.
4.

Next Lock Screen
Next Lock Screen is an Android app from Microsoft. It is wonderfully designed, and considered to be very user-friendly. The app is smart, and able to figure out the other various apps you will probably want to see (based on a variety of factors). It provides excellent calendar, phone, and notification functions, as well.
Next Lock Screen helps to boost productivity, and is especially favored by many professionals. The app makes it easy to text or call contacts when you are still on the lock screen, as well as manage your music playlists.
Next Lock Screen lets you personalize your wallpaper, and provides weather updates. The app's lock screen makes it easy for you to access your Bluetooth, Wi-Fi, camera, and flashlight, as well. Next Lock Screen won the award for "Best Lock Screen App for Android" in 2016, and can be downloaded from the Google Play store.
5.

LokLok
LokLok is a truly unique and fun-to-use lock screen ap. If both you and a friend download and use it, you will be able to draw pictures and write freehand messages on your screen that can be automatically transmitted to each other. Some people use this ability to write messages on the screen and then send their image as a sort of free "texting" method. When you send the image of your screen to your friend, he or she will be able to add to it and then send it back to you.
If you want a lock screen that will allow you to create a PIN code to secure your phone, this is not the app for you as it does not have that capability at the moment. Lok Lok can be downloaded from the Google Play store.
6.

AcDisplay
This is a user-friendly Android app with a minimalistic appearance. With this app, your notifications will be shown as tiny icons on the lock screen. If you need to see more information on a notification, you should press your finger on the icon. If you swipe down, that will tell the app that you want to dismiss the notification.
AcDisplay is smart enough to know when it is not in use (for example, in your pocket). AcDisplay can be downloaded from the Google Play store. You can learn more about the app at its information site (AcDisplay.org).
7.

Dynamic Notifications
This app might put less of a strain on your cell phone battery than some others. This is because it only allows the screen to be active when you are using the phone. When the phone is in your bag, handbag, a pocket, or face down on a surface, the app will switch functions off.
The app's default background is a simple black one. If you want Dynamic Notifications to function as a lock screen app, you will need to purchase the premium version of it (at a very reasonable price).
The app offers chances for customization in accordance with your preferences, and has a special night mode. When you use night mode, you will not get notifications while you are sleeping. When not in night mode, you will notice that the screen will light up when your phone receives a new text message or email (except for when your phone is inactive).
This app has the useful ability of letting notifications come through when your phone's screen is off. The Dynamic Notifications app can be downloaded from the Google Play store.
8.

Next News Lock Screen
This app delivers a newsfeed to your lock screen. The user chooses what kinds of items/stories he or she wants to see by selecting from a variety of categories. If you want to open a story, tap and hold on it. The app makes it easy to swipe through the various stories that appear. While still has a few bugs, many people find it to be extremely useful and entertaining. You can download Next News Lock Screen from the Google Play store.
9.

Slide Lock Locker
If you want to somewhat replicate the Apple iOS's lock screen experience, which slides to unlock, this will probably be a great Android app for you. This app will let you unlock with the left to right slide, like Apple's operating system.
Additionally, you can access the camera by sliding from right to left, and can easily swipe or dismiss notifications that arise. Slide Lock Locker provides the security of being able to set a PIN code, or use pattern security. When you get a new notification with this app, the screen will automatically "wake up."
Also, for your convenience you can set up a special sound or vibration for each different app on your device. When your device is unlocked, you will see notification banners. Slide Lock Locker is easy on your battery, and provides location and time reminders.
This app is generally beautifully designed, and lets you have a personalized and pleasant smartphone experience. Slide Lock Locker can be downloaded from the Google Play store.
10.

ZUI Locker—Elegant Lock Screen
This app is appropriately named, as it does allow you to give your smartphone screen an elegant and eminently personalized appearance. ZUI Locker—Elegant Lock Screen provides lots of gorgeous wallpaper options and themes, offering HD graphics.
Many people consider this app to be one of the best out there, and has lots of great user reviews. ZUI Locker—Elegant Lock Screen has quite a few similarities to Apple's iOS. The app is not only beautifully designed but also offers a wide range of convenient features and functions. Just a few of the things you can do on the lock screen include enabling Flight mode, adjusting brightness, turning on or off Bluetooth and Wi-Fi, and playing music.
The app provides ways to do a quick launch of other apps. You can decide how many apps are in the control panel, and which ones they are. The app lets you download and use your favorite selection out of many different wallpaper themes, including weather widget and time widget theme. ZUI Locker—Elegant Lock Screen has very streamlined and easy-to-use notification tools.
The app, which is known for its elegantly designed wallpapers, also has lots of great stock themes and wallpapers you can use. ZUI Locker—Elegant Lock Screen provides your phone with a gravity sensor function.
Additionally, it provides a lot of opportunity for customization and has excellent security features (such as letting you set the app to take a picture of anyone trying to guess your PIN code). ZUI Locker—Elegant Lock Screen can be downloaded from the Google Play store.
11.

Locker Master
Locker Master is a popular Android app offering a good variety of free fun wallpapers that you can download and use. It provides lots of options regarding style, and gives a great deal of opportunity in terms of customization. You can personalize your screen (for example, it lets you choose what information is displayed on the screen), the layout of the screen, wallpaper, and font).
Locker Master lets you decide the color each widget will be, and allows you to download lots of additional options for style and font. Locker Master lets you select and use a unique method of unlocking your phone, and offers a variety of unlocking patterns. The app lets you check your social media accounts from the lock screen, and provides a quick launcher function for apps.
You will find that there is a useful local weather forecast presented on the lock screen. And last but certainly not least, it is linked to a great sharing user community with members who create and share themes with one another. There are enthusiastic members of this community all over the world.
Locker Master is available for download in a variety of different languages. While the app does still have a few bugs, many people find it to be exactly what they have been looking for in a lock screen app. This app can be downloaded from the Google Play store.
12.

Start Lock Screen
Start Lock Screen is a very popular Android app that appears in every way to be a start screen in the space where others might think your lock screen would be. You should be aware that this is not a replacement for your phone's lock screen. Rather, it only covers up your home screen with a more convenient interface. For this reason, Start Lock is probably not the option for you if you are extremely concerned about security. It does let you set up a PIN code or a secured pattern line lock, however.
Start Lock Screen is a great choice if you are a person who needs to have the quickest possible access to his or her phone at all times. Start Lock Screen makes it very simple and easy to launch apps immediately. It lets you keep your screen very organized and attractive, and allows you to do a great deal without having to unlock your phone.
Start Lock Screen lets you make your screen highly personalized. It allows you choose your favorite of a wide variety of free background images, live wallpapers, and fun themes. It will also provide you with local weather forecasts and updates. This app is especially popular with people who take a lot of selfies, as it has a streamlined selfie process.
Start Lock Screen makes it simple and easy to connect with your social media networks, and has a great notification management system. Start Lock Screen can be downloaded from the Google Play store.
13.

Alarm Anti-Theft Screen Lock
Alarm Anti-Theft Screen is a great app for people who are especially concerned about the security of their smartphones. When this app is downloaded and enabled, if someone tries to unlock your phone a loud alarm will sound. Blinking lights will also appear on the screen.
Alarm Anti-Theft Screen Lock is not only an effective security program, but also offers a cute design and the deterrence factor of its very obvious presence on your phone. If you decide to use this app, you must make sure that it is always enabled when you are not using your phone. If it is not enabled, the alarm will not sound and your phone will not be protected.
Alarm Anti-Theft Screen is a very good choice for people who want a way to guard the personal information on their smartphones. The app is user-friendly, and most people find it easy to use and very effective. Alarm Anti-Theft Screen Lock is available for download at the Google Play store.
14.

Locket Lock Screen
Locket is a popular Android app that is unique and fun to use. When you have Locket Lock Screen on your phone, you will be presented with trending stories each morning. This means it will be easy to keep up to date with the stories your friends are talking about.
The app is smart, and with time will learn about the subjects that most interest you. This means it will provide stories that you will probably want to read. If the app presents you with a story you do not have time to read at that exact moment, you can save it to read later. One downfall of Locket Lock Screen is that you will likely have to deal with seeing some ads. However, you should know that the app takes pride in showing ads that will probably interest you.
Additionally, the ads on Locket Lock Screen are presented in an attractive format and certainly not in the banner form that many people find annoying. An ad will appear just when you are about to unlock your phone. It's easy to dismiss ads: you simply need to swipe to the right. This will both dismiss the ad and unlock your phone. If by some chance you wish to see more about the product or service the ad is advertising, you can choose to "interact" with it at first, instead.
Locket Lock Screen was one of Google's "Best Apps of 2014," and has been discussed and praised in many different online and print publications. Unfortunately, this app is not yet available in all countries.
Find out more about Locket and download the app (if it is available in your country) at http://www.getlocket.com .
15.

GO Locker
GO Locker has been downloaded more than 100 million times, making is an extremely popular Android lock screen app. This app has an excellent lock home button feature, providing a high level of security.
GO Locker lets you choose from a wide variety of unlocking shortcuts and styles, as well as themes. Additionally, it even lets you select from iPhone styles rather than limiting you to only typical Android ones. GO Locker's themes are noted for their quality.
GO Locker allows you to close any running apps you wish to help make your phone function more efficiently. The app provides settings and system switches shortcuts, and is generally very easy to use.
With GO Locker, you will be able to read messages on the lock screen. If you have any problems, the company is easy to get in touch with. GO Locker can be downloaded from the Google Play store.
16.

SnapLock Smart Lock Screen
SnapLock Smart is a user-friendly Android app. The app makes it easy to see local weather forecasts, and offers excellent notification options. It provides the ability to see all of your notifications on your phone's home screen.
SnapLock is very useful in helping the user keep an organized schedule, and offers the ability to secure the cell phone using a pattern lock or a PIN code. SnapLock offers many minimalistic yet beautiful and captivating screen wallpapers from which you can choose. On most smartphones, SnapLock will allow you to more easily and readily control the functions involved with playing music on your device.
SnapLock's simple design makes the practical things that tend to be most significant in everyday life more evident on the screen, making you less likely to miss or forget notifications and information. SnapLock can be downloaded from the Google Play store.
17.

Picturesque Lock Screen
Picturesque Lock Screen is a lock screen app from Microsoft. If you like Microsoft's Bing search engine, this app will be a good choice for you. Picturesque Lock Screen provides you with quick access to Bing, and (if you are in the U.S.) allows you to earn Bing rewards when you do searches.
When you have Picturesque Lock Screen on your phone, you will find that each day Bing provides a different beautiful image for your screen home page. If you shake the phone, you will be given a new picture.
Picturesque Lock Screen provides additional screens, including one that provides access to phone settings (including WiFi and Bluetooth), and another presenting sports updates and general news. This app gives you the ability to launch apps, request contacts, send messages, and make calls from your lock screen.
If you like taking pictures with your smartphone, you will appreciate the fact that Picturesque Lock Screen lets you launch your camera quickly and easily. Picturesque has excellent notification capability, and lets you control your music from your smartphone's lock screen.
The post Best Lock Screen Apps appeared first on AGeeky.