Millennials are Cutting the cord in growing numbers, turning to Broadcast TV and streaming services. It's more than a trend; it's becoming a part of their lifestyle. And we support this 100%.
GfK Ownership and Trend Report were released this week, and to say that we are excited with the results of the report would be an understatement. They found a sizeable increase in over-the-air TV households, providing yet more evidence that the general public is wising up, cutting the cord and saving boatloads of cash. Almost four in ten homes with an 18-34 year old resident rely on broadcast-only or internet-only alternatives. You know why? They are too smart to throw away their money. They see the value in cutting the cord, have taken the plunge, and have never looked back.
The study finds that 17% of US TV households now rely on broadcast-only, or OTA, reception, which is up from 15% in 2015. With the increase in our antenna sales, we can verify this data.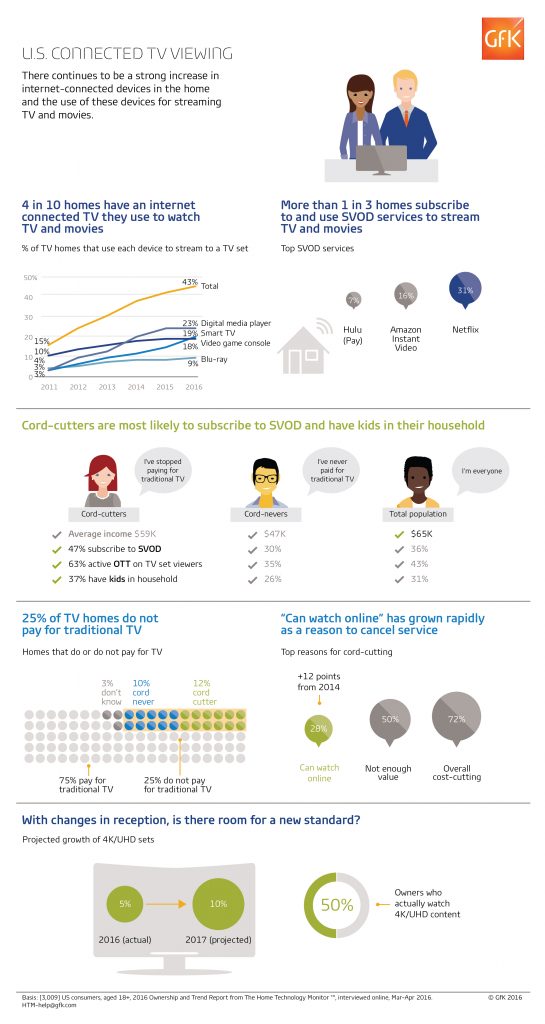 The NAB responded to the GfK report showing increase in broadcast-only homes with a great quote from NAB Executive Vice President of Communications, Dennis Wharton.
"The GfK survey demonstrates once again the enduring value of local and network Broadcast Television. It's particularly noteworthy that millennials are now more reliant on broadcast TV than any age group. Clearly, the internet had had a major impact on how Americans receive program content, but GfK confirms that broadcast television remains remarkably resilient and growing in popularity."
Dennis Wharton is a rock star cord cutting advocate and overall great guy, we are lucky to know him at Antennas Direct and have had his support over the years. Thanks to people like Dennis, the NAB and TVFreedom.org, the number of households cutting the cord continues to grow, which is music to our ears.