Enjoy cooking or need to change up your
Kitchen
essentials, to get maximum results with minimum effort? Then we got a perfect list of kitchen essentials for you! We made a list of best products that would look great in any kitchen! not only that they are very productive and will give you the results you are looking for. We picked only most selling and best reviewed products on the market so you won't go wrong with your choice! And now you won't have to worry about buying crappy cheap products that aren't reliable.
Gadgets for Cooking.
#Russell Hobbs RHM2076B Digital Microwave.
Price: £54.75
> 800 W.> 20 L cavity capacity.> Pre-programmed auto cook menus.
The Russell Hobbs RHM2076Bis a silver microwave, with a mirror door finish. It comes with a handy digital clock and pre-set function, allowing you keep track of the time and know when the
Food
will be ready. It also has 800 W of microwave power, providing quick and convenient cooking. For peace of mind about safety, theRHM2076Bcomes with a child safety lock option preventing young children from being able to open the microwave door. Contains a 20 L cavity capacity, which comfortably fits a standard dinner plate and the glass turn-table is removable for easy cleaning, and is also dishwasher safe.
#Tefal TT550015 Toaster and Egg maker.
Price: £34.99
> 1200 w.> Steamer tray for hard boiling eggs.
> Poaching tray for poaching eggs.
> Wide slots for toast, muffins, croissants and bagels.
ThisTefal TT550015 Toaster and Egg makeris for those who are rushed in the morning but still like to make time for a hearty breakfast, or people who want a quick and tasty lunch or dinner,this creative product creates a nutritional and delicious dish in a flash that will give any day a boost. It has wide enough slots to cook muffins, toast or bagels, and a toast-lift facility, which makes it easy to remove bread without burning fingers. as well as that its very simple to use, and will safe you crazy amount of time to make yourself breakfast.
#Instant Pot Duo 7-in-1 Electric Pressure Cooker.
Price: £97.99
> 6 Litre.> 1000 W> Stainless Steel.
Instant Pot Duo is a 7 in 1automatic Electric Pressure Cooker that speeds up cooking by 2-6 times and uses up to 70% less energy and, above all, produces nutritious healthy food in a convenient and consistent fashion. Its a pressure cooker, slow cooker, rice cooker, steamer, saute, yogurt maker and warmer all in 1. It has 14 built-in smart programs, cook your favorite dishes with the press of a button whilst you get on with other things. A 24-hour timer allows for delayed cooking. Automatic keep-warm holds the temperature of the food until you serve it for up to 10 hours.
#George Foreman 4-Portion Family Grill.
Price: £20.99
> Cooks up to four portions of food on non stick easy clean griddle plates.> Grill channels fat and grease into separate drip tray.> Also makes a panini press or sandwich toaster.
The George Foreman 18471 grilllets you cook all your favorite foods in a healthier way but in a fraction of the normal cooking time. By grilling from both the bottom and top simultaneously, food cooks over twice as fast, plus unwanted fat and grease is channeled away into the drip tray provided, for a much tastier and healthier bite. As one of the newest family grills to the range the18471will cook up to four portions at any one time as well as seamlessly adding style and sophistication to any worktop.
#ViVo Pure Glass Cordless Temperature Controlled Stainless Steel Kitchen Kettle.
Price: £34.99
> 100% Pure Glass with 1.7L capacity.> Heating plate ensures ultra quick boiling.> Uses the number one Strix controller for temperature control.> Set your water temperature using the digital control panel.
> Includes built-in removable filter nozzle which is can be easily rinsed under a tap.
#Morphy Richards 48280 Fastbake Breadmaker.
Price: £58.97
> Makes a 1 lb, 1.5 lb and 2 lb loaf.> 12 settings and 13 hour programmable timer.> Also makes cakes and jam, Cooltouch sides.
Wake up to the smell of fresh bread in the morning using the delay timer. This function allows you to delay baking for up to 13 hours, so it can be ready for when you wake up in the morning.The Fastbake Breadmakercan not only bake, it can make delicious cakes and jams for those with a sweeter tooth. Choose from either a mouth-watering jam or a tangy marmalade.
Food Preparation.
#Morphy Richards 501016 Blender.
Price: £39.97
> 1.6 L capacity.> Quick and easy to clean.
> Blend function for desired soup or smoothie consistency.
> 4 settings.> Digital interface with countdown timer.
ThisSoup and Smoothie Makerfits well into any style of kitchen, with a different top-down design that allows for a large 1.6 L jug, you can make enough soup for up to four servings at once. After you've enjoyed your meal, just give the jug a quick rinse under the tap, wipe it with a soapy sponge and your soupmaker is ready for next time. This Soup and Smoothie Maker even comes with an additional juice function, so you can create delicious, healthy smoothies and juice drinks too.
#Breville VBL062 Blend Active Personal Blender.
Price: £19.99
> Personal blender with portable bottle.> One-touch blending action with angled stainless steel blades.> 600 ml bottle with one lockable lid.
> Easy-clean, detachable, dishwasher-safe blades and blending bottles.
The Breville Blend-Activeis an individual-sized blender that comes with two sports bottles, giving you one-person-portion fruit smoothies, breakfast drinks, protein and sports nutrition drinks and iced juices with a one-touch action. Take your Blend-Active to work or the gym, or keep it with you in your home.
#Kenwood Stand Mixer KM240.
Price:£99.00
> 4.3L Stainlesss Steel bowl.> 3 bowl tools.> Variable speed plus pulse.
> Full safety interlock system.
> 900 W.
If you're short of space or just starting out, you'll need a small and simple food mixer that does it all. ThisProsperocompact food mixer is the ideal match - just perfect for small batches and everyday family use.The Kenwood ProsperoMixer will work hard for you, perfectly kneading, whisking, and beating the ingredients you need to create fabulous breads, cakes and pastries. A large 4.3L Stainless Steel bowl capable of kneading up to 500g of bread dough or whisking 8 medium egg whites.
#Kenwood CH180 Mini Chopper.
Price: £19.98
> Two speeds for control of chopping rate.> Powerful 300W motor for excellent results.> Rubber feet provide grip on work surfaces.
ThisKenwood CH180 mini chopperis a powerful and compact chopper which features two speeds and a 350 ml bowl with 150 g capacity. Offering easy to use one touch control, theKenwood CH180features stainless steel blades for consistent results and with 300 W of power, you'll be able to get your chopping done quickly and efficiently. An ideal tool to have in the kitchen, theCH180 mini chopperfeatures a cord grip for tidy storage when not in use. It also has a dishwasher safe bowl and smooth design for easy cleaning.
#Andrew James Professional Red Hand Mixer.
Price: £16.97
> Powerful Hand Mixer with 5 speed settings including a Turbo Function for your convenience.> attachments included: dough hooks, universal beaters and balloon whisks.> Lightweight, easily adjustable controls, perfect for any level of baker.
> 300 Watt.
Hand mixers are an essential to any kitchen. Whether you're beating batter or mixing up meringue, these versatile products are often a chefs favorite appliance. If you're an avid home cook you will understand how tiring it can be to stand and beat a stiff cake mix for a good ten minutes before it has reached the ideal consistency. Your arm starts to ache, your back twinges due to standing for so long, you get hot and annoyed that once again, your batter has split. TheAndrew James Hand Mixeris the solution you're in need of.
Coffee Machines.
#Bosch Tassimo Vivy Hot Drinks and Coffee Machine.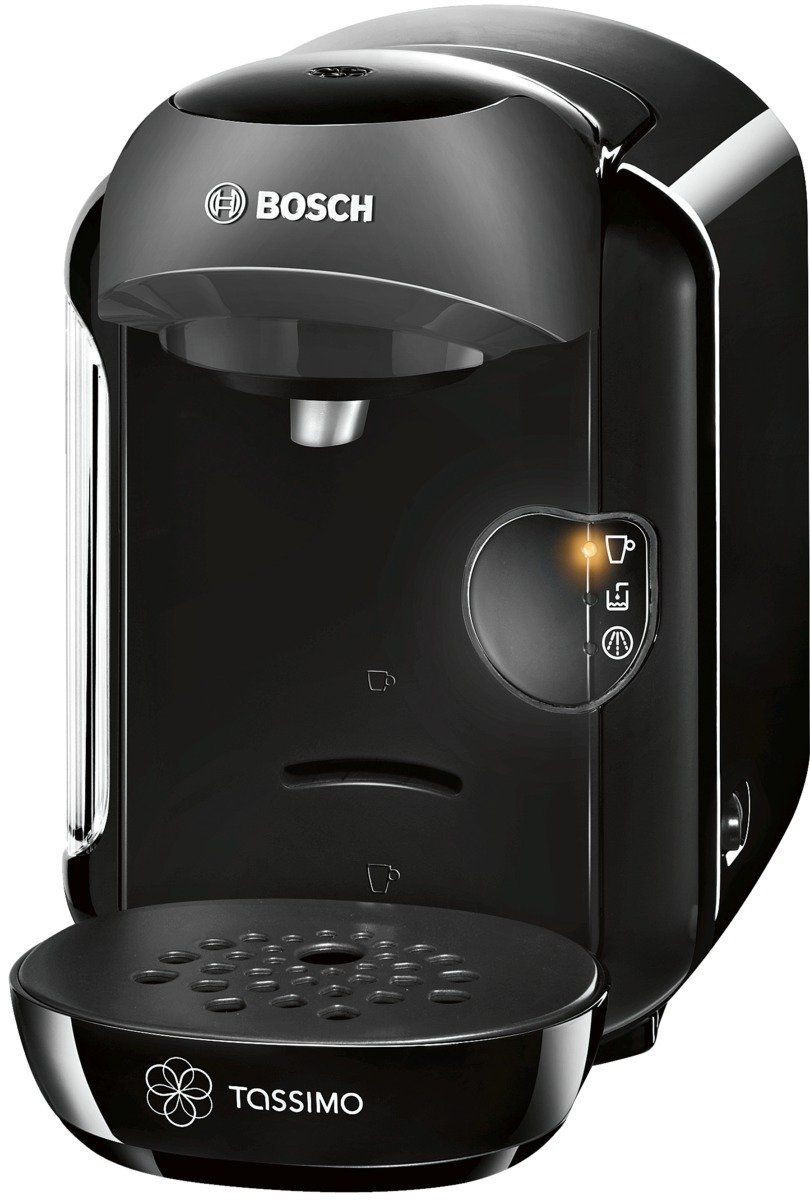 Price: £40.00
> Easy to use.> 1300 W.> No heat up time after switch-on.> Easy cleaning.
Patented barcode technology identifies the drink selected and adjusts the amount of water, brewing time and the temperature to make the perfect cup every time. Freshly brewed coffee, espresso, cappuccino, latte macchiato, hot chocolate or tea straight away. Suitable for all cups, the flexible cup stand is height-adjustable and can be removed completely, meaning that it has easily enough space for all cups, glasses and mugs.
#Powerful Coffee, Nut and Spice Grinder.
Price: £14.98
> Grind coffee beans, nuts, spices, and seeds.> Strong 150W motor and simple push button operation.> Makes approx. 70g of ground coffee.> Stainless steel grinding blades.
This easy to use, compact grinder comes in handy for grinding a huge range of foods:Coffee beans - make freshly ground coffee for use in your percolator or coffee machineNuts - suitable for all kinds of nuts including peanuts, cashews, walnuts, almonds and moreSpices - grind whole spices such as cinnamon, peppercorns, cumin seeds and mustard seeds and make your own spice blends for curries, stews and other dishesSeeds - excellent for flax, chia, sesame, poppy and linseed Grains - for example wheat or rye to make homemade flour.