We made an amazing list of gadgets so you can make this summer/spring the best one yet! Prepare your garden to perfection with some killer tools to make it look stunning and beautiful so you can relax and enjoy the weather. Not only that but we also gave you some amazing gadgets to entertain you with on a hot day where being stuck inside would be a sin. We picked out affordable, best selling and the best rated items so you can enjoy and be relaxed this spring/summer to the max.
#1Bosch Rotak 32 R Electric Rotary Lawn Mower.
Price: £66.00
> Cutting Width 32 cm.> Lightweight electric rotary lawnmower for use on small to medium sized lawns.> Large 31 L grassbox with carry handle.> Integrated rear roller for stripes and stability.
The Bosch Rotak 32 Ris a lightweight and compact lawnmower with a 32cm cutting width making it ideal for medium sized lawns up to 150m² in size. You are guaranteed a perfect finish thanks to the rotary blade and the advanced 1200W Powerdrive motor. The integrated rear roller also gives your lawn a lovely striped effect.Weighing just 6.8kg, this lawnmowers lightweight design makes it easy to carry and manoeuvre around the home.
#2Makita DUH523Z 18V Hedge Trimmer.
Price: £65.99
> Lithium-ion battery.> Light weight.> Rubberized soft grip provides comfortable and sure grip.
> Stain-free shear blade surface.
The Makita DUH523has a user-replaceable 520mm blade. Stain free shear blade surface of glittering silver obtained by non-electrolyzed nickel plating that features high anti-abrasion surface for long lasting coating. Any headge this piece of kit goes against, it will definitely wont stand a chance!
#3BLACK+DECKER ST5530-GB Corded Grass Strimmer.
Price: £49.00
> AutoSelect Technology optimizes performance.> Edging guide wheel for precise edging.> 550 W.> Automatic single line feed system.
This high-performing, powerful Strimmer byBLACK+DECKERfeatures AutoSelect Technology to ensure you get the best results every time. It is ideal for both string trimming and edging tasks, such as trimming excess grass growing against a wall, fence, flowerbed or pathway, and it gives the borders of your lawn a neat and tidy finish.
#4Q Garden QGBV2500 Leaf Blower Vacuum.
Price: £39.99
> 35 litre collection bag and shoulder strap.> 6 metre cable length.> 6kg weight.> 47 inches.
Q Garden Leaf Blower Vacuumis ideal for small to medium domestic gardens. It features comes complete with collection bag, shoulder strap and 6 metres of cable. The whole length of the leaf blower is 47 inches and amazing weight of only 6 kilo included with the cable.
#5Kärcher K2 Full Control Home Pressure Washer.
Price: £84.99
> Full control lances with iconography guide users on which pressure setting should be used.> Detergent application direct from the machine, using a suction tube.> On-board storage.
The K2 Full Control power washeris designed for the removal of dirt all around the home, including: bicycles, cars, garden tools and garden furniture. It comes with wheels and telescopic handle for easy mobility, a 4m pressure hose, water filter to protect the pump against dirt particles, a dirt blaster lance with rotating point jet for removing stubborn dirt and a Full Control Vario lance. This lance uses a click system to ensure you use the correct pressure for any surface with a simple twist of the lance you can chose from 4 different settings.
#8 Parker Brand Petrol Chainsaw.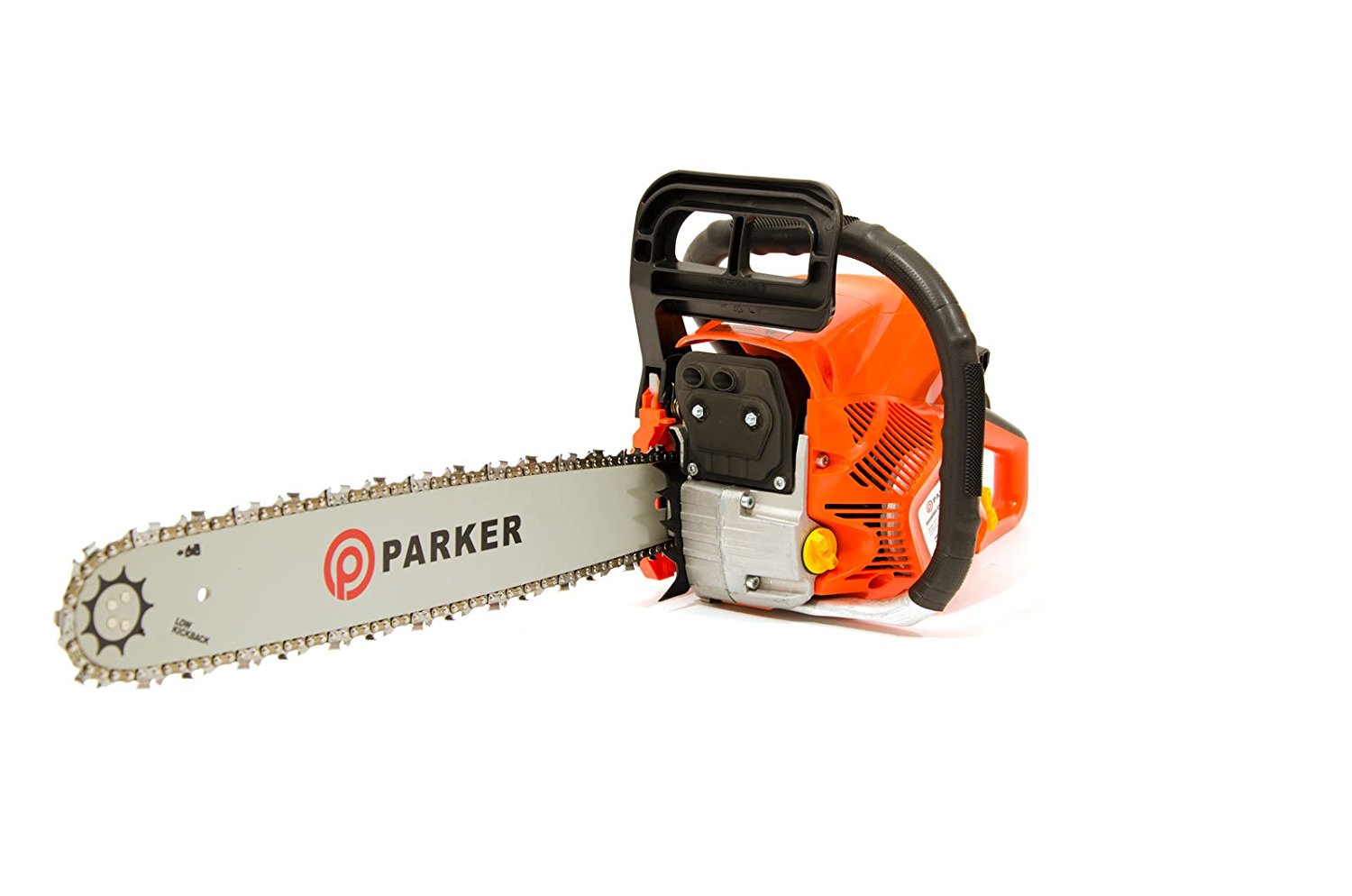 Price: £93.99
> Free Carry Bag, Bar Cover, Tool Kit & Chain.> Strong & Reliable 62cc Engine.> 20"> Easy starting system.
> Automatic chain lubrication.
This powerful, affordable and cleverly designedParker 62cc 20" Petrol Chainsawis just possibly what you've been searching for. Delivering both performance and value for money this reliable petrol chainsaw features an efficient 2 stroke, air cooled engine housed in an ergonomic and comfortable, lightweight construction. Perfect for slicing through more challenging logs and timber the ParkerPCS-6200can't be beaten on price or performance!
#7Lay-Z-Spa Miami Inflatable Portable Hot Tub Spa.
Price: £358.95
> Heats up to 40C.> Easy to set up.> Bestselling Inflatable Hot Tub Brand.> Relax & Unwind in your very own.
> For 2-4 People.
Choose theMiami Inflatable Hot Tubfor luxury, relaxation, comfort and portability at outstanding value for money compared to a traditional hot tub.includes top features such as an impressive all surrounding air jet massage system, a rapid heating system which heats the water up to 40 degree Celsius and a timer controlled heating unit.
Price: £79.47
> 10 feet x 30 inch.> Tri-Tech material offers strength.> Rust resistant metal frames for durability.> Pool comes with filter pump.The Bestway 10 feet Steel Pro Frame PoolSet is from Bestway's renowned range of enhanced strength, rust-resistant steel-framed above ground pools. Easy to set up The above ground swimming pool comes with all the fixtures and fittings needed to construct it including a 330gal filter pump to keep water clear, clean and pristine. In fact the 330gal filter pump is the only part of the construction process that requires use of a screwdriver. Other than that, all you need is a pair of hands.
#9Azuma Black Steel Barrel BBQ.
Price: £119.00
> Provides a traditional method of cooking.> Easily light the charcoal at least 40 minutes before you intend to cook.> Shelf & rack are ideal for holding sauces, condiments and plates.
Enjoy eating outdoors in style this summer with this heavy dutysteel Barrel BBQ. Take pleasure in getting the fire started and tending to your charcoal barbecue, as your guests enjoy the food. Provides a traditional method of cooking. Charcoals are heated to produce an even cooking temperature, giving food a distinctive flame grilled appearance. Easy to light. Charcoal needs to be lit at least 40 minutes before you intend to cook to ensure a high cooking temperature. To adjust the heat, simply raise or lower the grill. Storage features such as front shelf and lower rack which are perfect for holding sauces, condiments and plates which make entertaining much easier.
#10Canon EOS 1300D DSLR Camera.
Price:£319.00
> 18 MP APS-C CMOS sensor and DIGIC 4+.> Perfect to capture amazing views in the amazing weather.> Capture detail with confidence.
Effortlessly capture distinctive DSLR quality pictures and cinematic Full HD movies using the 18.0 Megapixel EOS 1300D. Share instantly using Wi-Fi and connect to your smart device by simply using NFC. Its perfect for the summer to take take on vacation or capture beautiful views in a beautiful weather in Full HD.
#11Sony Walkman MP3 Player.
Price: £89.99
> 16 GB.> 77 hours of battery life.> Video and MP3.> Clear Audio.> Slim and sleek.
> Noise cancelling headphones.
Sony walkmandelivers crisp, undistorted sound that's rich in bass. The additional Digital Sound Enhancement Engine also faithfully restores compressed files close to original quality. You can enjoy the compacted 7.9 mm thin body with a metallic, slim and sleek design! Not to forget you'll be enjoying the great quality music with comfortable noise-canceling in-ear headphones.
#12Syma X5SC/X5SC-1 Falcon Drone.
Price: £41.98
>6-Axis gyro quad-rotorcraft.
>With Headless Mode function.
>For indoor and outdoor.
>3.7V 500mAh high performance battery.
>HD camera.
Using Spread Spectrum Technology for Further remote distance Best anti-interference ability, Least power consumption. In headless state,the operator has no need to recognize the position of aircraft's headpiece,and he just needs to control the aircraft in accordance with the direction of remote control's operating rod. Its equipped with HD cameras that lets you enjoy taking pictures and videos on your adventure in best quality.