Infographics combine the easy-to-digest-nature of images with information-rich text to create content which is simultaneously appealing, useful and memorable.
This makes infographics uniquely suitable for the online environment, where attention spans are short and competition is plentiful.
Using animation to create dynamic infographics is becoming more popular as well, extending the range of their potential uses. Moreover, with an increased availability of consumer-friendly data visualization tools in recent years, it is now easier than ever to create infographic content for every purpose.
Why Infographics Are Useful For SEO
Search engine optimization and infographics look like they were tailor-made for each other. SEO primarily works by optimizing website content for better search engine rankings, and infographics are one of the ways in which this can be accomplished.
First, their visual component makes them ideally suited to grabbing the attention of site visitors. Since a large percentage of brain activity is devoted to processing visual information, infographics are a natural fit for the way the human mind works.
Second, infographics provide useful information at a glance in comparison to textual content. This makes them much more efficient as a means of delivering content.
Finally, their condensed format makes them ideal for sharing on social media. Therefore, including infographics in a broader SEO strategy is always a sound business move, whether it is done by your own company or your partners within a white label arrangement.
Creating Infographics
Infographics used to be made by professional designers in vector graphics software. These applications still offer the greatest degree of freedom when designing each element of an infographic, allowing designers to fine-tune their every little detail of their projects.
More recently, the appearance of user-friendly design tools has made infographic creation easier than ever before. Anyone can now create and publish an infographic in a few of easy steps by one of the many Infographic Creation Tools available online.
You can check them out yourself to see how well they suit your needs, or you can read our overview of the 5 Infographic Creation Tools most popular currently on the market.
Top 5 Infographic Creation Tools
Canva
Whether you are working on a personal project or something work-related, Canva has many options to choose from. Each new project comes with an appropriate design template, making it easier to get started.
Once you select your template (you can also select a blank canvas to start with), Canva offers a variety of options, including a vast library of elements (some free and some you can purchase).
Canva doesn't require any software downloads and offers many images free of charge while providing multiple tutorials to help beginners get started.
TRY CANVA
Visme
Visme allows you to make infographics, interactive presentations and other forms of content. With many templates and a huge database of free images to choose from, Visme allows you to create good visual content right away. The templates look great and are easy to set up.
If you wish, you can just edit the placeholder text, write your own, and go straight to publishing. Visme's powerful infographic builder tools allow you to add interactive elements like videos, animations, survey polls, etc. for added visual flair and engagement. Moreover, it also offers analytics tools for evaluating how well an infographic does in engaging audiences.
TRY VISME
Piktochart
This app is easy to use, and their simple graphics tools offer a great deal of freedom when creating and editing infographics. There is a large number of categorized icons, resizable canvases, design-driven charts, and interactive maps to utilize.
One of the most interesting features of this app is that it shows insightful design tips depending on what category of infographic you are making. Whether it is a project for a class, office, website, or social media setting, Piktochart gives you valuable information on how to use your infographics efficiently.
TRY PIKTOCHART
Infogram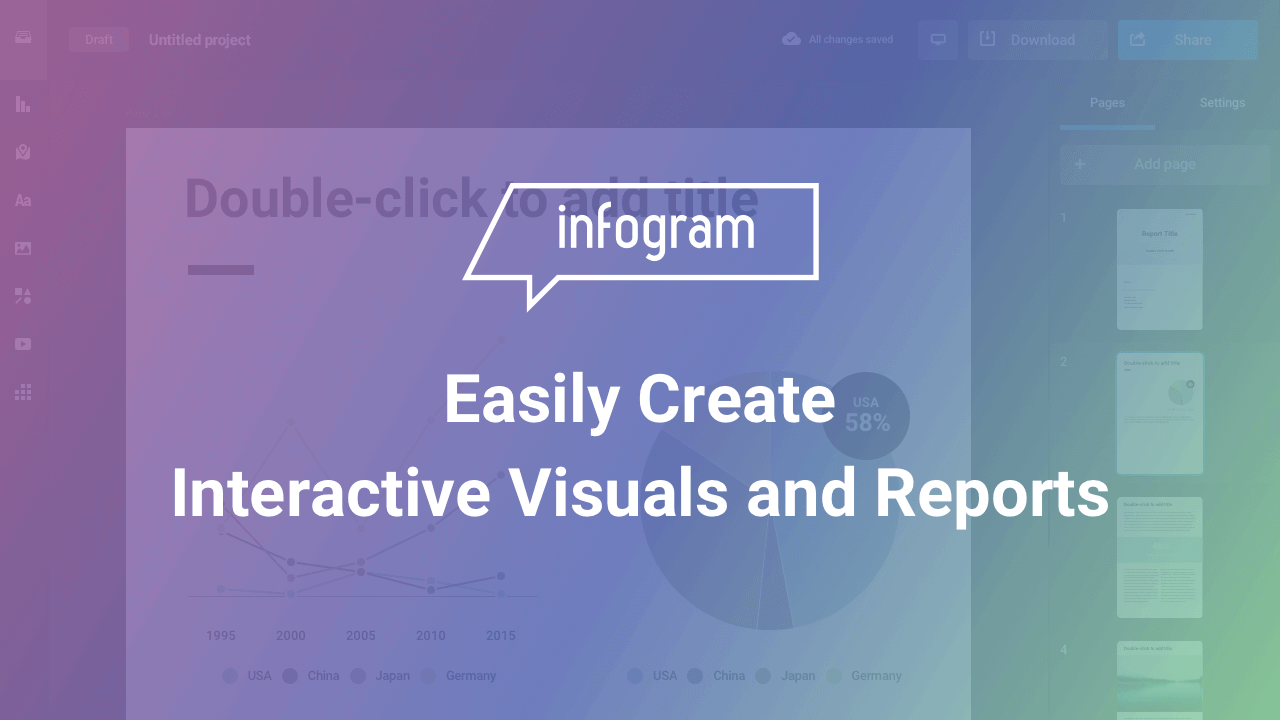 Infogram is the application with the best charts. There are more than 30 different types of charts to choose from from the outset, much more than what others are offering.
Everything from bubble charts and treemaps to simple pie charts is included. Adding and editing data can easily be achieved through Infogram's built-in spreadsheet editor, or you can import your own XLS, XLXS and CSV files. Once you finish your design, you can save it as a PNG for free, or PDF file with a paid subscription.
TRY INFOGRAM
Venngage
Venngage is another reliable infographic creation tools, one that is especially suited for users who wish to keep things simple. Venngage boasts with professionally designed visual assets, allowing even complete beginners to swiftly create good looking infographics without spending much time.
A basic free subscription is what most user will want to use, with the more in-depth paid option being available at $19 per month as well, which is particularly suited for businesses use. Venngage supports online collaboration for infographics creation as well.
TRY VENNGAGE
The post Infographic Maker | 5 Best Infographic Creation Tools For 2018 appeared first on Techi Bhai.
This post first appeared on Techi Bhai, please read the originial post: here