Before we get started, if you didn't already know, all of these hoverboards for sale are actually called self balancing scooters, but most people still call them hoverboards because it caught on and it's just easier. Others have been known to call hoverboards by other names still, such as smart balance wheel or hoverboard segway. In this article, we'll just refer to these gadgets as hoverboards.
What is a Hoverboard?
A Hoverboard is a two wheeled gadget which uses internal gyroscopes to detect the user's movements to move in a certain direction. All you have to do is lean in the direction you wanna go and the electric motors activate and take you there. For more info on how a hoverboard works, check out our in-depth article.
Hoverboards have garnered a ton of popularity with celebrities showing off their gadgets on Instagram in 2015. The craze all but faded towards the end of the year, though, when the first reports of hoverboards catching fire hit the news.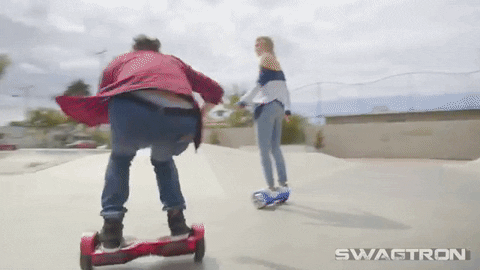 The Fires
The battery powering your phone (or any of your gadgets) is most likely a Li-Ion battery. Li-Ion, with its incredible energy density, is the de facto standard for any application requiring batteries. The catch: Li-Ion is inherently unstable.
So, why did hoverboards catch fire specifically? We have a whole article about it, but, in short, it's because of poor manufacturing, low quality components and especially the very nature of hoverboards.
You see, hoverboards are transportation devices and, as such, they're going to be exposed to a lot more vibrations and impacts than, say, your phone. This will inevitably exacerbate possible manufacturing defects of the battery and increase the risk of a fire by at least an order of magnitude.
News outlets ran with the stories of hoverboard fires, and most major retailers stopped selling the gadget.
Hoverboard companies rushed to create a safer hoverboard that would pass inspection, and they created prototypes in record time.
Enter UL
Underwriters' Laboratories is an organization devoted to the testing of electric equipment. They ran tests on hoverboards, to gauge the quality of the components, the manufacturing and the resilience of hoverboards even when used improperly. This includes subjecting the hoverboards to vibrations, drops, motor overloads, water exposure, high and low temperatures, and varied kinds of physical stress.
The UL standard 2272 is the one regulating hoverboards. Every hoverboard that has a legitimate UL 2272 certification is completely safe.
UL 2272 Certified Hoverboards
The first few companies to obtain the UL 2272 certifications are the following:
Swagtron
Hoverzon
Razor
Powerboard
EPIKGO
Segway
Let's take a look at all of their products..
Swagtron T1
We begin with Swagtron, a company born on the ashes of the now defunct Swagway, LLC. Swagway got itself into trouble with the non-UL certified boards it shipped prior to getting its certification, as well as a trademark infringement lawsuit by Segway. You can easily see why.
Swagtron is producing two of the most innovative hoverboards out there, the Swagtron T1 and the Swagtron T3.
You can check out our in-depth review of the Swagtron T1 here.
Both the T1 and the T3 feature a Sentry Shield™ system that basically encases the battery in aluminum, so that if it were to fail, it wouldn't catch fire. They also come with silicone wheel arch scratch protectors.
Swagtron hoverboards feature a "learning mode" which softens the response from the hoverboards, allowing you to step on and off more easily. For instructions on how to ride a hoverboard, check out our article.
The Swagtron T1 is an excellent board overall.
Swagtron T3
We would recommend the T3 only if you really want bluetooth speakers on your hoverboard.
Another reason to choose the Swagtron T3 would be speed: the Swagtron T3 features a "performance mode" which makes the board super responsive and quite fast. We like it, but the difference in speed isn't really that great. We think it's less than 2mph.
Hoverzon
Hoverzon is a Las Vegas based company that seems to have a contract with the same manufacturer that Swagtron is using: Swagtron and Hoverzon are pretty much putting out the exact same products.
The Hoverzon equivalents of the Swagtron T1 and T3 are, respectively, the Hoverzon S and the Hoverzon XLS.
This is because both Hoverzon and Swagtron are getting their hoverboards from the same manufacturer in China.
Because of this, we are going to merge the Swagtron and Hoverzon hoverboards in this article. Anything we write about the Swagtrons is applicable to the Hoverzons.
Razor Hovertrax 2.0
The established company that makes kids' scooters and toys entered the hoverboard game just before the whole fire media frenzy started. Bad timing.
Especially because Razor allegedly purchased the patent for the hoverboards from the creator of the Hovertrax, a kickstarter project that is credited as the first hoverboard concept.
The Razor Hovertrax 2.0 is basically a traditional 6.5 inch wheel hoverboard redesigned more for "branding" purposes than to introduce any new functionality.
The one thing that we like about the design is the inclusion of rubber guards on the wheel arches, so that you don't have to purchase them separately (like you would for the Powerboard), and your board won't get scratched up as easily. Because the rubber is an integral part of the board, it seems like this would be a little more secure than the silicone guards that come bundled with both the Swagtron T1 and T3. But more importantly, because of its "EverBalance" technology, this board won't tumble away from you if you dismount while riding it, which is a really neat feature, especially for novice hoverboard users.
Update: read our full Razor Hovertrax 2.0 Review here.
Powerboard by Hoverboard
The laziest of them all, Powerboard by Hoverboard simply modified their hoverboards to pass the UL inspection and be deemed safe, but no cosmetic or functional changes were introduced from the previous generations of hoverboards. This is offset (slightly) by the Powerboard being the cheapest of them all. We have a more in-depth review of the Powerboard here.
EPIKGO
The EPIKGO is a brand new hoverboard design: it's marketed as a off-road hoverboard. It features never-before-seen 8.5 inch wheels with solid rubber tires, which makes it an ideal compromise if you want a hoverboard that can you can ride on grass and gravel, but you don't want to have something as bulky as the miniPRO. It's IP 56 certified as well, which means you won't have to worry about it getting wet: short of submerging it in water, it is completely waterproof. Now you can go for those long hoverboard rides on the beach you've always dreamed of.
The bigger standing platforms mean that your stance will be a little wider, for extra stability when going over rough terrain.
This hoverboard is by far the heaviest, heavier than the miniPRO even: it's 31lbs. So you definitely wanna make sure you have enough battery left to ride it back home, otherwise that's going to be a long walk carrying this bad boy.
Speaking of battery, the EPIKGO's fast-charging technology allows you to get the full 10-12 miles of range with a two hour charge, which is pretty impressive.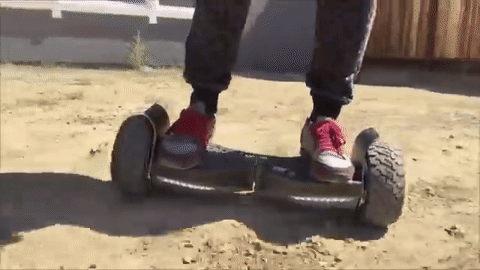 Overall the EPIKGO is a great hoverboard, and we really love the design.
Segway miniPRO
Segway felt it was missing out on the hoverboard action, a market that they should've intuitively dominated, considering their experience with self-balancing transportation devices.
They let the craze pass them by, as big companies often tend to do.
But they're trying to create a more refined product with the strategic acquisition of Ninebot, a company that had been making some really good looking electric unicycles.
The Segway hoverboard is not much of a hoverboard at all.. it's bigger, and has a weird knee support. And the price tag means it's not a cheap hoverboard at all.
It's called the miniPRO and was first developed by Ninebot. It also was the very first hoverboard to get a UL 2272 certification in May of 2016.
Read our in-depth review of the miniPRO here.
What really stands out with this model (besides the higher price tag), is the really large 10 inch wheels. This is definitely a very capable hoverboard that can handle grass, gravel, cracks and even small steps.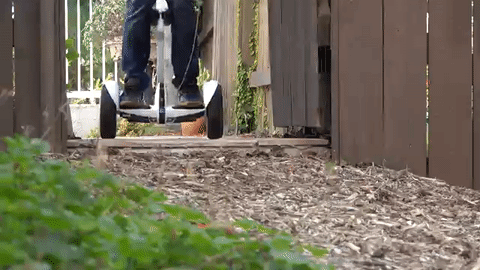 Best Hoverboard 2017 Comparison Table
Name
Max Speed
Max Weight Limit
Range
Pros & Cons
Price
Swagtron T1
8 mph (12.8 kmh)
220 lbs (100 kg)
12 miles (20 km)
Great design
Fast
Safe
Inexpensive


$349.99
Swagtron T3
8 mph (12.8 kmh)
220 lbs (100 kg)
12 miles (20 km)
Sturdy
Built-in carrying strap
Bluetooth speakers
Quite a bit more expensive, only makes sense if you NEED bluetooth speakers


$449.99
Hovertrax 2.0
7 mph (11 kmh)
220 lbs (100 kg)
12 miles (20 km)
Well-known company
Design is kinda odd
$399.99
Powerboard by Hoverboard
6.2 mph (10 kmh)
220 lbs (100 kg)
11 miles (17 km)
Cheapest hoverboard
Slower than a Swagtron T1 and not much cheaper
$349.99
EPIKGO
12 mph (19 kmh)
260 lbs (117 kg)
12 miles (19 km)
Fast charging
All terrain
Heavy
$599.99
Segway miniPRO
10 mph (16 kmh)
220 lbs (100 kg)
14 miles (22.5 km)
Fast
Big 10.5 inch wheels for riding on grass/gravel
Well-known company
High price
$599.00
So which one is the Best Hoverboard for sale right now?
We picked two candidates for best hoverboard, and they all depend on how you like to use your hoverboard:
If you want a smaller, more practical hoverboard that may not fare too well on grass or gravel, go for the Swagtron T1. It's fast, it features a nice design and it's not terribly expensive.
If you have quite a bit more money, and you want to ride your hoverboard on grass and gravel or over bigger cracks in the road, the Segway miniPRO is the hoverboard for you.
In conclusion – The Best Hoverboard of 2017 is..
If you have been waiting for your chance to grab a hoverboard until now, you're in luck: these hoverboards are fast, fun and safe.
Can I bring any of these hoverboards on a plane?
One thing to note, though is that, because of the earlier batches of hoverboards and their shoddy components, a bunch of places have banned hoverboards outright (check our article for local hoverboard laws). And you definitely can't fly with any of these. Despite being safe now, the media did its witch hunt, the cat's out of the bag and we don't foresee anybody being able to fly with a hoverboard ever (pun intended). Keep this in mind when buying a hoverboard, and you'll be safe.
Keep checking back for updates as more hoverboards get UL 2272 certified!
The post Best Hoverboards for Sale appeared first on Best Electric Hoverboard.