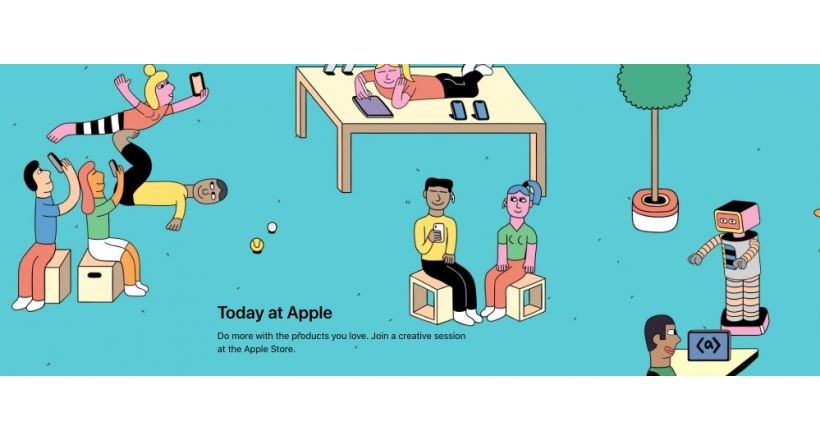 Los Apple Stores alrededor del mundo contarán con más de 50 nuevas sesiones Today at Apple en 2019. Estas nuevas sesiones, que se agregaron a la página de Today at Apple, están divididas en diferentes categorías.
Skills: son sesiones para personas interesadas en aprender nuevas técnicas creativas para aprovechar sus productos, con sesiones sobre cómo realizar videos cortos con la aplicación Clips o editar fotografías con iPhone. Las nuevas sesiones incluyen Notes and Cores con GarageBand, Sketching Ideas en Notes, Photo Editing Tecniques y más.
Walks: invita a los clientes a salir de los locales con un Creative Pro para conocer los alrededores, conectase con la comunidad y utilizar nuevas habilidades en fotografía, música o salud. Los nuevos Walks incluyen Capturing Cinematic Shots, Creating Soundscapes con Garage Band y un Health and Fitness Walk.
Labs: permite a los clientes experimentar con técnicas creativas y finalizar la sesión con el inicio de un proyecto. Algunos Labs han sido creados en colaboración con artistas reconocidos. Los nuevos Labs incluyen el Beat Making con Swizz Beatz, Small Screen Magic con Zach King y Darwin Treehouses con Foster + Partners.
El programa de Today at Apple se lanzó en el local de Apple Union Square de San Francisco en mayo del 2016, y se expandió a locales en todo el mundo al año siguiente. El programa es gratuito y ofrece un currículo muy variado. Today at Apple también incorpora lecciones de Everyone Can Code y Everyone Cancreate y herramientas de Final Cut Pro X, Logic Pro X y Swift Playgrounds.
This post first appeared on IPod Total, please read the originial post: here