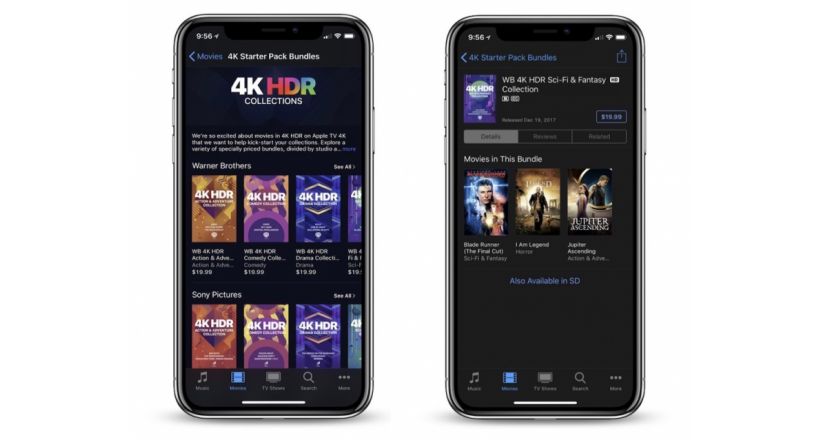 Apple lanzó esta semana su sale de Itunes Movies, con el foco en los paquetes de películas 4K HDR. Los paquetes están divididos por estudios y subidivididos por género: acción y aventura, comedia, drama y ciencia ficción y fantasía.
Casi todos los paquetes tienen un precio de 19.99 dólares por tres películas, y hay algunos con un precio de 22.99 y 24.99 dólares, dependiendo del estudio.
Dentro de las películas incluidas en esta promoción se pueden mencionar las siguientes: del Estudio Warner Brothers en Acción y Aventura, por 19.99 dólares incluye The Accountant, Argo, Into the Storm. De Sony Pictures en Comedia por 19.99 dólares, incluye Ghostbusters (1984), Rough Night, Sausage Party. De 20th Century Fox en la categoría Drama por 24.99 dólares: Life of Pi, The Martian y The Revenant. De Universal Studios en la categoría Ciencia Ficción y Fantasía, por 24.99 dólares incluye Warcraft, Snow White and the Huntsman y King Kong.
Con estas promociones Apple busca ofrecer a sus clientes colecciones de los nuevos contenidos 4K HDR. Por otro lados las ofertas de iTunes Movies son frecuentes en la época de las fiestas de fin de año. Para comprar las colecciones en promoción se debe acceder a iTunes Movies en macOS o iOS.
This post first appeared on IPod Total, please read the originial post: here